Steemindiaa Contest -"My skill and knowledge to all" || Contest open for all steemians
Namaste, my all dear steemians,
---
In steemindiaa we continue to promote interesting and good-quality content, therefore, this time I will present an interesting contest. where we invite you to publish your good content within our community.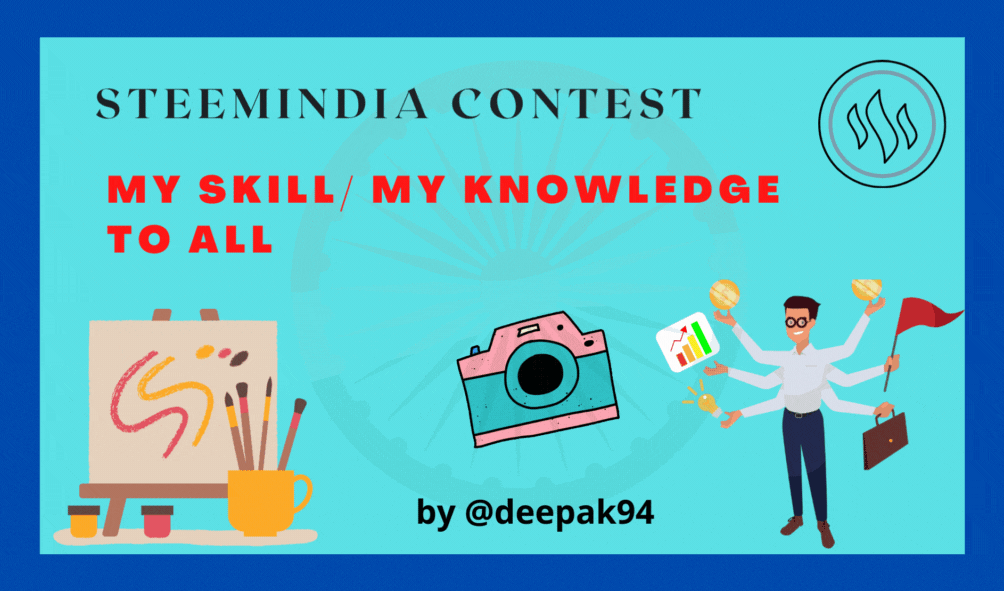 Details of the contest
---
The Topic of the Contest - Share your Knowledge/skills related to making any special food recipe, share your art skill, and share your photography skill.
प्रतियोगिता का विषय - आप अपना ज्ञान और कौशल हम सभी के बीच साझा करे उदाहरण के तौर पर किसी को खाना बनाने में रुचि है,तो वह कोई खास डिश को हमसे साझा कर सकता है,उसी प्रकार अपने कला और फ़ोटोग्राफी से संबंधित कला को साझा करे। |
Note - Markdown skill is very important.
Rules & Guidelines
---
The participants must subscribe to the Steem India Community, and the post must only be submitted in the Steem India Community.
The post's title must be: "My skill and knowledge to all by @username"
Use the tags #myskill, #learnwithsteem, #yourcountry, #clubstatus, #steemexclusive .
In order to participate in this challenge, you must submit only your own images, and if any image is found to have been taken from the internet, the submission will be disqualified.
Users may submit their posts in Any language of their choice.
You must describe your entry in at least 300 words using your own words.
Any participant who uses any bid-bot service will be automatically disqualified.
Participants must invite three other users they believe may be interested in participating in this challenge.
Include the link to your submission in the comment section of this post.
At least the club status of #club5050 must be followed by participants.
Upvote and Resteem this post.
Make quality comments on other submissions to increase your chances of winning.
We are looking forward to seeing your articles in the Steem India community. The participation period for this challenge will be from Tuesday, September 13th, 2022, 00:00 UTC to September 20, 2022, 23:59 UTC.
---
Contest Prizes
---
There will be top 3 winners from this challenge and the amount of TRX mentioned below.
| Position | Prize Amount |
| --- | --- |
| First Position | 15 TRX |
| Second Position | 10 TRX |
| Third Position | 5 TRX |
Contest result and prize distributed by @deepak94 account within 12 hours after result announce. Result announce within 2 days of entry closing date
---
NOTE: we do not guarantee votes from steemcurator01 and steemcurator02 we will try to support your entries by our community curation account.
Cc:
@sduttaskitchen
@jyoti-thelight
@monz122
@cryptogecko
@deepak94
@disconnect


---
Delegate to Steem India Community (@steemindiaa)
---
---
---