Application for Country Representative for India by @deepak94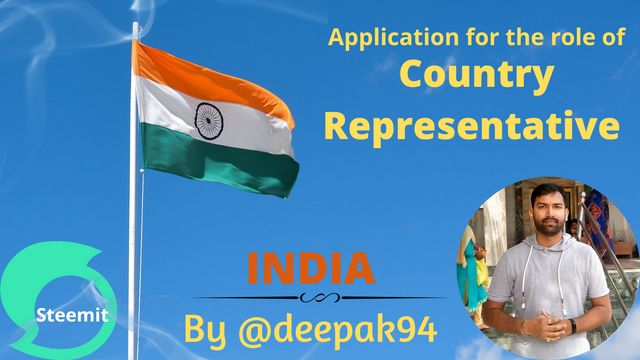 My name is Deepak Soni and my steemit user id is @deepak94. I have done mechanical engineering.
I have always believed in helping people. Through this platform, I want to make all the people of India aware of Steemit and I have started this work through my YouTube videos.
I am always active on this blockchain platform and always try to do all I can to help our new users of India who join this platform.


India has 28 states and 8 union territories that cover an area of ​​about 3.287 million square km. India is one of the 7 largest countries in the whole world in terms of area. If we talk about population, then it is second in the world.
But then very few people from our country were active because they do not have any representative on this platform. But still, me and my community will work together to take forward the Indian community.


What are the Requirements for the Role of CR
I went through all the eligibility criteria thoroughly and after that, I prepared this report that I fulfilled all the eligibility criteria for Country Representative or not.
Time Active- I have always been active since I created an account on this platform. And I always try that I can help in every possible way for the new users of our India who are connected on this platform.

Amount of SP- Till now I have earned 1704.25 SP through this platform. In which I have never withdrawn nor powered down a single SP to date. Even though I have earned less SP than the rest of the people but I have good intentions which will help steemit to make strong. I delegate my 90% of SP to one and only Indian community to support and promote Indians.

Reputation- My reputation is 63.608 at the time of writing this application.

Place of Residence- I currently live in Prayagraj, Uttar Pradesh, India. I was born in the state of Bihar. Because my father works in the Indian Army, So I lived in about 10 states out of 28 states and have good knowledge of the local languages ​​of all these states, so it can be easy to talk with people of India in their local language too. With the knowledge of any language, it will be easy for me to understand the problems of Newcomers.

Country Language- I know Hindi, English, Bhojpuri, Marathi, Rajasthani, Oriya, Punjabi, Assamese, etc. language but, because Hindi is the state language of India and it is spoken all over India. That's why I try to write my post in Hindi so that the people in our Indian class can read and understand them easily. That's why I write most of the posts in the Hindi language.

Voting CSI- My voting CSI always more than 15 beacause I always try to advise my newcomer steemians and give them the right guideline about this platform through my vote and comment. So that they can play a key role in the growth of Steam.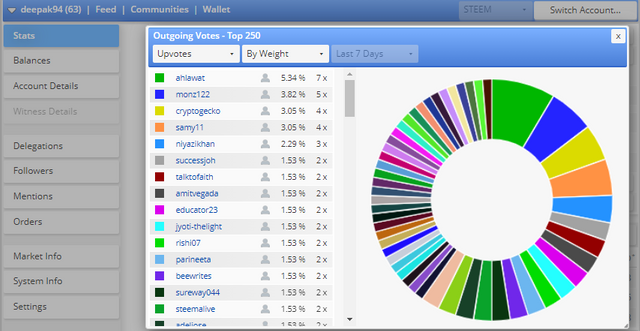 source-
steemworld tool

I am not a member of any curation team but still, I always vote and comment to promote newcomers of Indians. So that they can understand this platform. I work as a
moderator
for my
#steemindiaa
community and I curate all the good posts of our Indian community members through my curation.
I am a social worker and associated with Robin Hood Army NGO. And with the help of this, I help the poor people in my society from time to time. Just as my father worked for the country, in the same way, I also help the public of my country and I like to do this very much. I always help my Indian people through this platform. Being a Mod of my community I follow #club100 status to promote Steemit.


What special thing I did to my country

| My work for | Link | Cover |
| --- | --- | --- |
| To guide Members and Newcomers in our community arrange Google Meet. | No update | |
| Post in Newcomers community about how to start journey in this platform | Link | |
| Time to Time I make a post in the common language of India- Hindi to guide Newcomers in my community | link | |
| To Promote steemit and help Indian Newcomer make YouTube Videos in Hindi language | link | |
| My Pro Newcomers verification post | link | |
| Presently I am learning some new skill that i will implement in steemit for Steem Development | update soon | |

Why do I think I would make a good country representative?

I believe that a country representative should be a patriot. The way my father learned discipline in the Indian Army and remained firm towards his country. I have taken inspiration from him and I also work for the citizens of my country with the help of my Robinhood Army NGO and as a believer CR on this platform.
I have successfully led my curation work in my community. I check all the posts of my #Steemindiaa community for several months and have never been given a chance to complain even once. I take my responsibilities seriously.
I m a club100 member and I support our Indian Language Hindi which I write in Devnagari script in my most of the posts.
Being a true Indian it's my responsibility to guide Newcomers. So I always support and guide Newcomers.
I believe that only a Greater or a CR does not work to help people, it should be the duty of everyone on this platform to help each other, and give guidance. As a true Indian, I will always work for the development of Steemit.
जय हिन्द जय भारत 🇮🇳
Thank you