CONTEST: "What does TODAY Mean to YOU?" #ccc 3.42 | Entry post by @Psicoparedes🧠
---
Hello to everyone in the Steemit community. My name is Alejandro, and today I wanted to make my participation in this contest sponsored by the partner @freedomshift. In this contest the theme is based on talking about what a particular day means to us. In this case I want to talk about what today,April 8th, 2021 means to me. I will be leaving you the link to the contest here so you can go see the instructions.
---
Today, for me, means a day of distractions and hard work. Today I got up around 8 a.m, to wait for my academy classmates to continue the third training session to be an English teacher at one of my country's most recognized academies: CEVAZ.
It will be 12 or 13 days in total induction to the academy, but we have had a pleasant time together and we have been able to share different opinions about it and made different types of dynamics.
Screenshot taken by me, showing my Zoom meeting.
---
Today I have also participated in several contests of the steemit platform, and I wanted to give myself the opportunity to participate in this contest as well, so that I could demonstrate or describe a little about what it meant to me today April 8th, 2021. A year after the great change we all had in our lives in the wake of the global pandemic announced since March last year, at least here in Venezuela.
Photograph of the view from my window, taken by me.
---
It was also a day of drinking a lot of coffee, as I am not really used to waking up early and it affects my sleep quite a bit, because it makes me very sleepy in the afternoon. I also drank some blackberry juice. Today it was pretty cloudy and rained a little bit. That is enough to say, because usually here in my city it almost never rains. It is a city with an incredible drought and a super powerful sun, but we have managed to cope as we are quite accustomed to it.
On the other hand, this day represents for me an approach to meeting my medium-term goals, since I will finally start working on something that I think I will like very much. I had been waiting to start training and induction for several months. So this represents for me one more little step towards achieving the things I want and finally taking a step forward to accomplish one of my goals.
---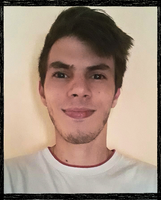 Thank you very much for reading me this time. Feel free to leave your comments ⌨, so that we can have a better interaction. Greetings to the entire English-speaking community and neighboring communities as well.
Let's continue making Steemit a valuable platform, where we can all share our best experiences together, and may this become part of our best memories. I cordially invite my partners @babybothe, @isabelfrancis28 and @eudyfono to the contest.
This is an Invitation to join #ccc for Guaranteed 👍 Daily Income 💵 and Payout 💸 for Newbies (2.0) 🐟 🐜 🐛 in #ccc 👣 and Follow 👣 the Honor Code 🏅 - the Creed (Conditions and Limits Inside)
AND
the latest update <<< please click to read.
CLARIFICATION:
The used banners are of my own, through Canva. Illustrations and images through Pixebay under the Creative Commons license, except the cited images (if there is any). Personal emojis through Bitmoji. Gifs through GIPHY. Photographs were taken by me, using my phone. It's a Motorola Moto G5 PLUS. The Screenshot was taken from my laptop.