What does today mean to me ! Contest 3-52
Dear friends
Having reached half the year 2021, the month of June leads us to think that the year has reached its maturation, with the 15th day as the Zenit, in which we can make a better projection of what is going to be the end.
We have witnessed during this month, the Bitcoin decline and recovery, many trying to sell their positions without having the necessary patience so as not to lose their investments. Today we see that this crypto recovered an interesting value taking us to think that its future value will be much higher.
Today I write this review on June 15, with a radiant sun, awaiting rain that in the afternoon, as it is usual at these dates in the city where I live scattered rains.
In Venezuela this week has been decreed as a radical week for reasons of the Covid-19, only supermarkets, pharmacies, bakeries work.
Today, I am pleased to share the photograph of a natural sculpture, sand carved by rain, in which we see interesting ways, so each of us can imagine different things.
Waiting for your upvotes, comments and resteem.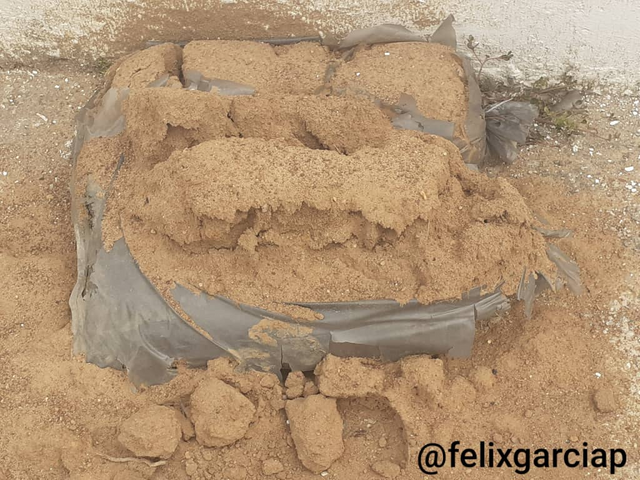 [photography taken with my phone Samsung Galaxy A10]
(esp)
Apreciados amigos
.
Después de haber alcanzado la mitad del año 2021, el mes de junio nos lleva a pensar que el año ha alcanzado su maduración, con el día 15 como el Zenit, en el que podemos hacer una mejor proyección de lo que va a ser el final.
Hemos presenciado durante este mes, la disminución y recuperación de Bitcoin, muchos tratan de vender sus posiciones sin tener la paciencia necesaria para no perder sus inversiones. Hoy vemos que este Crypto recuperó un valor interesante que nos lleva a pensar que su valor futuro será mucho mayor.
Hoy escribo esta revisión el 15 de junio, con un sol radiante, esperando la lluvia que por la tarde, ya que es habitual en estas fechas en la ciudad donde vivo las lluvias dispersas.
En Venezuela, esta semana ha sido decretada como una semana radical por razones de COVID-19, solo los supermercados, las farmacias, las panaderías trabajan.
Hoy, me complace compartir la fotografía de una escultura natural, la arena tallada por la lluvia, en la que vemos formas interesantes, para que cada uno de nosotros pueda imaginar cosas diferentes.
Esperando sus upvotes, comentarios y resteem.
---
This is my participation in the challenge proposed by @freedomshift, in the following
link you can review the bases of it.
Note: If you want your publication to be visible and recommended by @team-ccc take the freedom to include them.
Invitation
I am pleased to invite my friends @simonjay, @vdux, @antoniarhuiz, @marybellrg, @charjaim, @inspiracion, @doctorlibro, @rosanita, @janettyanez, @javert68justice, @aremontilla, @lanzjoseg, @javiermontilla, @delvapin, @darkfemme, @josegilberto, @salvao, @zeleiracordero, @adncabrera, @hernan27 @lecumberre, @naylet, @mllg, @oacevedo, @isauris, @aurodivys, @maparari, @botefarm, @gaby-crb, @jadms , @aplausos, @evagavilan, @johannfrare, @issymarie, @yohanys, @ntowl, @owasco, @avellana, @wakeupkitty, @marblely, @olivia08, @cloudblade, @jakim7, @hljott @gingbabida @fredkese @mgaft1 @hashzone91 @gertu @joeyarnoldvn @cloudblade @myjob @nathyortiz @daysiselena @theresa16 @olivia08 @aaliyahholt @celinavisaez @dulce160 @jurich60 @wendyth16 @lanzjoseg @josyweed @botefarm @josyweed @botefarm @metzli @daysiselena @sarimanok @kgwork @redheadpei @wakeupkitty @wakeupkitty.pal @putu300 @victoriaxl @angelro @oscarina @yasny @mers @mariannis @robinsonr810 @sarimanok @diosarich @ahmanik47 @sacra97 @betzaelcorvo @malvyconejero @zhanavic69 @evagavilan @antoniarhuiz @yujomar @mllg @lisfabian @renataboreal, @giocondina, @kismar and @sincroniadivina, @amandaj @nelsonnils @issymarie2 @sarix, @naka05, @yolimarg, @elpastor, @sarimanok, @deathtox, @samynathy, @anasuleidy, @mgaft1, @fjjrg.
I have to emphasize that from now on we can use the #ccc tag to promote the literary creations that we present for the contest, an exception has been made by them since their rules establish that the length of the contributions must have an extension of + 200 words or failing three original photographs. Also make a mention of them at the end of the article.
Note: If you want your publication to be visible and recommended by @team-ccc take the freedom to include them.
---
This is an Invitation to join #ccc for Guaranteed 👍 Daily Income 💵 and Payout 💸 for Newbies (2.0) 🐟 🐜 🐛 in #ccc 👣 and Follow 👣 the Honor Code 🏅 - the Creed (Conditions and Limits Inside)
AND
the latest update <<< please click to read.
---
Join the members who participate in the #ccc contests!
Monday Contest: "What does CCC mean to you" by @team-ccc.
Tuesday: GIVEAWAY: An upvoted for a read by @wakeupkitty.pal
Friday: "What do you do with ...". By @gertu.
Saturday: "Looking Back / Looking Forward". By @wakeupkitty.
Sunday contest: What does today mean to you. By @freedomshift.
Sunday contest every 15 days: Lyrical poetry contest. By @felixgarciap.