Tags and Plagiarism - Guidelines by Lifestyle Curators - IAT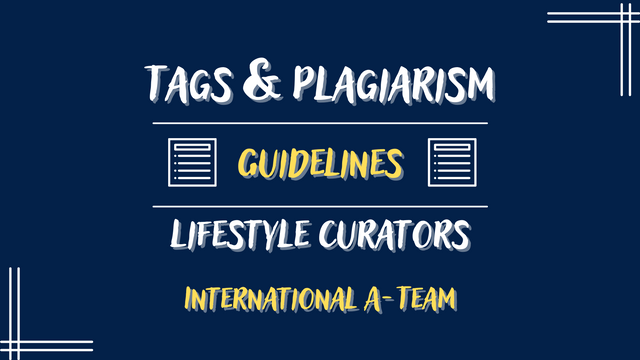 ---
Dear Steemians,
International A-Team has been selected as the Lifestyle Curator for the month of April. Members of the curation team are @alee75, @chriddi, @event-horizon, @o13h, @the-gorilla, @whyshy, @willeusz.
We have compiled some guidelines and information regarding how will we be curating the Lifestyle content. Please have a look...
---


It's a diverse theme with categories like food, travel, leisure, sports, health, garden. We will be looking forward to all relevant content.
We don't want to restrict the authors to specific tags as this might keep good content from us. Therefore, we will be checking all the relevant tags. If we come across a post without relevant tags but it comes under the theme, we will still consider curating it.
Having said that, we would still provide some tags to give a direction and for the convenience of all.

#lifestyle would be overarching tag.
---


We have some criteria that we would like to follow before curating a post.
Author should be club5050, club75 or club100 eligible.

Author should not be using any auto-vote service.

The post should be free of plagiarism.

Images must not be violating copyright laws and must be properly cited.

The post should be #steemexclusive.

The post should include at least 300 own words, the author should have checked his orthography.
---
We will check club status and use of bidbots by using the tool developed by @coding-gorilla
Our approach to plagiarism is outlined in our application post and remains our preferred approach.

Best Regards,
IAT