Weekly Report of Steem Greeters Team project 19/5/2021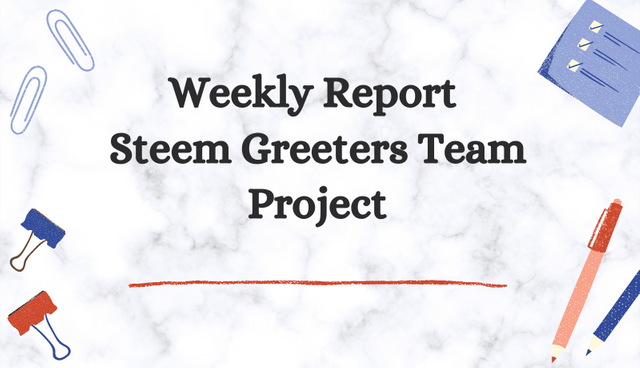 The past 2 weeks been busy weeks for me as I been brainstorming the plan and ideas on my head on how to make the work process in the steem greeters team project more effective and efficient. Especially for Newcomers Achievement Program.
The problem that the team was facing is not enough manpower to check and verify the achievements task. Then this was solve with the appointment of Greeter Helper team.
Then next problem with the curation work is that :
as the Curators of steemcurator03 are appointed Country Representatives, most of them will naturally skip on other achievement tasks that are not coming from their country, or those that they have personally recruit, and leaving out the newcomers that without country representative in their country or those who coming into steemit without the recruit of these CRs in the Greeter team.
How I try to solve this problem?
I have change the old system of curation work with steemcurator03 based on country to into a group, where the curators will upvote any achievements task that already being verified and have Rating Point on it no matter which country this post coming from. I hope with this change in the way we curate with steemcurator03 will be solving the problem of Greeter skipping other newcomers post tasks. I actually have announce this method 2 weeks ago and still, some of the curators not adapt or following this new method. Some not even bother to check the update that I have announced on Steemit and also on the discord server. I will be giving them some more time to adapt to this new method and if they still not following it, I will have to dismiss them from the steem greeters team as they are not willing to working as a team. Some only in the team to have access to @steemcurator03 so they can use it to upvote the newcomers from their country or those they have personally recruit.(Note that they also have access to other country based Steemit curation account and their own country community curation account)
Steem Greeters Project was born to support ALL NEWCOMERS of Steemit no matter which country they coming from. I hope those Country Representatives who want to work with Steem Greeters project will have to change their strong nationalism mindset before joining this project.
Roster for Curators of steemcurator03
I have prepare the workflow or work process for them to follow here Greeter Workflow and also have announced it on Steem Greeters discord server. The new batch of Greeter that is coming from the newly appointed Country Representative has understood and now still under internship phase on using this workflow.
Curation Bot for @steemcurator03
I have discuss with symbionts team witness @dr-frankenstein on create a curation bot for curators of steemcurator03.
Why I need this curation bot?
Currently all the curators of steemcurator03 are having the posting key of steemcurator03 and have to login into this account and also their own personal account while doing their curation work. Sometimes they mistakenly use steemcurator03 to upvote other posts as they thought they have login into their own personal account, this happens many times and draining out the VP mana of steemcurator03.
So with this curation bot, they only have to give command of !upvote 20 if they going to cast the vote with steemcurator03 with 20% VP and the steemcurator03 will upvote the post accordingly.
This Curation Bot will only take the command from steem account that has been authorize to use steemcurator03: the curators of steemcurator03.
Also I plan to give some of the Greeter Helper authorization on this command so they can help with curation works too in the near future, just in case the CRs that currently on the team goes missing in action as they are usually will go create their own community and start abandon the steem greeters project after some period of time working in this project. Most of them complaint because the "low pay" of working in this project but have heavy workload.
So last week and this week mostly spent on briefing the team of new Greeters from newly appointed Country Representative ongoing guidance of the work process of Greeter task for the Newcomers Achievement Program.
Appointed Greeter Helper
I have appointed about 9 Greeter Helper First Batch of Greeter Helper for Newcomers Community and still ongoing guiding them on the work process too. Greeter Helper Workflow They been doing the work well and some still learning the work process. Overall Greeter Helper team is a huge help for Newcomers Achievement Program.
500 SP Minnow support program
This program is still running and we are planning to have Nursery Mentors team to help us guide and mentoring the newcomers that is under currently under this program. Some of the new policy we will be introducing is no powering down while under this program and the newcomers will be guide until they have become active members in a particular community of interest.
Steemit Nursery community
This community is doing well with the help of some of CRs that helping with organizing weekly contest for Newcomers and existing users of Steemit and they also helping me with curation with Booming curation support. Greeter helper of Steemit Nursery also been doing great work in giving title/label to newcomers in this community according to their age on Steemit.
SUT website
@neerajkr03 been doing great with this project but he need help in filling in the data in this SUT website. Initially I have ask the Greeters to help with this but they are not doing it maybe because there are too many workload for them already. Then I solve this with asking 1 Greeter Helper to help him filling in the data of Newcomers in there.
Overall the project still ongoing and just need cooperation from all team members to follow the work process and the guideline for the curation with steemcurator03.
Best Regards,
cryptokanon
Steem Greeters Team