Business Activity | Plagiarism, Abuse and Spam - Weekly report #3 [17/09 - 23/09]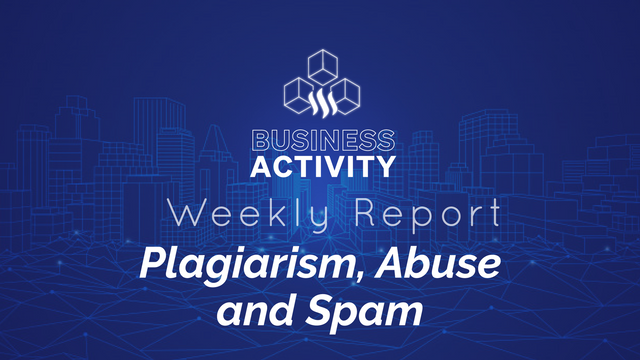 ---
---
As time passes, more users are attracted to our business community, it is for this reason that we are increasingly strict in the area of plagiarism, abuse and spam.
Our purpose is to maintain compliance with the regulations of both the community and the platform in general, and in turn educate users not to make these types of mistakes and encourage them to publish quality content and of their own authorship.
Plagiarism, Abuse and Spam
According to the frequently asked questions in Steemit, it is taken into consideration:
Asking for money, views, upvotes, follows, or resteems.
Leaving nearly identical or materially similar comments on multiple posts.
Comments that are unrelated to the topic of discussion.
Posts or comments that include little or nothing more than an offer to trade follows or upvotes.
Using tags that are unrelated to the post.
Not citing sources when using someone else's material.


FAQ source
What we want to share with you
A team oriented to success follows the recommendations for its improvement and positioning.
Please understand the following:
The community feed must only show content from publications of a business nature and that are governed by internal guidelines.
Automatically a content that does not correspond to what is requested, will have a message in the comments section of the publication and will be silenced.
What can you NOT post in this community?
Publications that have no relevance to your own topic as a company.
Publications with a lack of content.
Diarys publications.
Publications without eloquence to your business development.
Publications without meaning to what strictly refers to your business.
Publications that contain only images.
Publications that contain little or nothing to attract your customer.
Publications that only contain images and links from websites that are not of their own.
Publications with previously shared content on other websites, social networks, or within steemit, as a and accurate copy of what is proposed as new.
They can only post content for sale and/or advertising, when they have been verified. Otherwise it will be muted. Reading and educating yourself is exactly what will make you stand out in an example of progress.

List of users who have infringed
An error may or may not be repeated and will depend on each user who does not comply with the request.
Image corresponding to the week - Post Muted!
Post silenced
Any user, a new member or with a reasonable time, has the duty to learn about the requirements of steemit and of this community where his company or undertaking is shown.
The suggestions of the moderators are of importance, remember that they are to work for the community and therefore, in its best business development.
---
---
Do you want to be part of Steem Business Activity
Introduction to the community
Welcome to Steem Business Activity | General Rules
Community of business activity
We are now on Discord!
---
Would you like to support our community with Steem Power Delegation?
@rjlv190 MOD Team SBA🔹