Motivated Plan For Your Business - Content Guide For Your Blog And Business Boost | Aesthetics and beauty sector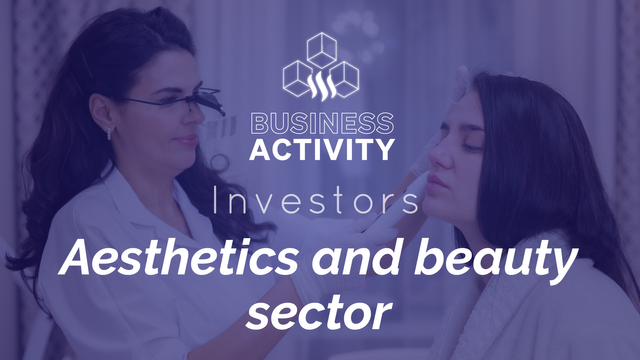 The current world is in constant development and growth, both personal and professional, each member or steemians, is part of a significant change by being part of the Steem Blockchain.
In the new era, there is currently a name for them within the Blockchain, they are INVESTORS, and it is the change for the future of each company or entrepreneur who has the need to expand, empower themselves and lead in their area of work.
Making possible the participation towards a financial increase that projects the total change to earnings is in Cryptos and Steemit makes it a reality for each investor; Accepting to be in the ecosystem breaks down barriers and takes you into the most advanced era you can ever imagine being in, through accepting payments on Steem, Sbd and Why not TRX? Steemit has it all and now you are part of the best that is yet to come for your business.
Positioning does not usually happen from one day to the next, for this it is necessary to work on strategies that address not only the need for business growth, but also the need of customers, which abound and are different and is what brings greater pleasure, because require something different to differentiate one from the other, just like businesses, which in appearance can manufacture, build, create, mold, assemble, make, among many others, but none have to be identical, because the thought is unique and the projections of growth much more.
Knowing how to differentiate yourself as an investor in the technological and modern era requires evaluating, reassessing and redirecting everything that has been raised in the past, without leaving it completely, but also being part of that future that does not wait and nor did he stop, so that each investor is positioned how do you expect.*
The most difficult part is attracting a client, but it has to be achieved with patience, with follow-up in the sales force or requests because each client, being different, demands and the investor offers at his complete disposal what he has been searching.

Are you confident in your potential as an Investor?
Show that you are here to meet the demands and requirements for skin care, aesthetics and beauty in general, and everything for which your specialized care center has as priority or demanding functions can cover in small, medium and large scale.
Should never be leave aside, that you as an investor, seeks the attention is a potential client, which may or may not make the difference of your business towards its next growth due to the services required if they satisfy all the needs for which you have the projection of care, aesthetics and beauty, where the large number of clients, also through makeup, find a change, a way out, a different look and an improvement to their appearance.
When it comes to skin care, treatments, and makeup, there is nothing to stop the change, it is to improve everything with advances, tools, products, tips, a wide variety of non-limiting options to rejuvenate, maintain and improve , achieving a satisfied customer, as he has always wanted to be and look in his longed for physical appearance.

Aesthetic and beauty sector
The care of the skin and the appearance, is in the hands of experts, locating the best centers of attention to maintain a radiant skin is not a game. The attention from professionals, stand out in many aspects, whatever their specific area or those handled in the case of the client's need; The requirements are different, as are the people, each with a situation to be attended to, because the important thing will always be that the client feels good about himself in that search that is tirelessly done in the beautification of to the human being, with touch -ups or specialized care that are made fair and necessary.
The Steem Blockchain has received specialist investor members with patients or people who want surprising changes according to each pathology presented and / or a different appearance through various care or change with products on the skin, which change looks, because the visual effects notorious of a professional; Makeup makes the difference between simply something imperceptible to what it can be or the change it generates when being cared or attended for by experts.
Knowing how to attend and do it properly will increase the visibility of the business, the reputation of the aesthetic center and who provides the necessary care for an appropriate change for each client.
Talking about skin care, it is not only the application of a product without knowing the subsequent consequences that the product may cause, you must be careful and meticulous for and that the skin shows the desired change.
Do you know who to turn to?
The business community has experts to meet the demand of this demanding sector with massive requirements.
There are many aspects to be treated, where premature aging of the skin is mentioned, and in which aesthetic treatments are of benefit.
An endless number of causes that must be uncomfortable and which do not allow to be and feel good, is what each sector in this field of aesthetics and beauty must achieve to generate change, what is required for improvement.

Content breakdown
Skin care, cosmetology, the professional cosmiatra, and much more related to aesthetics, are able to address infinite topics related to your area that only you as a professional handle to perfection; He will be in charge of providing exclusive and quality material for the steemians of the world within the business community.
The content guide is oriented to be a useful resource and to help you better develop, in terms of structuring, of a follow-up according to your professionalism and to which you must therefore demonstrate.
Note: Keep in mind that requests for guidelines to follow in terms of content breakdown is mandatory, to meet the standards of a business blog.
What should you keep in mind for the publication?
Impressing a user is imperative so that this is part of your client portfolio, but it is not only an impression of the moment, it is in the reality of a content that has truth and certainty.
External and internal content of the business blog:
1- The title of the business publication, as it will be described internally.
2- In the internal content, headings of titles or subtitles, always in alignment with the work sample.
3- Show and demonstrate that the work in structuring is what the client needs. Always consistent and specific, do not get out of context.
4- The business blog is not a Diary, much less a story to tell, it is a commitment to the work that is done in the community, by and for you, thinking about the steem ecosystem. Express and clarify for the client as the professional who characterizes him what do offer and what do need your customer.
Suggestion of topics to share
The impact that your publication will generate will be the cause of your success inside and outside the Blockchain. Think big and do your best!
When teaching courses, demonstrate with certificates, theoretical-practical support material, emphasize how you take care of instructing your aspirants to improve aspects of beauty, health and skin care. Course topics are very varied in this sector, therefore, they have to satisfy their clients according to their work area. Important: Workshop costs, induction hours, workshop objectives, number of applicants, course results, a before and after.

Can you take care of your patient or client with the best attention? Help them not to use expired makeup or products, explain the counterproductive and risky effects to their health. Warns you of the associated risks. How can they act? What should they do if it happens? To whom to turn? How is the process when you feel that something is wrong with the products? Be the ally of your current and future client.

It shows the work you do in visits to clients at to their homes, for pathologies, treatments, what refers to the consultation of the day, clients that require it to beautify even more with makeup or treatments. General care and appearance of charm.

Tips and recommendations. Recommended makeup lines, why? Positive effects, what kit goes with each type of skin? How do they make the change with the before and after, and what is the customer's satisfaction. (Associated costs, in your local currency, steem and sbd).

You can share, because it is necessary to know the type of skin and the products to use, both in makeup and in care products in conditions that take care of, minimize and avoid damage. This topic is extensive, and the professional will know how to start from scratch for each publication raised.

For beauty and aesthetics, the skins are different, it is in charge of providing what is necessary for a before the makeup routine, a before going to sleep, an awakening that requires certain products to keep skin fresh and cared for. Don't limit yourself, share what is necessary, bring the customer closer to you.
Share how it is possible to enhance the beauty of the face, with different techniques and care.

Address different issues, merely a specific product line or a set of several brands, these products that protect the skin from various events, sun, dryness, among others. The material is at your disposal, just know how to distribute it and expand it as much as you can, in each of your business publications.

Show makeup techniques, basic, artistic, at night, casual, among others. Teach how to put on makeup through simple tutorials, but that the client feels the need to require you for the job. From advice on what to do or not to do when putting on makeup, instead of beautifying, they make mistakes, and this is what you don't want. Instruct in the best possible way.
It can encompass whether or not people with pronounced acne or any kind, makeup can use makeup? Negative or positive effects, if it is okay to do it or apply it even with a condition that can be affected even more. What products do you recommend? Be able to guide your future patient.

Share about acne, because it usually appears, how it can be treated, how to minimize it, it may always be present, as are the first treatments. This topic is quite extensive, the experts have to develop correctly and distribute the topics for their blogs, making each publication more attractive and interesting.

Share why it is necessary to evaluate the type of skin and the personalization of the different treatments, which is of benefit to each person, why not apply the same thing even when apparently they can show the same effects or symptoms on the skin?

What are the types of devices to use by and for what? Benefits of its use, requirements for each client.

Show content according to your work area, regarding body and facial aesthetics. Remember one theme at a time, always consistent.
Currently there is a wide variety of devices or equipment for skin treatment, why and what is it used for Short-term and long-term benefits? How often should you attend the consultations.

Show and demonstrate the tools used to improve parts of the body, which they have managed to improve in their service time and that they have testimony of it. Always a before and after work. Evidence gives rise to credibility.

It is your duty, if you wish, to show if you have acquired equipment, articles or others, through the profits obtained in the Blockchain, that is, the new and beneficial stock for the work to be done. (Share costs, type of use, among others). The value that this acquisition gives to your work.

Share short and explanatory videos, demonstrating your work. Always focused on the priority of his work, without leaving the work environment.
Share in detail, how are the care for a diseased skin and a healthy one, what types of treatments according to the skin and its condition. Who does not want to know how to take care of their skin and what they should do to keep it healthy? You have a great job and this is just the beginning, show confidence to your future client.

Show what are the objectives that you set yourself as a makeup artist to make that change that the client requires of you. (Share techniques, methods, tips, styles, trends, requests, there is a lot of work to show and you are able to demonstrate it).

The faces are not the same, therefore the facial structure is not the same, in this sense show how you work with makeup for these different faces that you have the facility to transform and beautify even more. Always show the before and after. (Share investor and customer satisfaction.) Give credit to your work.

There are many factors that affect the skin and you must help your client to know and improve what the possible causes of the condition have been, if it is due to sun exposure, stress, among others. How to deal with it and what treatments do you have to improve the skin?
For each business bolg in this sector it must be persuasive, unique and eye-catching, achieve the impact that your business needs and requires.
Manage your work as best you feel the need to share it, under the requirements of exclusive and quality content.
Recommendations are shown to your work, you can address any other topic as long as it is within your work area. The more extensive and detailed the better the receptivity and what is expected of you in the community.
Important: It is not just about placing an image or a simple text, share in detail, contribute to your client what you would like in other areas or in the same one in which you work receive the same attention, with satisfactory results in the need to meet expectations. Remember that the costs of any work, have to be shared.

What kind of images are required?
Features
Clarity and focus in an image is paramount.
The backgrounds of the images play an important role.
Positions and angles of the images.
When capturing the image, study it and carefully observe if it is the image that will attract the eye of your client.
It is not just an image, it is the sample of the value of your work.
The works speak for themselves and make it attractive to your client is the purpose of the presence of the image.
Sample images that should be an example to your future work:
Note: Every detail is important, it is not just an image, it really is THE IMAGE, the one that the client needs to require your services.
If you believe in your potential as an investor, take the risk, challenge so much in narrating, doing, showing the best of your work. Believe that will lead you to greatness!
---
---
Currently the Aesthetics And Beauty Sector
| User | Company name | Investor Name |
| --- | --- | --- |
| @danielacarvajal | MERAKI ESTHETIC SPA | Daniela Carvajal |
We are currently waiting for investors in this fascinating Sector, because aesthetics in general is an issue that interests everyone.
---
You are the expert! Impress your future client on steem Blockchain
---
---
Do you want to be part of Steem Business Activity
Introduction to the community
Welcome to Steem Business Activity | General Rules
Community of business activity
We are now on Discord!
---
Would you like to support our community with Steem Power Delegation?
@Cindycam - MOD Editorial staff 🔹