Steem Japan Community Update: 9/15/2021
This week in Steem Japan Community
We are doing power up 100% upvote campaign this week. If you are interested, details in this post 👇
パワーアップすると100%アップボートされるキャンペーンウィークやってます。詳しくはここ。
https://steemit.com/hive-161179/@japansteemit/steem-japan-power-up-week-starts-now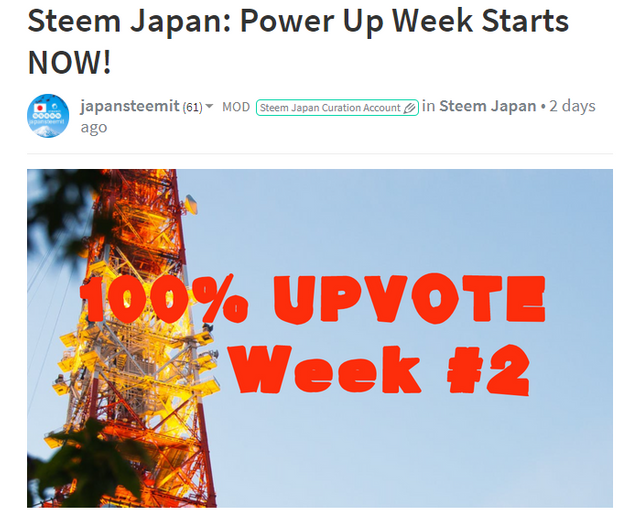 予想していた通り、前回みたいな反響はなく投稿数もかなり減ったような気がします。ただ、先週まいた種が少しながら芽が出てきたような気もします。アップボートだけじゃなく、このコミュニティーに興味・関心を持ってくれた人が少しでも増えたんじゃないかと。それにしても、アクティブ投稿数まだ110超えてるのは凄いと思う。
If you set 10% reward to japansteemit, PLEASE LET US KNOW in the title 👇 otherwise we won't know... 😨

How to set 10% reward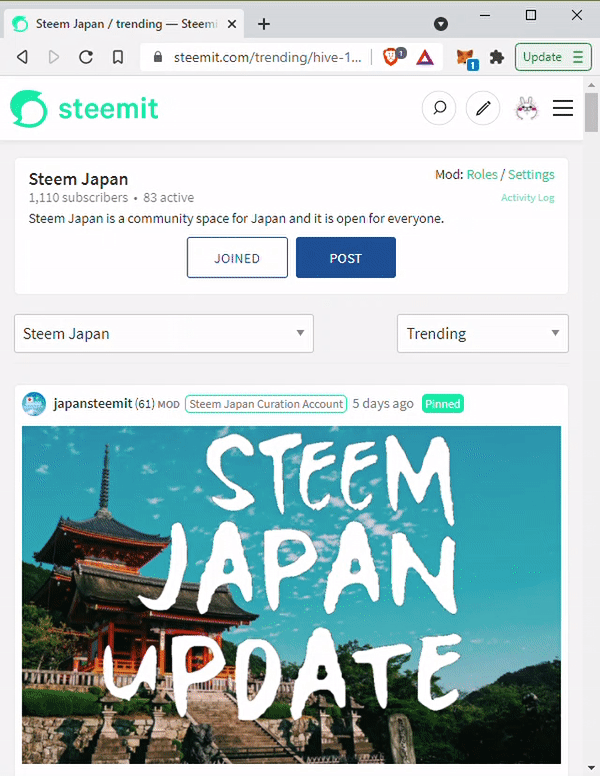 ---
STEEM POWER Delegation Reward
Members who support our community by delegating SP to us will receive monthly payout.
毎月自動的に支払われる(予定の)SPデレゲーション報酬は、毎日計算されてたまっていきます。今のところ、こんな感じ。
SP delegation reward is calculated everyday and will be paid out at the end of the month.
---
Communities of the Month Support Program
ライター募集、誰か書いて!
Looking for members to write this support program application. 👇
https://steemit.com/community/@steemitblog/communities-of-the-month-support-program-september-winners
---
🏆 Active Member Incentives (アクティブメンバー報酬) 🏆
アクティブに記事を投稿したり、コメントしたりしてコミュニティーに貢献している人、良い記事を投稿している人に毎週STEEMを送っています。
This week we are going to send 10 STEEM to @hae-ra for a big power up.



We might pick another one next week for big power up, so follow our trail and power up big ✌️
---
Steem Japan is a community space for Japan and it is open for everyone who is interested in building this community with us. Post anything about Japan like culture, food, customs, lifestyle, pictures, games, music, travel experiences... etc
Japanese language is preferred but English is okay too.
---
Community Engagement Stats
Good thing will happen if you are active in this community.
---
Curation Trail (84 followers: 80 active)
Thank you everyone for following our trail 🙂 We use this curation trail to upvote our community posts.
Please set the vote weight to 100%
We really appreciate your help.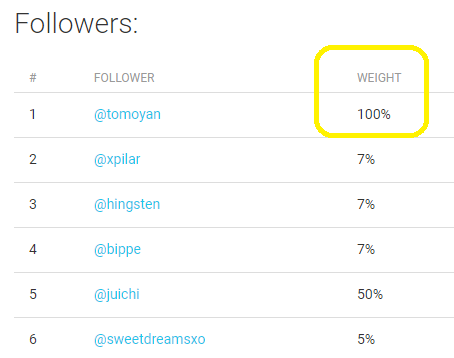 このキュレーションがコミュニティーメンバーのコンテンツサポートに使われますので、キュレーショントレールに参加をお願いします。(パワーアップを忘れずに)
* Follow our community curation trail
Curation trail is here: https://worldofxpilar.com/dash.php?i=1&trail=japansteemit
Curation trail info: https://steemit.com/hive-161179/@japansteemit/steem-japan-how-to-follow-curation-trail
* Delegate SP to community account
SPデレゲーションここから簡単にできます。
Help Us, Help You!
---
今週はデレゲーションが少し増えたので、Effective Powerが13,000 SPを突破しました!
@jobreyes24, @razzor, @itikna09 Thank you for your SP delegation support!
Effective Power is 13,076.82 SP ( 2,584.09 + 10,492.73 )
STEEM: 58.600 STEEM
STEEM POWER: 2,584.090 STEEM (+10,492.728 STEEM)
STEEM DOLLARS: $14.632
TRX: 223.698 TRX
Estimated Account Value $1,649.65
10%の投稿報酬の効き目が少しだけ出てました。何もないよりはいいかと思う。
This week


Last week


That is all for this week.
それじゃ、また。さいなら。
Team Steem Japan @tomoyan