CONTEST : DIARY ACTION TO CAMPAIGN #CLUB5050 | Prize Pool 15 Steem + Support booming
Note : 25% of Rewards Donated @worldsmile To Accelerate the Construction of Free Educational Facilities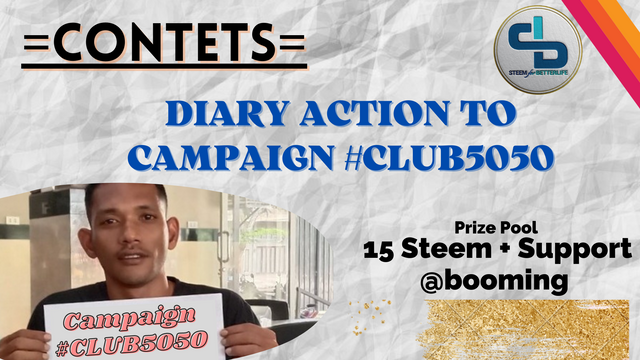 In connection with the publication of the #club5050 campaign by the Steemit Team through the @steemitblog post one week ago, and as a form of full support for this good initiative, we are coming from the STEEM FOR BETTERLIFE Team will continue to strive to encourage users to get involved in the campaign, this we do in order to maintain the Steem ecosystem.
Due to some of the reasons above, we need real action that brings trust and confidence to ourselves and can convince others to continue to strengthen their user accounts on this platform by Power Up every time they get a reward claim that is obtained at least 50% or more.
As we have done so far and campaigned by many people, so with that condition all of these Contests are here adopted from the vision and mission of the Steemit Team and the STEEM FOR BETTERLIFE Community in an effort to maintain the Steem ecosystem in the future, and to trigger user activity in the STEEM Community FOR BETTERLIFE. Now we wrap this vision and mission in the form of Diary Action to Campaign #club5050.
Diary Action to campaign #club5050 is a method used by participants in campaigning for participation in #club5050
You can also tell other users about the benefits of joining #club5050 by powering up
You can also promote the #club5050 campaign through spreads and banners as a form of promo-steem and steem investment by combining them through daily stories.
For example;
You tell your daily life about getting others to join #club5050 or tell about your own involvement in the campaign.
Make you have fun with daily activities by promoting club5050 and make the steemit.com platform a part of your life.
Contest rules;
Subscribe to the STEEM FOR BETTERLIFE Community
Must increase at least 50% Steem or more of earnings for 7 days
Sharing Rewards from the results of 25% posts for @worldsmile accounts
Participants can use any language they want.
Original or exclusive content and open to the public.
Post in the STEEM FOR BETTERLIFE Community.
Unlimited creativity, write as interesting as possible about #club5050
Use post title Diary Action to campaign #club5050, + 'title of your entry'.....
Use the tag #diaryaction2 #club5050 #promo-steem #worldsmileproject25pc -#yourcountry on the first 5 tags
Plagiarism is prohibited. Participants who commit plagiarism will be immediately disqualified
Use a minimum of 250 words (use photo with source if not original file)
Put your post link in the comments field below.
Resteem this post so that many other users see it
Invite three of your friends to join.
If any of the above rules are not met, you will not be eligible to win the contest.
Posts that have been edited will reduce the value
This contest ends until October 27, 2021
contest prizes;
1st - 3rd place get upvote boom
5 other best content each get 3 Steem.
Surprise Prize from the Steemit Team in the form of a positive vote if your content is considered interesting. Because the Steemit Team is currently looking for users who contribute the most to Steem's economic growth in exchange for additional support awards from steemcurator01 and steemkurator02. Don't waste this golden opportunity, keep doing Power Ups for future investment in Steem and we wish you success together on this platform.
Jury:
All entries will be judged by the STEEM FOR BETTERLIFE Community Team
The jury's decision is final and irrevocable
My thanks to the Steemit Team and the STEEM FOR BETTERLIFE Community and also to all users.
Signed, Contest Organizer
@sofian88
Thank you for your attention, and thanks to;
@pennsif
@disconnect
@heriadi
@irawandedy
@klen.civil
@el-nailul
@miftahuddin
---
Best Regard
No friendship is good, except for a conversation that never ends