Promo-steem📣: Promoting steemit with Uyo city team at Nung Udoe, Akwa Ibom, Nigeria || I Love Steemit And I Love Promoting Steemit || 10% Post Payout To @promosteem.com
GREETINGS GREAT STEEMIANS
Hello, Great lovers of steemit and steemit Promoters, I hope you are all doing great today? I'm doing great over here.
Early yesterday morning didn't start up well with me even though I knew I was supposed to join on the promo-steem shout-out. But what if I tell you my day ended well with sweet memories and great achievements? Alright, I will tell you, but first, let me tell you why my day didn't start up well.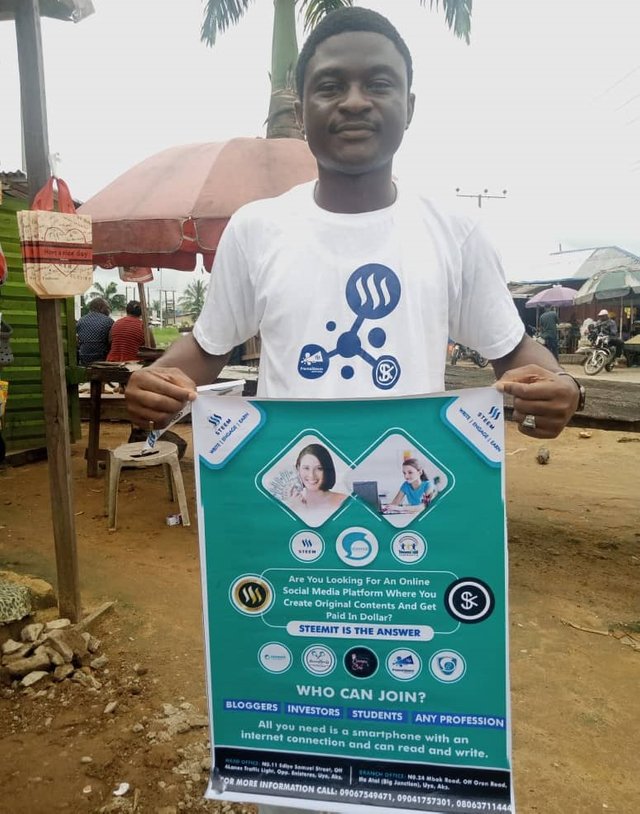 What3words
First, early morning when I woke up, I had a stomach upset due to what I ate the previous night, and the morning also started with rain as well. This shout–out show was supposed to be my first-time involvement because I wanted to experience how it is done. But somehow, I was discouraged because of the stomach upset and the rain. But then my mind was not totally off that arrangement, I still had an interest. But guess what? After remembering millions of youths in my nation who are graduates like me roaming about without a job to earn a living daily, honestly, I was moved to call my younger sister
@eliany
to inform her that I will still join in the Promo-steem shout out to promote steemit yesterday in other to create awareness to these.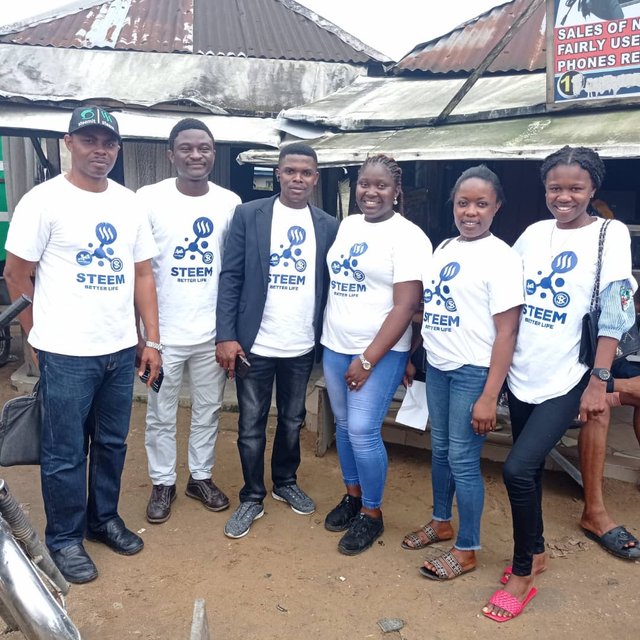 And I'm glad I was able to do that. The youths need to know about this empowerment, the general public needs to know about this as well. I call it empowerment because it can put food on the table if one is serious about it, it can take care of one daily needs and it can help secure one's future financially through investment. Then apart from the financial aspect, getting involve in steemit will also help one to structure grammar properly and also exposed the person to the modern way of writing content. So, it's actually of good advantage to anyone who wants to go into blogging. I have benefited a lot when it comes to writing apart from the financial benefits. Honestly, it will be selfish if I didn't go out to create this awareness, and trust me, I was so happy I did it.
---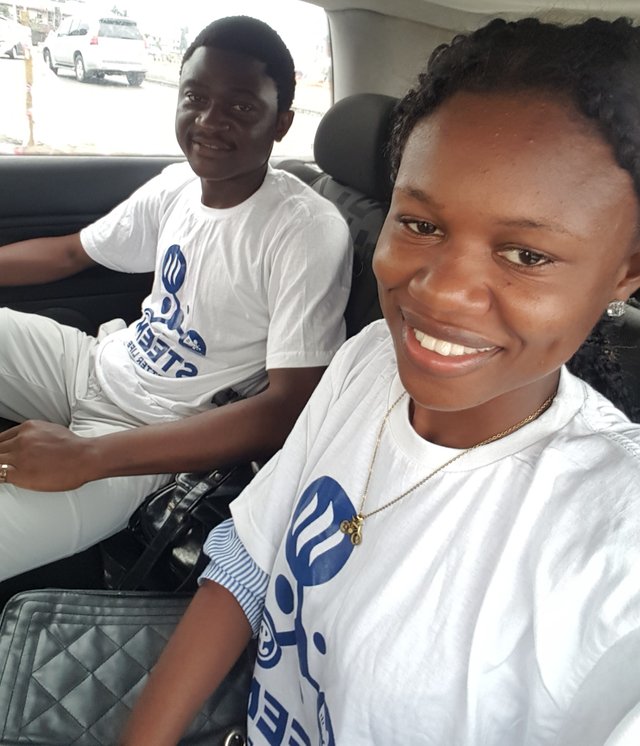 I and @adylinah promoting steemit
So, Thursday at 9:50 am Nigerian time, I and @adylinah joined @eliany and @ddwosky in their car to the location where we want to do the steem promo shout out and that was at Nung udoe, Akwa Ibom State, Nigeria. It was a fitting location because there is a large number of people there, it is a business zone. University students also live close by. So actually, we had a large audience. I met with other steemians like @nikkypeter, @goodybest.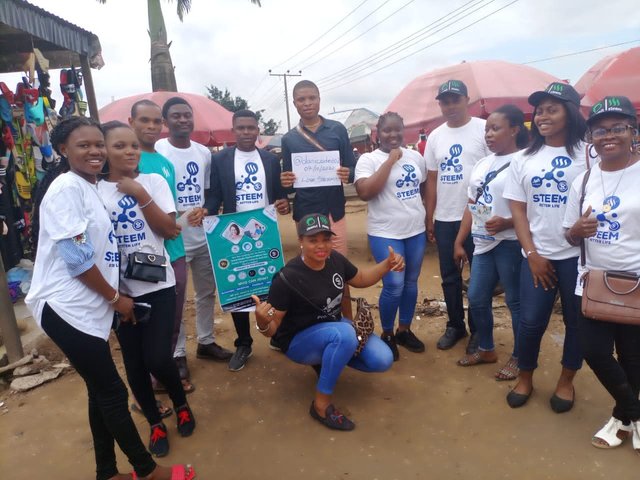 @ubongudofot with Uyo promoting team
I also met with other steemians for the first time like @chichieze, @ngoenyi, @benson6, @benson3 @esthyfashion.So I would say I lose nothing. we were really working as a team which we are, distributing flyers and explaining what steemit is all about to folks.
Our hard work yesterday was not in vain trust me, because we were able to sign up new folks to steemit, about five of them. They are: @victor7890, @isaacakpan, @sundayidongesit, @utitofonoffion, @emmypro, please help welcome them to the steemit world.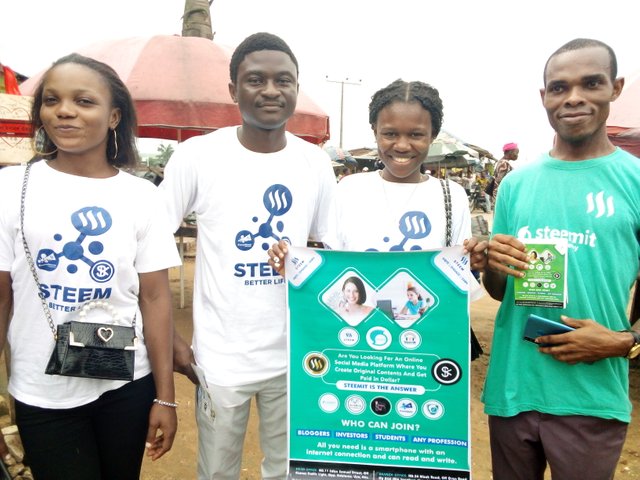 I had fun yesterday, that was an achievement for me. After spending two to three hours in that place of promotion, we later departed to our various destinations. At this point, it was already afternoon. I was exhausted but I was happy because I was able to participate in the steem promo shout-out roadshow.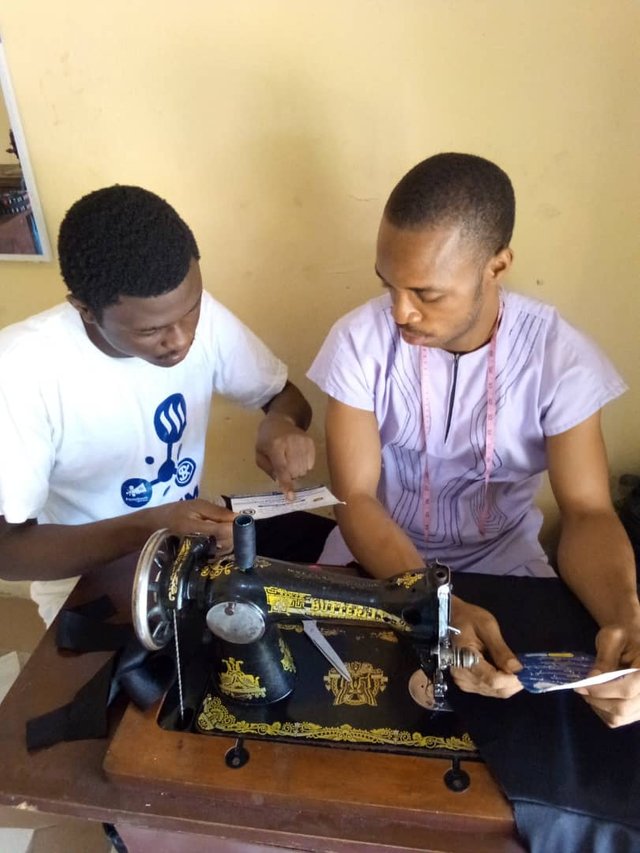 @ubongudofot promoting steemit
It will interest you to know that my steemit promo continues as I stopped by in my neighbor's shop who is a tailor to explain more about steemit to him and his apprentice, he told me he has heard about it before and he is interested in signing up but he wants to get a new phone on Saturday after which, I will assist him to sign up. He said I could inform my fellow steemians to patronize him and also pay in steem that he is willing to collect that in exchange for his services. So hopefully on Saturday, I'll sign him up after he might have purchased a new phone. He called me this morning to remind me that he is still interested. That's a good sign, isn't it?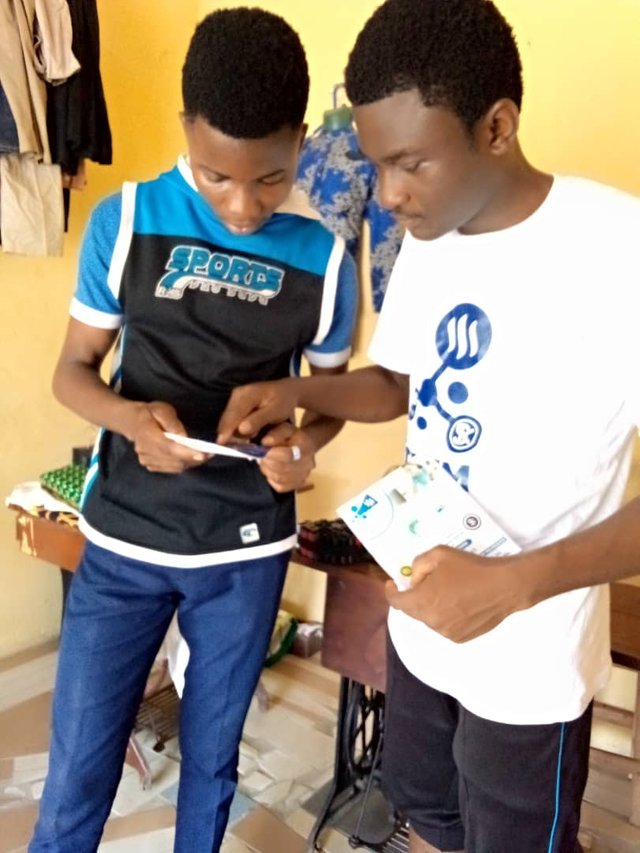 @ubongudofot and prospective Steemian
CONCLUSION
My day didn't start well at the beginning but it ended well with joy and great memories. The promo steem shout-out was a nice experience and it was successful. I am indebted to @promosteem for giving all steemians this avenue to showcase their skills of promotion when it comes to promoting steemit. Steemit is more than just to make few dollars. I'll say it's a coach to all bloggers and content writers while earning. The positive response I had from folks yesterday, really encouraged me to stem more.
---
Thank you so much for visiting my promotion blog, I love steemit.

---