Guidlines Booming Support | Steem-Database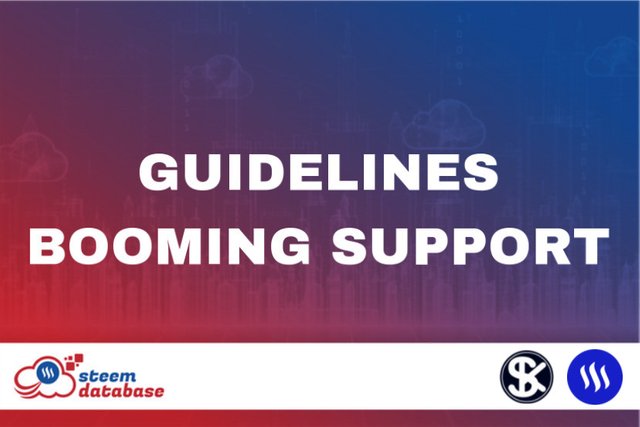 Hello Steem-Database Friends, I hope you are always healthy and blessed. Success to all of you and thank you for supporting the Steem-Database community.
It is with great pleasure that through this post we announce that the Steem-Database community has received BOOMING support for the period July-August 2022. We have just received a notification from the Steemit team about BOOMING support for the Steem-Database community. This endorsement is a great opportunity for all members of the community to get value on their posts.
We will use this support wisely for the growth of the community. Through this support we can provide an opportunity to reward community members for posts published in the Steem-Database community. This BOOMING support is prioritized to increase the value of quality posts that are in accordance with approved topics in the Steem-Database community.
To be able to implement BOOMING support, we created a guide on implementing BOOMING support. We will conduct BOOMING management in a transparent, fair and honest manner. Everyone can also directly view BOOMING's support history through a report that we will post every weekend.
The following is to get BOOMING support. BOOMING support will only be provided to users who meet the following requirements:
Posts must be original and of high quality, not the result of processing, prephase or plagiarism.
Posts must consist of at least 300 words, not including the opening and closing words.
Post description must include at least 3 images.
Posts must be in accordance with the approved topic in the Steem-Database community.
User must at least join #club5050.
The user has never done a power down for the last 3 months.
Posts must be #steemexclusive, posts have never been published on any web.
Users do not use bid-bot services or support for paid vote services (upvote bots).
Posts must at least get a rating of 7 given by the Steem-Database team.
Users must use tags that are relevant to the topic of the post and not spam tags.
Users must comment on each other and build interaction on other users' posts on the Steem-Database community page.
Positive comments, input or guidance.
Mutual respect, support and anti-discrimination.
Be polite and respect each other.
Topics
Steem-Database community provides free community pages for topics related to PromoSteem, Learn With Steem, Blockchain, Dapp, Metaverse, Non-Fungible Token (NFT) and Crypto Analysys. Steemit users can share their posts on the Steem-Database community page related to the topics we have mentioned. You can develop the above topics by sharing creative and innovative posts.
Management
BOOMING support will be managed by @pojan and @ashkhan. Every violation and abuse can be confirmed directly to them. The whole team also has the same rights and responsibilities for the management of BOOMING support. Basically this BOOMING support is managed jointly by the whole team. The management team's decisions will also be monitored and guided by @ponpase.
Guide
Conclusion
Those are the rules for getting BOOMING support, the rules are set based on the guidelines and rules of the Steemit team. These rules are officially set by the Steem-Database team to support the growth of the Steem community and ecosystem. We hope that this guide will serve as a foundation for implementing BOOMING support.

Thanks To : @steemcurator01, @stephenkendal
Best Regards,

@ponpase | ADMIN Leader ⭐
@pojan | ADMIN Community Manager
@steem-database | Official Curation Account
@msharif | MOD Bangladesh
@ashkhan | MOD Pakistan
@victoh78 | Plagiarism & Abuser Checker
@alejos7ven | Guide And Tutor Team
@waterjoe | MOD Indonesia
@fredquantum | MOD Nigeria
@ozenozge | Monitoring Team

JOIN DISCORD !
https://discord.gg/95aXdrH6
CURATION TRAIL
Follow the Steem-Database community curation trail through https://worldofxpilar.com/dash.php?trail=steem-database&i=1
DELEGATION
We are very open to receiving delegations from anyone who wants to support the community. if you are interested in becoming a delegator for Steem-Database you can give any delegation you like :
Alternative links delegates to @steem-database