UPDATE - Promoters Weekly Report & POWER UP Level System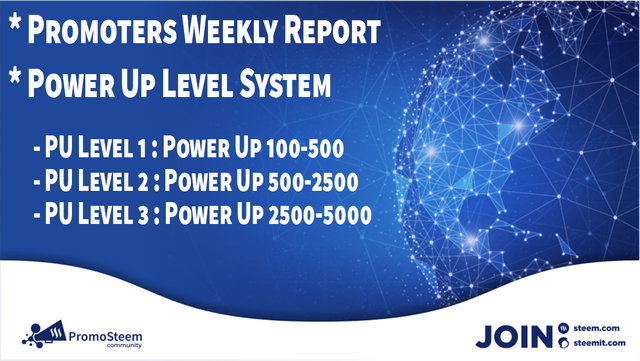 After evaluating the progress of the Promosteem Community, I see this is not enough and there are still some things that need to be improved and also developed, since this community is a fast growing community, many users post on community pages, that's a good thing, but not enough to be a community that can provide value to the steem community.
There are still few concerns about maintaining the value of steem and also a good ecosystem, many users still don't care about POWER UP and don't even care at all, that's why the PromoSteem community is committed to making stricter rules and also making a better system.
Last Friday, the Team and Promoters also had a discussion and also agreed to run this system in the Promosteem community and will work harder to monitor and guide users on Promosteem.

2 Important points we got at the meeting, about the Weekly Report of each promoters and also the POWER UP Level System

Promoters Weekly Report
Reports from the promoters will be published every Saturday on each promoter's account about the development of users from their country, and in this report, the users' commitment to power ups and assessing how users carry out promosteem activities will also be displayed.

POWER UP Level System
Power up level is our system to rate promosteem members in their seriousness to do power ups. with this level, we will rate each member on the promosteem and give them a certain label so we can choose who deserves to be supported by us and who does not deserve to be.
There Are 3 Level Label
PU Level 1 : Power Up 100-500 Throughout the steemit career
PU Level 2 : Power Up 500-2500 Throughout the steemit career
PU Level 3 : Power Up 2500-5000 Throughout the steemit career
This label only applies to members who have a commitment to power up every week, and we will always check every week and the label can be removed if we find the user has not added power more than 10% of the profit in last 7 days and removed the label if doing POWER DOWN.
Example 10% of profit for last 7 days
150usd profit = 10% = 15usd
So, the user must do a power up of at least 15usd in last 7 days


We checking your data from https://steemworld.org/
its better to power up more than 10% and try to get PU level 3
Example Label

I hope sir @steemcurator01, @booming, @stephenkendal can see our new system and also pay attention to the labels we have created so that you can more easily find users who deserve to be given votes on the PromoSteem page
The purpose of this label is to make the steemit community know that we, the promosteem community, care about power ups and will do our best in organizing users to power ups so that the steem value is stable.

PromoSteem community is growing and much in demand by Steemians. This is evident when the number of Subscribers and Posters continues to increase over time. PromoSteem Community Page is a forum for the community to support and campaign #promo-steem activities.
Every post published on this page is our responsibility. Content creators must be prepared with all the consequences that will be received after their posts are published. To avoid misuse of PromoSteem Community page.
PromoSteem Community Guideline

Alternative links delegates to @promosteem.com

Thanks to : steemcurator01, @stephenkendal, @pennsif

PromoSteem Team
@arie.steem @pojan, @ponpase

Promoters Team
@julstamban - Philippines
@mcsamm - Ghana
@nattybongo - Ghana
@cryptokraze - Pakistan
@michaelchijioke - Nigeria
@oscarcc89 - Venezuela



Author : @arie.steem
Contact Discord : arie.steem#4626
Twitter : https://twitter.com/ariesteem