Promo SteemNFT in Torum NFT Community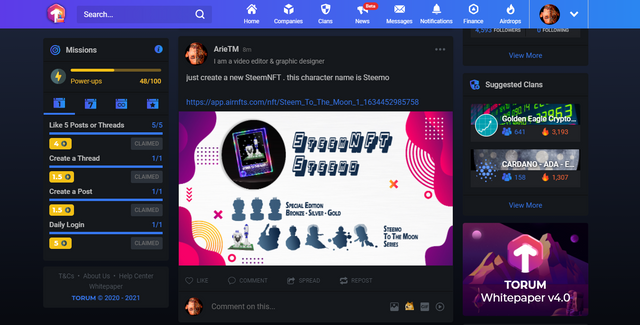 After I introduced SteemNFT in a previous post, now I'm making a Steemo promotion to the torum platform. the steemit information can be known by torum users.
If you don't know about SteemNFT you can read this post STEEMO - SteemNFT Introduction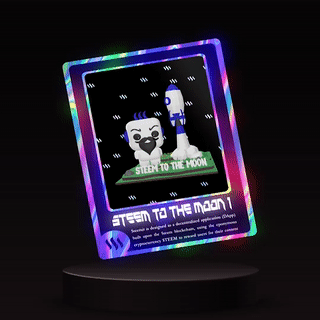 ---
What is Torum ?
We certainly know about facebook or twitter, there must be the best place to do promotions. however, not all users like content about cryptocurrencies.
But, I found a suitable place and can also make a decent profit by just making a short text or short information such as facebook status on the torum platform.
What is Torum ?
Powered by XTM, TORUM is a crypto-centric social media platform that aims to form a powerful one-stop ecosystem by bridging the gap between cryptocurrency communities across the world.
Ranging from User Profiles to Clans to Companies,each functionality and every detail on TORUM is designed to spark conversations and promote connection among the community
In simple sense
Torum is a social media like Twitter or Facebook. however, the content there is content about all cryptocurrencies, so we can promote steemit there to other crypto users.
Get reward from
Daily Mission
Weekly Mission
Special mission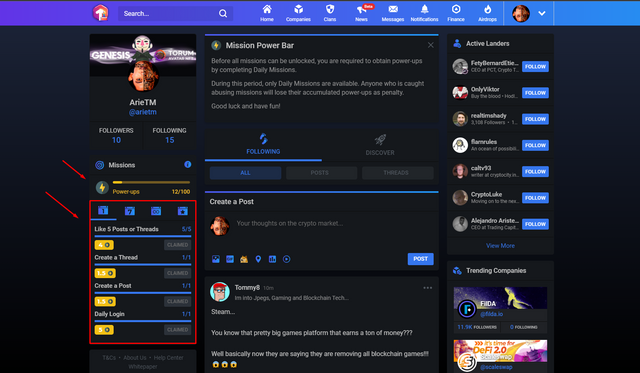 So. in other words, torum can also be a good place for us to promote steemit targeting crypto users. and can also get rewards by just writing short statuses every day or sharing your steem promo activities.

30 xtm is shared evenly between you and your mentee. Both of your referral rewards will be automatically credited into your wallets respectively after you mentee has done verifying his/her account.
join torum with using my referral to get free 30 xtm
https://www.torum.com/signup?referral_code=arietm
Join discord to get more information
https://discord.gg/CdKCuGRg35
Lets start to build #promo-steem community there and expand our activities
---
Special Mention To :
steemcurator01, steemcurator02, @stephenkendal, steemchiller

Author : @arie.steem
Contact Discord : arie.steem#4626
Twitter : https://twitter.com/ariesteem