OpenSeed Update: Tokens, Steem Verification, and CLI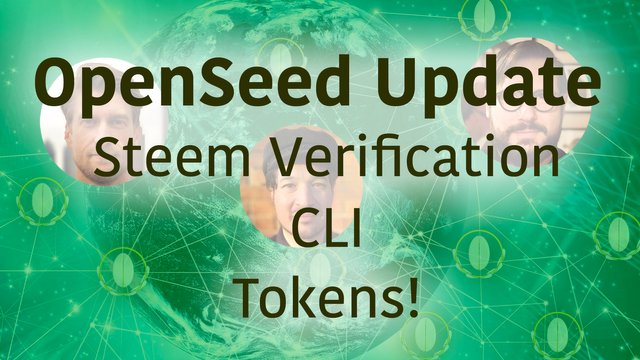 Hello Steemians, today we are excited to update you on the progress we are making with OpenSeed, the platform we are building to create a more socially aware internet. OpenSeed is an open source, cross-platform database that manages social information and digital assets while protecting user information with strong encryption. It is this platform that we are using to power our next-generation messaging application; OpenLink.
In today's post we'd like to update you on the features that are already operational in OpenSeed as well as announce some exciting new features we have not yet discussed publicly. Spoiler alert: it's tokens!
This post is based on the recent development update posted by @bflanagin
Steem Verification
We have made a lot of progress in the domains of user management and administration. Steem Verification is now live on the OpenSeed server which means that users can now verify their Steem account using any private key! Steem Verification is what will enable people to "link" their OpenSeed accounts to their Steem accounts and pull information from their Steem account (profile information, posts, follows) into OpenSeed and applications built on OpenSeed like OpenLink.
But please, just use your posting key. OpenSeed is really only available for developers at this point, so we expect the average "user" to be highly informed about private key management. Getting OpenSeed into the hands of developers is the necessary first step toward getting it into the hands of regular users, so this is pretty exciting!
Command Line Interface
We have created a Command Line Interface (CLI) that developers can use to manage OpenSeed. Developers can now create users as well "Creators," who include artists, musicians, and influencers who might want to create assets on OpenSeed.
Tokens!
OpenSeed's primary goal is to create an easy to use interface for developers of all kinds to take advantage of Steem and other decentralized technologies. We believe that all applications and games can benefit from the use of digital assets to increase engagement, validate meaningful contributions, and otherwise gamify their product.
Non-Fungible Tokens
The creation, management, and distribution of NFTs are a perfect fit for the platform as they are the ideal method for enabling people to create, buy, and sell provably rare digital assets. At this time OpenSeed has a standard format and the necessary math nearly completed, but the developer interface is still being developed.
Fungible Tokens
Just as many applications can benefit from the sale of digital goods, so too can many games and other software products benefit from their own internal currency. We believe that OpenSeed will have such a currency that will be used throughout the network, therefore it makes perfect sense to offer that feature as a service to 3rd party developers as well.
With OpenSeed Fungible Tokens, the creators of a token will have total control over the economics of their token. Our focus will be on giving them the tools they need to buy, sell, and trade those tokens. As always, our focus is on giving developers tools that will enable them to bootstrap their application, faster, cheaper, and more profitably.
Feedback Wanted
We are extremely excited with the progress we're making and we hope you are too. We appreciate the positive feedback we are getting from the community, but don't hesitate to tell us what you think we're doing wrong! What features do you think we should focus on more? What features do you think we're missing that could add value to both developers and their end users? Let us know in the comment section below, and of course...
Previous Posts