OpenLink: The Gateway to OpenSeed and Steem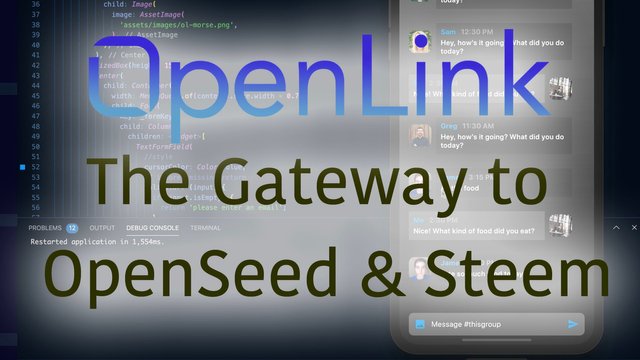 In our last post we said that we are building a more socially aware internet and in today's post we'd like to talk about the role our upcoming application, OpenLink, plays in enabling us to make progress toward that goal.
We believe that Steem was built to be the backbone of a socially aware internet. So what is a "Socially Aware Internet"? A socially aware internet is an open protocol that connects people instead of computers.
Huh?
In the beginning, the internet was created to network computers together. That basic premise has evolved into the primary means and method that a huge portion of humanity uses to connect with one another, and it is those connections which add so much value to the applications that have become such a big part of our daily lives.
The Problem with the Internet
The problem is that these connections are privately owned and exploited by a tiny group of massive tech companies that are growing more and more hostile toward their own user base!
Open Source, Cross-Platform
Because OpenSeed is an open source, cross-platform database that manages social information and digital assets while protecting user information with strong encryption, when connections are stored on OpenSeed they are no longer owned and controlled by those massive tech companies. They belong to you, the public, while safeguarding your privacy and keeping your information under your control.
OpenLink will give people a window into the possibilities that arise when developers are able to leverage those valuable connections to power next generation applications.
Too Ambitious?
We know that this all sounds ambitious, and that building an application in addition to a platform might sound like biting off more than we can chew, but by the end of today's post you will at least understand why we have chosen this route, and why we believe it will actually enable us to accomplish our goals even faster.
Join the Team
That being said, if you are a web designer or developer who believes they can help bring these products to market, we are looking to add both technical and non-technical members to the founding team, so come on by our discord server if you want to help the project succeed. We are also looking for people who would like to be Community Leaders.
OpenSeed = Operational
The first, and most significant, reason we believe we can accomplish this goal is because nearly all of the features that will power the initial release of OpenLink are already live in OpenSeed! That means that most of the work on OpenLink is frontend development and connecting those elements to OpenSeed. Here's a brief preview of what some of that work looks like.
OpenSeed is far enough along, thanks to @bflanagin's hard work, that we have a functioning server that can provide the backend services necessary to power OpenLink. We're just not yet at a place where other developers can fire up their own OpenSeed instances and add them to a cohesive network or mesh. Getting to that place is much of what Ben is currently working on, but it's going to take time.
The Adoption Problem
We don't fault people for not realizing that OpenSeed is much farther along than it may seem, that's one of the difficulties with building platforms. You want to build the best platform you can, but the platform is worthless until developers adopt it. Developers don't want to adopt anything that doesn't already have a lot of developers using it, or a lot of users.
To resolve this dilemma we are taking a page out of the Steemit playbook. Building a frontend that visually displayed Steem's capabilities acted as a "billboard" for the Steem blockchain while simultaneously growing a user base. That's one of the important functions we believe OpenLink will serve.
A Simple Approach
What makes OpenSeed special is not any kind of "alien technology." Simply open sourcing a pre-existing backend for applications enables developers to release applications faster by eliminating that work from their roadmap. OpenLink will be the first demonstration of how helpful this simple approach can be.
Vote on our Steem.DAO proposal here.
OpenSeed: A User Management System
You can think of OpenSeed as a User Management System, much like WordPress is a Content Management System. Just like Wordpress enabled developers to create blogs faster by providing a pre-existing framework for storing and serving up content, OpenSeed will enable developers to create apps faster by providing a pre-existing framework for storing and serving up user data that is secured by strong encryption. If you'd like to learn more about OpenSeed, check out this post.
OpenLink: The Gateway to OpenSeed
As @exyle observed in his interview with @andrarchy, OpenSeed is trying to be the gateway to Steem, but OpenSeed doesn't have a frontend. It's just code. OpenLink is the frontend, the face, that will act as the gateway into OpenSeed.
Connect, Communicate, Collaborate
One of the advantages that we have as a team is that we are all passionate about Steem, so we know as well as anyone what applications Steem users need yesterday. After engaging with users and developers, and gathering their feedback, we decided that what was most lacking in the Steem ecosystem were the tools necessary to enable users to connect, communicate, and collaborate across applications.
Steem's Superpower
We believe that one of Steem's "superpowers" is its ability to bring together like-minded people which is demonstrated by the amazing communities that have grown on Steem, despite the fact that Steem still lacks many of the tools necessary for sustaining and growing communities. The new Communities features that can be found on beta.steemit.com are a massive improvement, but they still lack the features necessary to enable users to find one another and collaborate in meaningful ways. That's why users still turn to Discord, Steem.Chat, and Slack.
For Steemians, By Steemians
We want a way to find great Steem users and form meaningful connections with them (and we're not the only ones) that is built by Steemians, for Steemians, and that's what we are building with OpenLink. But the beauty of OpenLink is that it leverages OpenSeed's open source chat module, which means that any other application can offer the very same features.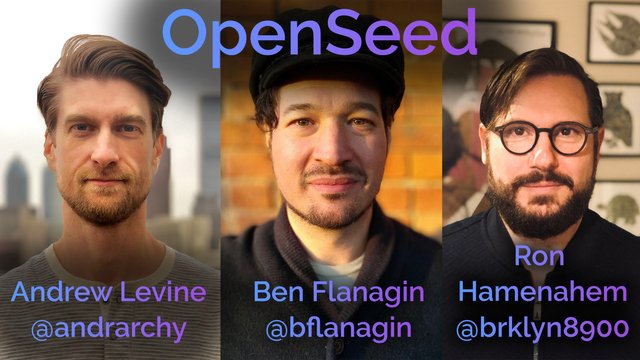 Take Your Chats With You
Not only that, but when those applications do integrate OpenSeed, you will be able to take the conversations you have in one app (like OpenLink) with you when you move to another app. That means that you could connect with someone based on their shared passion for Splinterlands, begin playing that game, and then continue that same conversation in the game, all the while being protected by strong encryption.
While this might sound like magic, it is simply due to OpenSeed's open source, cross-platform design. We look forward to sharing more details about OpenLink and OpenSeed, so be sure to join our Steem Community, follow @openseed on Steem, and join our discord server to stay informed of further developments.
Previous Posts