Growing leafy veggies a bit more intensively / 葉物をいつもより重点的に育てることにしました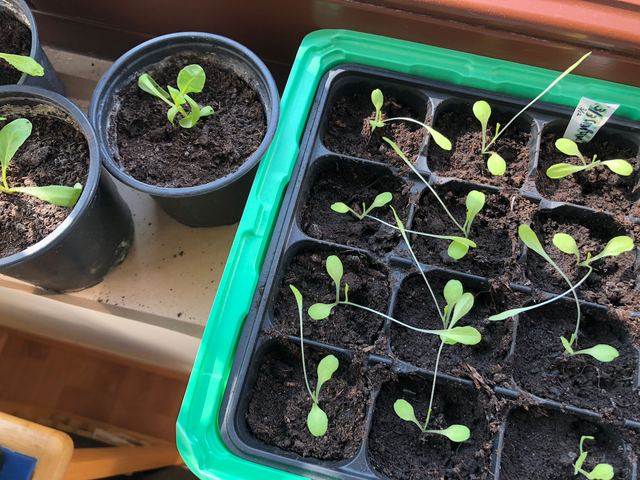 It's just my guess but I think Germany relies on quite a lot of vegetables to other countries (I understand it as it's quite dark and cold in winter in Germany). Not only from EU countries such as Italy, Spain and Netherlands, but I saw pumpkins from Argentina, onions from New Zealand, spring onions from Egypt, snap peas from Kenya etc. I wonder there will be fresh food shortage in the near future.
Luckily it gets warm so I increased number of lettuce, chard, spinach, sweat peas than I planned. I may have to think about what to plant based on calories but as potatoes are German specialty and I have some flour & rice stock, it should be fine.
My veg plants for spring and summer, including those I think about sharing or selling at events in spring and those for my food education project, grows steadily regardless to the coronavirus pandemic in human world. They encourage me to keep on going. I wish regular days come back and I can share the plants with others soon :)
---
私の感覚値でしかないのですが、ドイツはかなりの野菜を輸入に頼っていると思います。冬が寒くて暗いので仕方がないといえば仕方がないのですが、同じくEUのイタリアやスペイン、オランダで作られた野菜はもちろん、アルゼンチンのかぼちゃ、ニュージーランドの玉ねぎ、エジプトのネギ、ケニアの絹さや・・・などなど。コロナウィルスが流行する中、今後結構野菜に困るんじゃないかなと考えています。貨物輸送は今の所あるみたいだけれど。
幸いこれから暖かくなるので「ないのなら作ってしまえホトトギス」です。トマトやパプリカ、ナスは趣味と食育プロジェクトの苗が山のようにあるので、夏前、早ければ春先には食べられるレタスとチャード、ほうれん草、グリーンピースの株数を予定よりも少し増やしました。カロリーで言えばおいもや穀物の方がいいとは思うのですが、おいもはドイツの国民食だし、お米と小麦粉の買い置きは少しあるのでなんとかなるだろうと。
植物たちは人間界のできごとなどどこ吹く風で日々大きくなっています。食育プロジェクトや春の交換会や販売会のために作っている大量の苗も育っています www 最悪うちで食べればいいやと、自宅待機中の気分転換に育苗を続けています。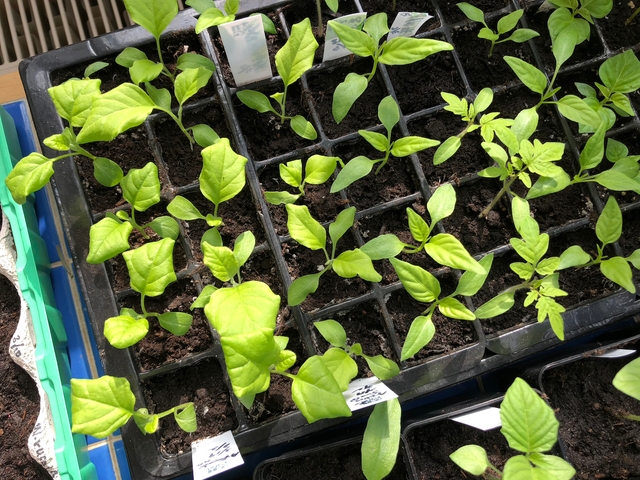 ・・・なんて話をすると「ドイツ大丈夫???」心配されますが、一部製品が品切れしているくらいで、日常生活はいたって平和です。もうちょっと深刻に家にいた方がいい気もするけれど。。またこの辺りは別途投稿したいです。