First Anniversary on Steem: It was a Fantastic Year & Beginning of an awesome one
Hey Steemians
I am very happy to share with all of you that today is the day when I complete one year on this amazing platform which is known as Steem Blockchain.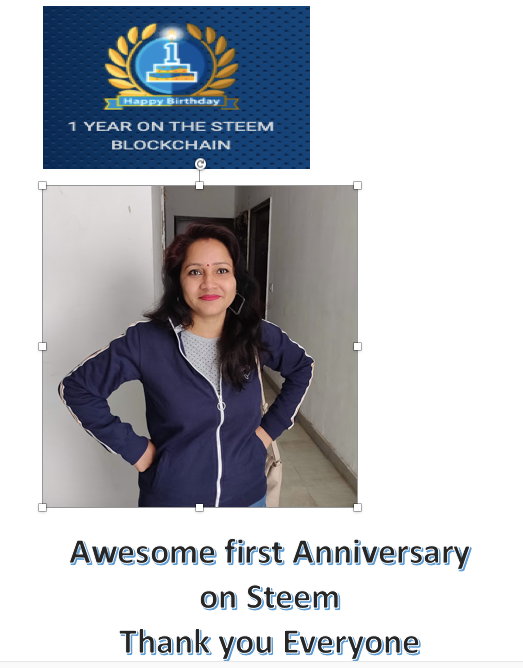 Its said that when we don't realize how fast time is moving that means everything is going fantastic and we are in the right place and moving towards the right direction
I did not even remember that I am completing one year today and thanks to the @steemitboard who added comments to my post and notified me about this special day for me and I would love to remember it again and again.

This is like my first birthday on his team platform but I must say that this year has been so much amazing and full of learning as well.
---
My Beginning with STEEM
I come from a non-technical background and had no understanding of blockchain and only a bit about crypto which I got to know through media channels. When I joined Steem at that time I did not think that I would be able to complete such a long time that too with so many achievements over here. I used to think that it is a platform that is mostly for the people who are in the crypto world but I was wrong and I found it as a place where one can share anything related to any topic and the entire community loves it. I was never a blogger and never ever return any post before but with the support of this fantastic community, I got to learn what are the skills needed to write a nice post. My journey with Steem started with the @actifit fit but now after a year I am part of multiple D apps on the blockchain and I am actively working on many of these.
I still remember the day when I created my introduction post on the platform and it was such a warm welcome by the community. I've got so many words and comments which made me so happy and that worked as a boost for me since my day one in this platform
Achievements
This is the snapshot that I have taken from Steemd.com website and it shows what I have achieved within this one-year period on Steem Blockchain.
My journey was started with 25 reputations and zero steam power but as of today, I stand at almost 70 reputations along with 3227 steam power which is my own that I earned here. To be precise my reputation is 69.5 and I hope in a couple of weeks it should be touching 70 mark. In the beginning of this year 2020 I had set up a new year goal to touch 3000 SP on my account and I am very happy to share that I made it even more within this period and that is possible because of my hard work and community support.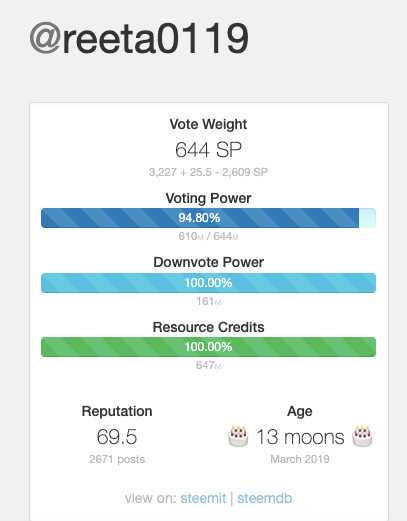 Minnowhood
I became minnow within less than six month period on a steem blockchain and here is the post that I share that time because I believe That everything should be shared on the chain so that it remains year and whenever I need I can get it.
Learning
As I have already mentioned that I come from a non-technical background and had no understanding of the block chain and more of cryptocurrency but within this one-year time I have learned a lot and now in a position to share more information about Steem Blockchain with anyone. This is all possible because the community is vibrant and there is a lot to learn every day. I have to share that if any person who is part of Steem Blockchain spent a couple of hours every day going through some posts then within a few month's time the person will learn and get knowledge about technology Blockchain, cryptocurrency, new innovations and much more. These are just a few areas that I understand but there is a lot that can be explored depending upon the person's interest. What I have seen that there is something for everyone on Steem Blockchain and no matter what interest you carry but I am very sure that you are going to find your interest over here.
I became a Blogger and Gamer on Steem
I am very happy to share that I became a blogger on the steem platform only and the credit for this goes only to the Steem community. Not just a blogger, I also became a gamer on Steem Blockchain and I have been doing pretty well on his @splinterlands game for the last few months. I am also sharing my current player profile from @splinterlands and I am in the golden league which is considered to be a great one and not everyone can easily unlock it.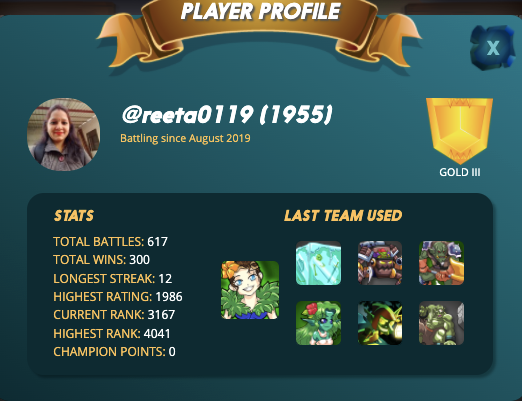 My Contribution to Community
I understand that since I have achieved a lot through the support of this awesome family and community so I have also tried my ways to give it back to the platform. Whatever steem or steam power I earned on this platform is it still here and I never withdrawn anything neither have any plan to do so. I have a long-term goal and as a part of it, I Keep on powering up my account and given delegation to some of the good projects on the platform so that it helps them to grow and they keep on doing fantastic work. Other than this, I am also in discussion with a few of my friends to bring them on board on steem However it is something that was not easy but it is expected to happen soon. I believe this platform is more fun with friends and I want my friends to be here but earlier crypto banking ban in India was making it difficult and now since it has been given the green signal by the Supreme Court so I am also hopeful that people would like to be part of this platform which is built on blockchain and cryptocurrency.
Future Plans on Steem
I am here to stay on the platform and my this journey here is not for a few weeks a few months, in fact, it's going to be for many years. My reason for this commitment is very simple because I never saw any platform where I could learn this much in such a small period of time and now since I got it then I am not going to leave it and even I will bring more people over here so that. Money was never the first priority for me and that is why I never withdrew anything from here but I want to achieve dolphin level within next six months time period so that I can help more and more projects to my delegation and it will also help me to text and more support to the newcomers on the platform.
I believe in the platform community, technological innovation, and because I have full faith in it so I am going to stay here. Basically it's a kind of time investment that I am doing for my bright future like so many steemians are doing and I am also hopeful that future will be bright and we are riding through the right platform in the right direction.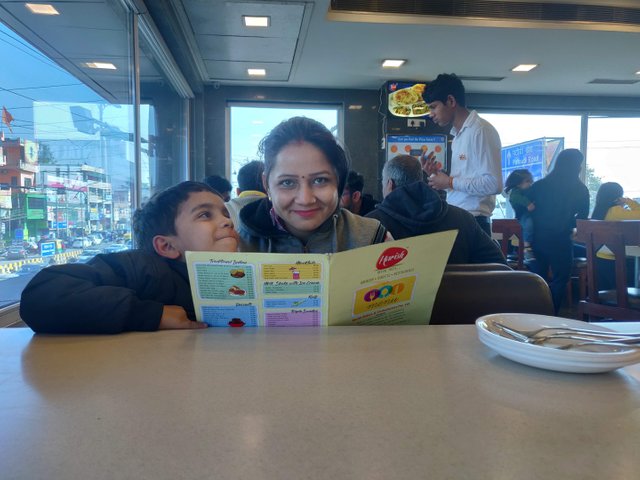 Thanks to everyone for making this possible and special thanks to @kenny-crane for fabulous support
Thank you so much.
Have a great time
---
Namaste from India