A Time to Mourn
Yesterday was a day to mourn as I attended the funeral of a close friend. C.C. had been in the palliative care unit of the hospital for the last two months and the doctor had told her it was a matter of time with her COPD and Lupus complications.
I will miss my friend and all the laughs and good times we had. She was kind-hearted and spiritual. We often had long talks about the supernatural and paranormal activities we had witnessed.
This sounds bizarre but I knew she was soon to leave this planet when the trees on her property gave me a warning sign last fall. I started to drive out of her driveway when the birch tree, on the side of the driveway, caught my eye.
The face of someone appeared there with a dark mask starting up his face. Terror strike my heart for the thought 'Death Mask' sprung immediately into my mind. I used the cell phone and took a photo of the face.
Intuitively I knew what I was witnessing was a warning message concerning my friend. At this time she was a home with her husband doing her normal activities. There didn't seem to be in any serious health crisis.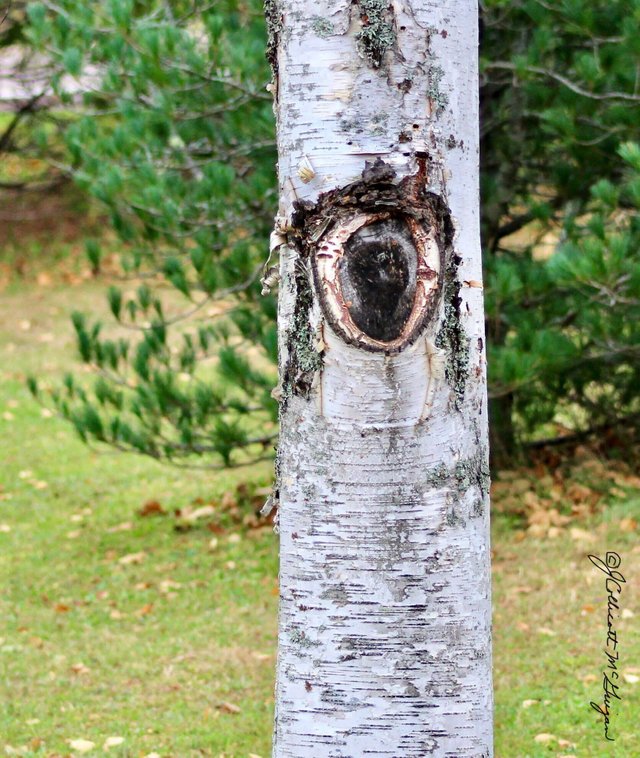 This was the face I saw the next time I visited. A different tree /nature spirt then the first one. This one is much clearer and the hairline, ears and shape of the face is defined. The death mask is more pronounced and covering more of the face.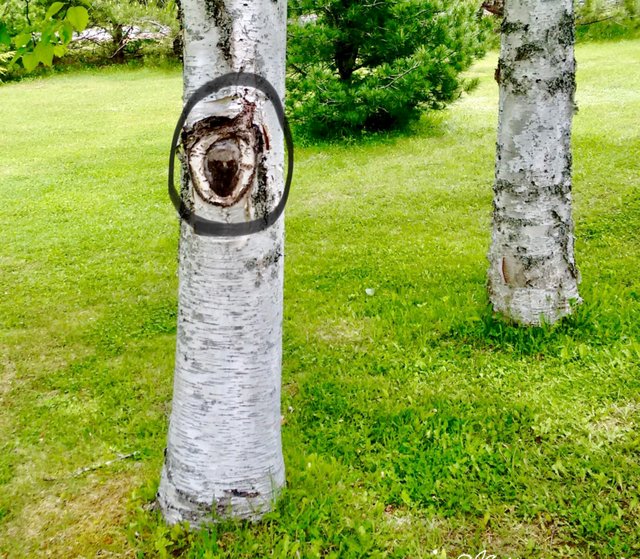 A closeup of the face in the tree. It must be a tree spirit mourning the approaching death of my friend and preparing me for the loss.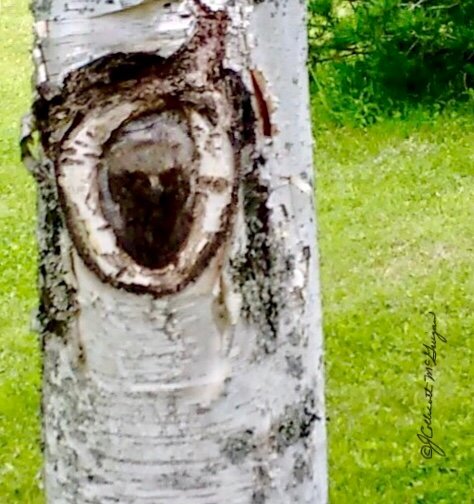 We often don't realize how much we are connected to nature and the signs we receive if we are open to them.
The first thing C.C. did when you visited was walk you around the yard and point out all the roses and different plants that were blooming. All birds and animals were welcome to her yard and she put out seeds and any food leftovers for them.
C.C. loved nature, her garden and flowers were her pride and joy
It seemed nature loved her too as the nature spirits were in mourning as they knew her time was drawing near.


I was honoured to be asked to do a reading at C.C's funeral. It was a short one from Matthew 11. Verses 28-30 as follows;
"Come to me, all you who are weary and burdened, and I will give you rest. Take my yoke upon you and learn from me, for I am gentle and humble in heart, and you will find rest for your souls. For my yoke is easy and my burden is light."
Another lady did a reading. Here is the part she read From the Book of Ecclesiastes. Even if you never read a bible you might find the words familiar-they were incorporated into a song.
To every thing there is a season, and a time to every purpose under the heaven:
A time to be born, and a time to die; a time to plant, and a time to pluck up that which is planted;
A time to kill, and a time to heal; a time to break down, and a time to build up;
A time to weep, and a time to laugh; a time to mourn, and a time to dance;
A time to cast away stones, and a time to gather stones together; a time to embrace, and a time to refrain from embracing;
A time to get, and a time to lose; a time to keep, and a time to cast away;
A time to rend, and a time to sew; a time to keep silence, and a time to speak;
A time to love, and a time to hate; a time of war, and a time of peace....
Pete Seeger wrote a song using the first eight lines. The song was called Turn, Turn, Turn ( To Everything There Is A season).
Turn! Turn! Turn! song by Pete Seeger
Source
The words in the Book of Ecclesiastes are so fitting of our life and the many changes we go through.
Nothing is permanent. There is a time to live and a time to die. A time of joy and a time of sorrow. Anything else in between is frosting on the cake.
Now is my time to mourn and my time to dance will be another day.
❤️ ❤️ ❤️
I have posted my photos of the tree/nature spirits before and now their message has been revealed.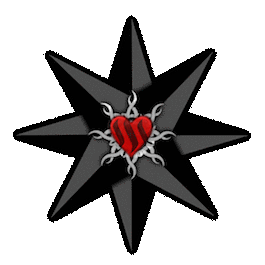 #thealliance



hive-114105
Animated Banner Created By @zord189