Historical Volatility at 40% for BTC, previous times this happened has lead to major moves
We may be about to see a big move in BTC
The historical volatility is now at 40%, which has meant a big move incoming historically.
When bitcoin has reached this level in the past, it has lead to a move between 30% and 60% in the following weeks...
Check it out: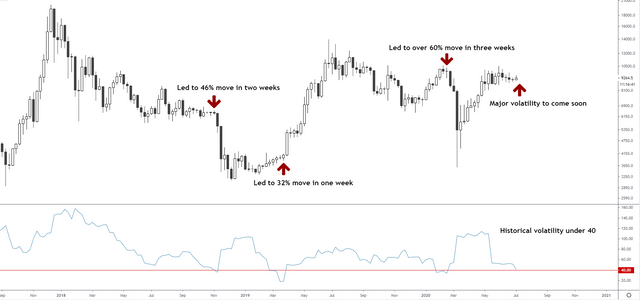 (Source: https://twitter.com/Josh_Rager/status/1282300101705310209/photo/1)
Unfortunately 2 of the last 3 moves with a similar setup have been to the downside, but that doesn't necessarily mean much as we were at different points in the halving price cycle.
That being said I have been noticing volatility contracting for months now, we are due for a big move and hopefully that move is up.
Hopefully when it does break hard it drags up STEEM with it!
Stay informed my friends.
-Doc