Banks can now Custody Bitcoin and that is YUGE news going forward!
In what will likely turn out to be the biggest news of the last couple of months, banks are now able to custody Bitcoin
In case you missed it, this morning there was a letter sent out from the Office of the Comptroller of the Currency stating that national banks were allowed to custody bitcoin and cryptocurrency on behalf of their clients.
Here's the summary: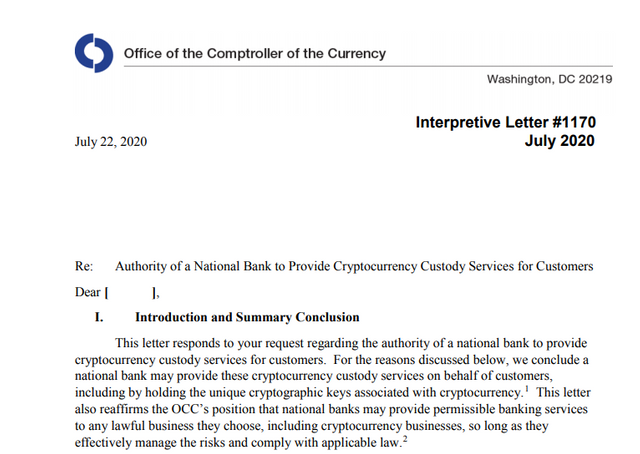 (Source: https://www.occ.treas.gov/topics/charters-and-licensing/interpretations-and-actions/2020/int1170.pdf)
This is very big news, YUGE news in fact.
You see, before now there was very murky water as to what national banks could and could not do regarding cryptocurrency.
I am sure, if they dug deep enough they could probably figure out the answers, but many chose to just stay away entirely due to the bad rep crypto has had over the years.
Well not anymore!
This letter clearly states that national banks may custody cryptocurrency, there is nothing ambiguous about it.
Bring on the Institutions...
If you thought the institutions were already getting involved in crypto (they were), you haven't seen nothing yet!
Many large investment funds, pension funds, endowments, family offices etc etc etc have certain bylaws that only allow them to park their money with federally chartered banks.
Those sorts of bylaws pretty much put the kibosh on investing in crypto, even if they wanted to.
Until today.
It's exactly the same reason that Grayscale and GBTC registered with the SEC several months back. It was a whole lot more work with more stringent reporting requirements, but it also opened up their bitcoin investment trust to a whole other group of investors that were only able to invest with SEC registered products.
The crypto industry was just opened to an entirely new investing class, one with very deep pockets.
And it appears bitcoin investors are taking notice of the potential implications here...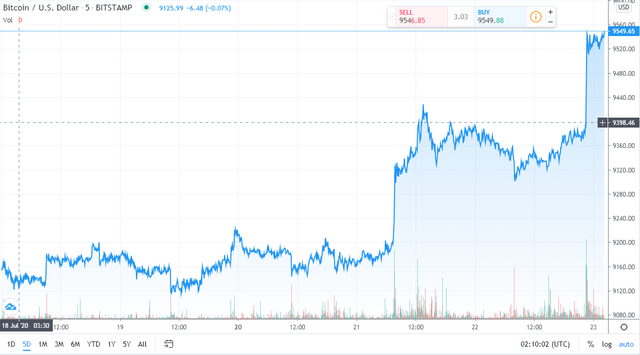 (Source: https://www.tradingview.com/chart/?symbol=BITSTAMP%3ABTCUSD)
Here comes the money...
I think we are going to see an major increase in mergers and acquisitions in the coming months.
Banks will likely buy up the players in the custody space and add them as part of their crypto custody service.
It will be interesting to see which ones they go after.
Mr. Barry Silbert seems to be thinking the same thing:

(Source: https://twitter.com/barrysilbert/status/1285989941898612739)
Some seem to think that banks getting involved in the crypto space is a bad thing, but to be honest, if bitcoin was ever going to go mainstream, they were always going to get involved. There was no avoiding it.
Anyone thinking otherwise was most likely kidding themselves.
On the whole this is very big and very good news, and is all part of the process of the maturation and legitimization of the crypto industry.
I suspect this could be the start of bitcoin's next major bull market. After all, bull markets often start with a bang! :)
Stay informed my friends.
-Doc