The history of music artists: The case of Blake Shelton!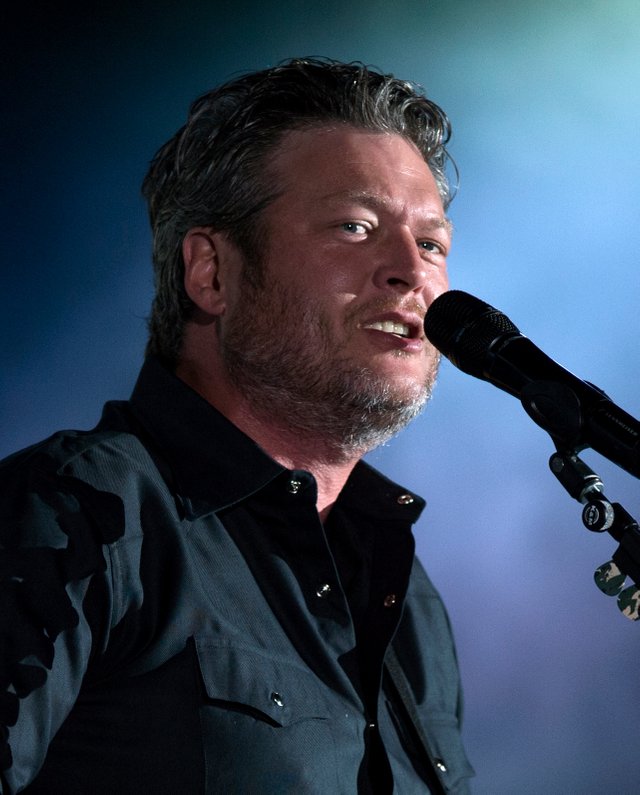 source
Blake Shelton is an American singer coming from Ada in Oklahoma in the USA. And everything is better «over there», if you use all the political and general books about how living is, and what it can be imagined with all possible theories and methods at any university about what is going on!
Blake Tollison Shelton is an American country-artist. He debuted in 2002 with the single Austin, and this song was on the Billboard Hot Country Songs-list for five weeks. The single was from his self-titled debut album that sold to gold record and gave two Top 20 hits to. Several of the follow-up albums also sold to gold, and the gold medal is the best we can win in all the competitions that are recognized. And we should always take the gold medal, and not be affected of conflicts, intrigues and nonsense that send a school out on the ice, and there should nobody of us be, and there is also no point of the existence of the school when we have it in that way.
But back to Blake Shelton! What is really good music for him and of him? But there are several platforms playing music from him, and we can mention YouTube, Spotify and YouTube Music. You cannot reach these songs unless you have the necessary talents and knowledges about how to make it excellent, and although the internet and the song net is open for anybody, you just find the music getting good quality that comes into consideration and which is chosen. Popular songs from him is "God's Country", "God Gave Me You" and "Boys Round Here". Accordingly, every human creature is coming from something, and we cannot just claim that it is always the human nature and the nature. There is an evolution in history, and you are coming from your mother and father, and with the help of God to do all things in life, as you just appreciate and can make many imaginations of, but some of them are chosen in your and my life. We also find Blake Shelton on the music videos as "Nobody But You", meaning that you can be responsible for making trouble in people's lives, and that we cannot accept anything unless there is reflected philosophy and sensible reasons for what is going on. We also have the music video "Happy Anywhere", meaning that the goodness and structure in life with serious and funny things are up to you and me. Being two or more than two persons in an organization, imply that we put the agenda, and what to do to reach the goals in the short run and in the long run. And Paul Samuelson by MIT is much better to use than Hal Varian!
What is in your head and my head from time to time and from place to place is determining what focus I have on the day in the organization where I am from country to country. The height of Blake Shelton is 1 meter and 96 centimeters. The partner from 2015 is Gwen Stefani, and before that it was Kaynette Williams from 2003 to 2006, and Miranda Lambert from 2011 to 2015. So, life is sometimes stable with having the wife you have had ever. But there can also be changes in the choice of taking a partner, and you can choose whatever that is possible of all the legal opportunities in the sex market.
In 2017, Blake Shelton was elected to the world's most sexy man by the magazine "People". Anything, that you are doing is in accordance with your opinions, perceptions, and what you think should be done. Anything can happen everywhere, but maybe there are some restrictions and some illegal actions, of all conceivable actions, somewhere. Actually, Blake Shelton is a singer, a song writer, a musician and a guitarist. You and me cannot have anyone determining your life and your life style, but everywhere is up to you and me. And "Everything goes", and all the bad things and dark things in life, should be a reminder about your brand image in all the markets.
Since the very beginning in 2001, Shelton has got positive remarks and inquiries from musicians and critical persons. New York Times described Shelton as the most important and the most visible ambassador from Nashville to the American mainstream. Rolling Stone mentioned Blake Shelton as of the country music greatest stars through the last decade. And Blake Shelton has won several international prizes in music, and he has been nominated several times for his production in music.
Shelton was associated into Oklahoma Hall of Fame in 2014, and he was member of Grand Ole Opry in 2010.
And again some music as it was asked to be included! :)
Please do follow if you want to keep up with my next article. Any upvotes or resteems are hugely appreciated!
Latest article, check out :
On filling the time and the life with too much eating and drinking: The overweight problem!
Sverre Larsen
Kristiansand, Norway
Read about us? // Main page!
Latest content: Travel, Art, Article, Poetry