Contest Alert: How Is The weather ☁️ Condition In Your Locality and How Does it Affects People's Moods/Activities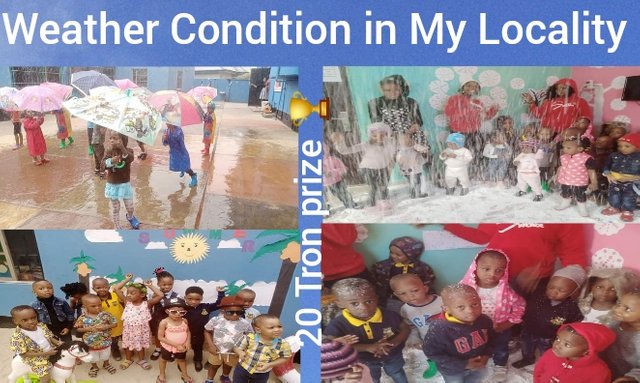 personal photos edited with polish
Hello Dear Friends,
How's the going? It's my pleasure to initiate yet another interesting contest. I hope you will like it. Often times we heard people saying that the weather affects their activities and even their moods, for example extremely hot weather can make people to be easily irritated and angry, the summer on the other hand is relaxed and a time for outdoor activities, it's a holiday time, no homework, people visiting beach, swimming and carry out sport activities etc, yet spring is most people favorite, the blooming flowers and greens lawns everywhere makes people's happy! well lastly cold weather, a weather that makes people sleepy 😴 🥱 like I am right now and sicky haha. The truth is that we can't deny that weather affects people's mood. Okay enough of the chitty let's gets into writing!
CONTEST HINT:
What is the weather condition in your locality and how does it affect people's Moods and activities?
Do you like the weather and why?
CONTEST RULES:
Your title should be "The Weather Condition in My Locality(your country)and How it Affects People's Mood/Activities."
Your ou must make your post in Steem4nigeria community
Everyone is free to join.
Avoid plagiarism of any kind, use personal photos. Or free photo and make sure you properly source them.
Invite 3 of your friends to this contest.
Your post should contain at least 300 words.
Upvote and resteem this post for others to see.
Use the tags #weathercondition #steemexclusive #contest #club5050, #club75 or #club100 according to your eligibility.
Make sure you're engage on fellow contestants post.
Mention @goodybest in your post so that I can easily locate your post. And make sure you drop your contest link as a comment under this post.
CONTEST REWARD:
Quality contents will be included in Best of the day to recieve booming support on their posts. 20 tron tokens will be share equally for 4 Winners. So it will be a win Win!
Although upvote is not guaranteed if your post is quality enough you can be selected among best posts of the day, and Community's curators can support you with the tag #steemexclusive and #contest.
DURATION:
This contest last until Monday 2nd January 2023. 11:59PM GMT.
I'm Eagerly waiting for your entries!!
My Best wishes!!!
CC:
@disconnect