Contest - The Control of Anger | "Anger turns a man into an inhuman"
Greetings everyone,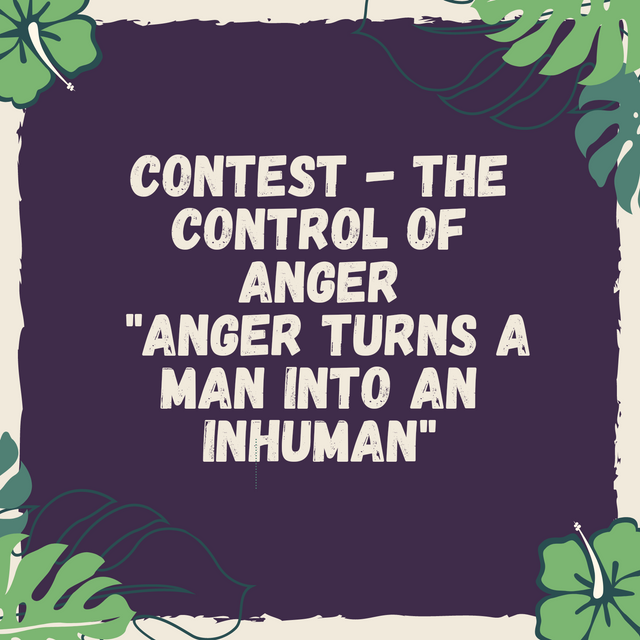 Design made with using canva app
I hope you all are well. This is my first post in this community. As soon as I saw this contest, I wanted to participate in it. Because I love this theme. I would like to thank @steemdoctor1 for organizing such a wonderful contest.
"Anger turns a man into an inhuman.". I thought I would start my article with this saying. why..? Indeed, anger can be described as a negative emotion that turns a man into an inhuman.. Because of the decisions and actions one takes when angry, something bad will always happen, not something good. The angry person as well as other parties around him will have to face that situation. Anger is something that makes others sad as well as oneself.
And we later regret the decisions we make when angry. get sad and after losing our anger, we start thinking that it would have been better if we had not done those things at that time.
What do you do when you are angry?
Anyone can get angry when things don't go their way as they like and when false accusations are made against them. Simply put, anger occurs when what one wants does not happen. I get angry the most if someone who talks to me scolds me for any reason or if I have done something I don't like. So in such cases of anger, what I do is to scold the person who caused my anger. Or not talking later. These are the things I do when I'm angry.
Are you sharp in anger? Or you are able to control it?
Actually, I am not a very angry person. So far I have not done any kind of aggressive things when I was angry. When I get angry, it lasts for a very short time. Then it disappears. Simply put, my anger is like breaking a soda bottle. And I am not someone who harbors hateful thoughts and vindictive intentions. I don't think to take revenge on anyone. Even though I have anger, I don't always keep it in my mind.
But there are some people who attack with weapons when angry. The other is cut down. Takes revenge on others by harboring malicious thoughts. Such things are very common in today's society.
What are the main reasons that make you angry?
I can get angry whenever things happen that upset me.
Not only me but anyone gets angry when the external environment is not as we want. That means we don't get angry as long as external factors don't stimulate us to get angry.
Give suggestions on how we can control our anger?
We can do things like this when angry, get out of there immediately,
• When aangry, don't stay there any longer. Because as long as if the thing that caused the anger is close to us, our anger will increase.
• It is better not to speak when anger comes. Because what we say in anger is because we say it unconsciously.
• You can read a book, and do some work at home or in the garden.
• Anger can also be reduced by mentally counting backwards from 10 to zero.
• Breathe deeply, and meditate on inhaling and exhaling.
Anger is something that causes our mental and physical health to deteriorate. Frequent anger can impure our blood. Also various diseases like hypertension, depression, gastritis can occur.
The End....❤
I invite :-
@arshani
@gimhani
@jyoti-thelight
---
🎀 Thanks for reading 🎀
---