Steemit Nursery Community Announcement updated on 25/5/2021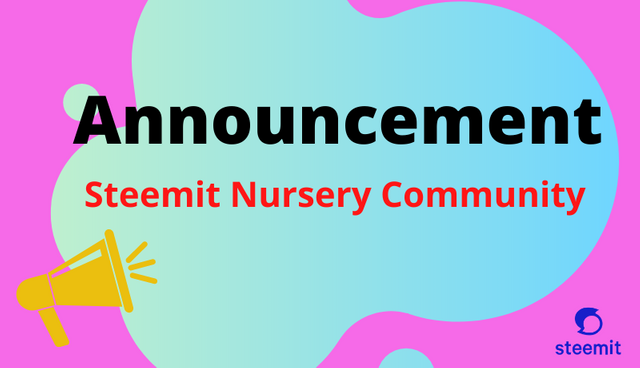 Hello Newcomers and long time Steemit users,
Welcome to Steemit Nursery Community!
This community was built with the purpose of helping in the retention of Newcomers at their early age starting off their journey on Steemit.
In the past, many newcomers feel lost and lost motivation to continue their journey on Steemit as they feel invisible and no support for their contents. This community is built so newcomers may introduce and showcase their topic of interest that they want to share with us here, making friends and networking with other existing long-time Steemian and getting to know the Steem Ecosystem at the same time by completing their Newcomers' Achievement Program at Newcomers Community.
Important update about the integration of 500 SP Minnow Support Program with Steemit Nursery Community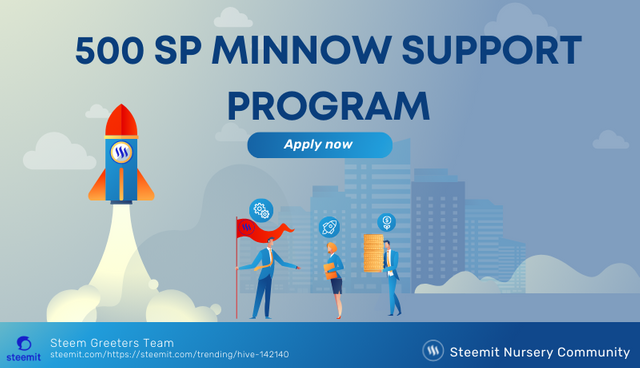 We have announced the new guidelines for the program of 500 SP Minnow Support Program for Newcomers in this post here 500SP Minnow Support Program for Newcomers(Revised Edition) updated on 24/5/2021 Please read carefully about the eligibility to participate in the program and the guidelines on the post.
Note that your steem account all-time earning including your SBD conversion also counts in counting the 500SP support program
For example, if your all-time total earning of SBD that was converted to Steem plus your SP have reached over 500SP/Steem then you are not eligible to apply for this program.
We will announce the list of Nursery Mentors soon
Nursery Mentors will be from the Country Representatives that is working with Steem Greeters Team. Steemit Nursery Team and 500SP Support Program Team will be among the Nursery Mentors. They will be adopting you Newcomers that are under this 500SP support program until you graduated and they also will be helping you find the community of your interest among many Steemit communities that we have around here.

Steemit Nursery Community Notice Board

In this community, you will be categorized as follow:
Our Greeter Helper will be giving you a title in this community according to the age of your steem account.
Newborn/Month and Year joining Steemit
age on Steemit from 0-6 weeks
Toddler/Month and Year joining Steemit
age on Steemit from 6weeks - 2 months
Alumni/Month and Year joining Steemit
age on Steemit over 2 months
when you have received the title of Alumni, we expect that you have found the community of your interest by now and you only commenting on the post of newcomers(Newborn-Toddler phase) in this community either to support or guiding them.
As an exception, other content that you think might help newcomers can be posted in this community.
You are welcome to join any contests organize by Steemit Nursery Team too.
Steemit Nursery Community Rules & Guidelines
📌This community was created to focus on the retention of Newcomer that is in Newborn to Toddler phase on Steemit.
❗If you have a tag of Newborn & Toddler:
Please attach the post link of your Achievement 1/Introduction post in every post that you publish into Steemit Nursery Community so other users and curators get to know you better. You have a greater chance of getting support on your content if you do this.
❗If you have a tag of Alumni:
🆗 you may post your entry post into the contest organize by Steemit Nursery
🆗 you may post any helpful content for Newcomers.
🚫 you should NOT post your other general contents here❌
Please follow @steemitblog for any update on Steem Community
For the latest update on Steemit Community, please follow and checkout @steemitblog account daily.
We recommend that you follow @pennsif for the latest update and news on Steem Community too.
List of Contest on Steem Community
Participating in contests is a great way to get visibility and making friends with other users on Steemit. You may check @pennsif post on the list of Contests that going on Steem Community by following his blog, example of post that list out all of the contest is like this one WIN WITH STEEM : Contests closing in the next two days @ 23 May 2021 - $420 to be won
You may find other contests on Steemit by using this search tag of #contest
https://steemit.com/trending/contest
or
#contests
https://steemit.com/trending/contests
All important guides, tutorials on Notice Board
Please check out any latest Notice Board at Newcomers Community to refer to any important tutorials, guides, and other information that you should know as a Newcomers of Steemit and also still applied to a long time Steemian too as we update all the latest information on security and other things in this post.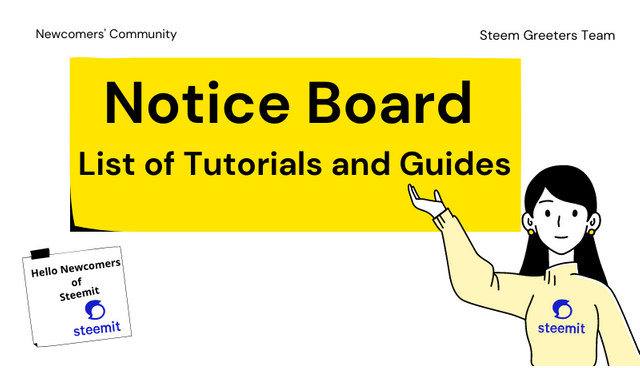 Notice Board of Newcomers Community Updated 13/5/2021
List of Communities on Steemit sorting by categories List of active groups organized by theme 05.2021
Keep on active on Steemit. Produce good, useful quality content and most importantly, engage and comment on other people's posts.
Regards,
cryptokannon
Steemit Nursery Team.