❇️ NEW ADIDAS ULTRABOOST 20's FOR THEM HARD GYM WORKOUTS! 💁🏼‍♂️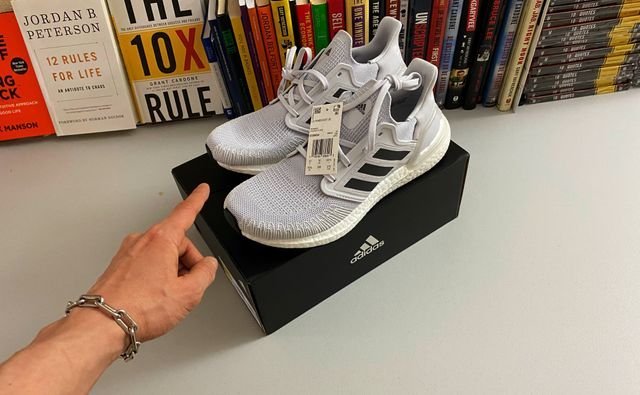 I had to just do it and finally bought me a pair of Adidas Ultraboost 20's. With the gyms finally starting to open up in Las Vegas later this week, I needed some extra motivation.
Is paying over $160+ for a pair of sneakers for the gym a rip off?
Most will say yes, but having a good pair of comfortable and functional shoes can help ya get some better GAINZ... (probably not, but I'm just trying to convince myself).
Anyways, It's been a crazy 3 months here in the states with everything being closed down due to the "Scam"demic, riots, protesting, looting, unemployment... blah, blah, blah... it's time for me to get my life back to normal. ‍♂️
If been out of the gym for about 3 months and I'm looking to get back in starting this week... Let's see how that goes.
I gained 10+ freakin' LBS in this damn lockdown! It's time to strap up and get back in. With these new pair of Adidas, it might be enough to get my fat ass back into shape. HAHA
Keep on STACKIN!
~ Charles Fuchs
For those who's interested in following my "Content" and "Daily" Posts... you can just follow me @stackin to get my updates.
You Can Follow Me Here:
➡️ UpTrennd: https://uptrennd.stackin.co
➡️ Facebook: https://facebook.stackin.co
➡️ Twitter: https://twitter.stackin.co
➡️ Instagram: https://instagram.stackin.co
➡️ Hive: https://hive.stackin.co
---
PI NETWORK: Pi is a new digital currency you can mine on your mobile phone for free without draining the battery or using data. Use The Referral Code: ( stackin ) to be on my personal team.
---
CRYPTO.COM: Get The World's First ELITE Cryptocurrency MCO Debit Card and we both get $50! NOTE: You must stake 50 MCO to get the $50 + 2% cashback on all purchases.
Must use Ref code: ( mqanqykcym )
---
WEBULL: A stock trading mobile app that offers a commission-free trading platform. Get 2 Free Stocks (Value $12 - $1400 Each) for just opening a Free Account!
---