‍🎅 CONCURSO "NAVIDAD ORIGAMI" 🎅 ‍ CONTEST "ORIGAMI CHRISTMAS" 🎅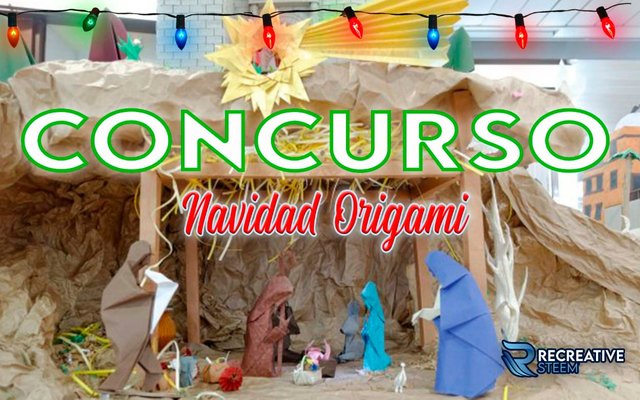 Diseño realizado por mi exclusivamente para el Concurso Fuente .

     Hoy les presentamos un Concurso Creativo donde conjugamos la Navidad con el Arte del Origami, donde puedes presentar originales creaciones realizadas en papel.
     Te invitamos a participar en este Concurso usando al máximo tu imaginacion y así realizar con tus manos la figura que desees representando la alegría de estas festividades, puedes contarnos un poco del proceso creativo y ¿Por qué de tu elección?.
✏️PON A VOLAR TU IMAGINACION Y ENGALANA LA COMUNIDAD🎨
Recuerda que para utilizar la etiqueta
#club5050
debes haber ingresado, realizando Power Up del 50% de tus recompensas, igualmente que las Ilustraciones deben ser exclusivas, no utilices las que ya has publicado en otra red social, por lo que puedes utilizar el hashtag
#steemexclusive
creando contenido único para Steemit.
---
REGLAS DEL CONCURSO
• En Recreative Steem buscamos CREATIVIDAD Y ORIGINALIDAD sin copias y sin Plagios

• Incluye por lo menos cuatro fotos del paso a paso y adicional un selfie con tu Obra Artística.

• La publicación debe contener mínimo 250 palabras.

• Admitimos participaciones en cualquier idioma.

• Tu posteo deberá ser realizado en RECREATIVE STEEM

• Has resteem en esta publicación así otros se enteren del Concurso.

• Etiqueta a 3 amigos y menciona a @nelsondoor.

• Comparte el enlace de tu publicación en la sección de comentarios de esta Publicación.

• Comparte tu publicación en Instagram , Twitter etiquetando a @recreativesteem y utiliza el #recreative-art , o en cualquier red social que prefieras.

• Incluye las etiquetas #recreative-art, #art , #craft, #creativity, la de tu país #argentina (ejemplo) y #steemexclusive.
Estaremos recibiendo participaciones hasta el 27 de Diciembre a las 20.59 horario de Argentina.
---
PREMIOS
Primer lugar: VOTO DE LA CUENTA BOOMING MAS 8 STEEM
Segundo lugar: VOTO DE LA CUENTA BOOMING MAS 7 STEEM
Tercer lugar: VOTO DE LA CUENTA BOOMING MAS 5 STEEM
---

Te invitamos a seguir las redes sociales para Steem y Steemit:

@steemesp
@steemeng
@steem.ind
---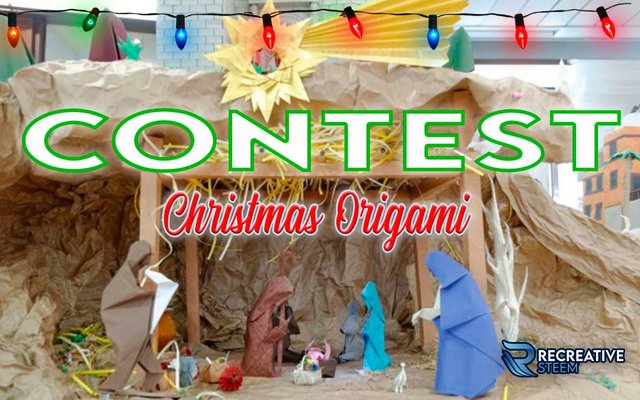 Design made by me exclusively for the Contest Source
     Today we present a Creative Contest where we combine Christmas with the Art of Origami, where you can present original creations made on paper.
     We invite you to participate in this Contest using your imagination to the maximum and thus make with your hands the figure you want representing the joy of these festivities, can you tell us a little about the creative process and why your choice?
✏️PUT YOUR IMAGINATION TO FLY AND DECORATE THE COMMUNITY🎨
Remember that to use the hashtag
#club5050
you must be logged in, making Power Up of 50% of your rewards, also the Illustrations must be exclusive, do not use the ones you have already published in another social network, so you can use the hashtag
#steemexclusive
creating unique content for Steemit.
---
CONTEST RULES
• At Recreative Steem we look for CREATIVITY AND ORIGINALITY without copies and without Plagiarism

• Include at least four step-by-step photos and an additional selfie with your Artwork.

• The publication must contain a minimum of 250 words.

• We accept entries in any language.

• Your post must be made in RECREATIVE STEEM

• You have resteem in this post so others find out about the Contest.

• Tag 3 friends and mention @nelsondoor.

• Share the link to your post in the comments section of this Post.

• Share your post on Instagram , Twitter tagging @recreativesteem and use the #recreative-art , or on any social network you prefer.

• Include the tags #recreative-art, #art, #craft, #creativity, your country's #argentina (example) and #steemexclusive.
We will be receiving entries until December 27 at 20.59 Argentina time.
---
AWARDS
First place: BOOMING ACCOUNT VOTE PLUS 8 STEEM
Second place: BOOMING ACCOUNT VOTE PLUS 7 STEEM
Third place: BOOMING ACCOUNT VOTE PLUS 5 STEEM
---
Cc.- @disconnect
We invite you to follow the social networks for Steem and Steemit:

@steemesp
@steemeng
@steem.ind