Concurso: Tu mejor amigo! 🤜🏻🤛🏻 // Contest: Your best friend! By @kleymer
Hola hermosa y querida comunidad de Recreative Steem, hoy me complace traerles este concurso que trata sobre hablar sobre su mejor amigo, espero se animen a participar!

Todos tenemos un amigo en especial que entre todos resalta, nuestro mejor amigo, es la personas a quien más tenemos confianza y sabemos que podemos contar para todo, consejos, apoyo, divertirse, salir de momento triste y muchas cosas más. Para este concurso queremos que nos cuentes sobre esa persona especial que consideras tu mejor amigo y el porque de ello.
Describe como ees esa persona y como se hizo tan importante en tu vida como amigo, queremos saber todos los detalles y esperamos que tú post sea dedicado a esa persona.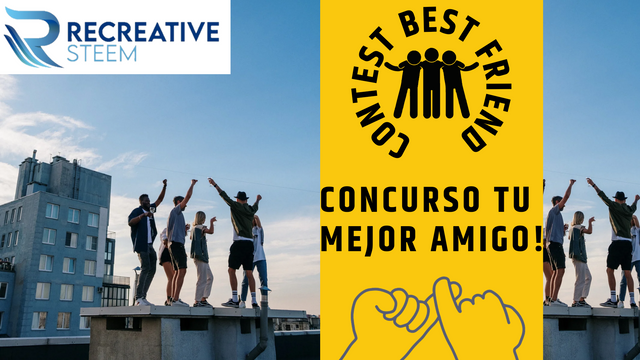 Portada diseñada en canvas
Qué tienes que hacer?
Para guiarte puedes contestar las siguientes preguntas con respecto al tema:
🤝🏻 Quien es tu mejor amigo? (Describe lo como persona)
🤝🏻 Cuentanos como conociste a tu mejor amigo?
🤝🏻 Que hizo que se convirtiera en tu mejor amigo?
🤝🏻 Cuentanos anécdota o momento especial junto a tu mejor amigo.
🤝🏻 Que es lo que más te gusta de tu mejor amigo?
Reglas!
Para poder participar en este concurso debes cumplir con los siguientes requisitos:
☑️ Redactar un post con al menos 300 palabras en cualquier idioma.
☑️ Tu post debe ser 100% original, el plagio no está permitido en la plataforma.
☑️ Sube fotos junto a tu mejor amigo.
☑️ Vota y dale Reesteem a esta publicación para que así más personas puedan participar.
☑️ Menciname a mí en tu post @kleymer.
☑️ Usa los tags de tu club ( club5050, club75 o club100) además de tu país ejemplo: #brasil, también utiliza entre las primeras 4 la etiqueta #bestfriend.
☑️ Tu publicación debe ser hecha en la comunidad de Recreative Steem
☑️ Invita a 3 amigos a participar en el concurso.
☑️ Vota y comenta las otras entradas al concurso para fomentar el compañerismo.
☑️ Las entradas serán aceptadas hasta el vencimiento de este post.

Esperamos todos se animen a participar y poder optar por el premio que será:
Curación cuenta en auge a los 5 primeros puestos
---
English Version
---
Hello beautiful and dear community of Recreative Steem, today I am pleased to bring you this contest that is about talking about your best friend, I hope you will be encouraged to take part!


We all have a special friend who stands out among all of us, our best friend, he is the person we trust the most and we know we can count on everything, advice, support, have fun, get out of sad times and much more. For this contest we want you to tell us about that special person you consider your best friend and why.
Describe how you are that person and how he became so important in your life as a friend, we want to know all the details and we hope that your post is dedicated to that person.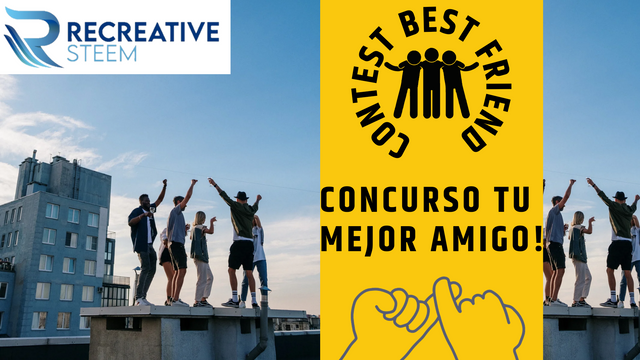 Cover designed on canvas
What do you have to do?
To guide you, you can answer the following questions regarding the topic:
🤝🏻 Who is your best friend? (Describe him as a person)
🤝🏻 Tell us how you met your best friend?
🤝🏻 What made him become your best friend?
🤝🏻 Tell us an anecdote or special moment with your best friend.
🤝🏻 What do you like most about your best friend?
Rules!
In order to participate in this contest you must meet the following requirements:
☑️ Write a post with at least 300 words in any language.
☑️ Your post must be 100% original, plagiarism is not allowed on the platform.
☑️ Upload photos with your best friend.
☑️ Vote and give Reesteem to this publication so that more people can participate.
☑️ Mention me in your post @kleymer.
☑️ Use the tags of your club (club5050, club75 or club100) in addition to your country example: #brasil, also use the #bestfriend tag among the first 4.
☑️ Your post must be made in the Recreative Steem community
☑️ Invite 3 friends to participate in the contest.
☑️ Vote and comment on the other contest entries to encourage camaraderie.
☑️ Entries will be accepted until the expiration of this post.

We hope everyone is encouraged to participate and be able to opt for the prize that will be:
Healing counts booming to top 5 ranks