New Contest: "Biopic Forum" // Nuevo Consurso: "Foro Biopic" || 40 Steem
Dear friends of steemit
.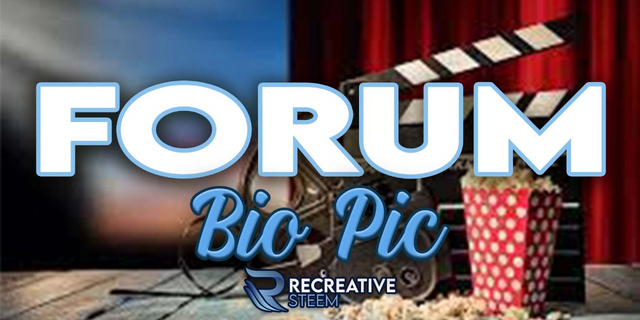 This new contest I bring you next is for the Biopic loving moviegoers.
Biopic are film productions based on real life characters, to recreate their stories or important events.
To tell the truth, I am a lover of this kind of movies and that is why I want to encourage you to have fun with me, recreating a publication based on a Biopic that you like and want to bring it to this distinguished forum.
What is it about, you must choose a biographical film that has impacted your life. You must tell us which scene in particular was iconic for you, explain to us how the main character of the plot came to touch the depths of your being. That's what this week's forum is all about. Are you up for it?
I would also like the images you bring us in your publication to be photographs or screenshots while watching the movie, as we appreciate the originality and exclusivity of the material to be used for publications of this community.
These items may guide you in the development of your forum post, although you are free to include any topics you consider pertinent:
Who is or are the character(s) in the biography?
What did the character have to face?
What can we learn from this character?
Among so many options, why did you choose this biopic?
Results or lessons to be learned from the Biopic
Data of the film, main actors, year and country of production.
---
Very Important Considerations:
Plagiarism is highly penalized on #steemit, so I urge you to be authentic in your posting. Remember that your post must be creative, with integrity and uniqueness.
We accept posts in any language.
Your post should be at least 300 words.
Resteem this post, so more people know about the contest.
Invite 3 friends to participate.
Be sure to mention @graceleon
Share the link to your post in the comments section of this post and be sure to post from this RECREATIVE STEEM community, otherwise your participation will not be valid.
Spelling and wording, use of image posting rules and creativity in the post will be taken into account to choose the winners.
Share your post on Twitter, tagging @steemit, or on any social network of your choice.
Include the hashtag #forumbiopic and your country of residence example: #argentina and #steemexclusive among the first ones.
Set your post to 15% for Recreative Steem's community account @hive-141434.
Vote and comment on other community posts so that together we can foster friendship within our ecosystem.
IMPORTANT: Entries will be accepted until Sunday, August 19, 23.59 hs, Argentina time.
Awards:

The Prize Fund is 40 STEEM to be distributed.
1st place: 15 Steem
2nd place: 10 Steem
3rd Place: 7 Steem
4th Place: 5 Steem
5th Place: 3 Steem



---
Estimados amigos de Steemit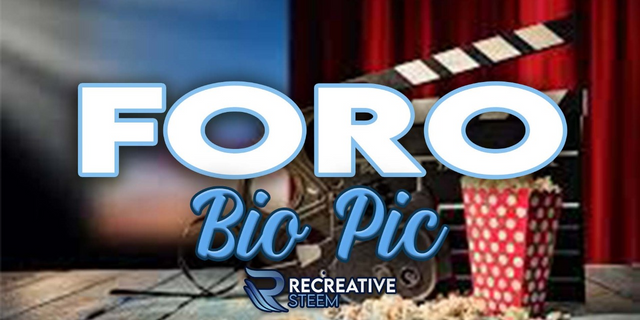 Este nuevo concurso que les traigo a continuación es para los cinéfilos amantes de las Biopic.
Las Biopic son producciones cinematográficas basadas en personajes de la vida real, para recrear sus historias o hechos importantes.
A decir verdad, yo soy amante de este tipo de películas y por eso quiero estimularlos a ustedes a que se diviertan un rato junto conmigo, recreando una publicación basada en una Biopic que te guste y quieras traerla a este distinguido foro.
De qué trata, pues de que elijas algún film de tipo biográfico que haya impactado tu vida. Debes decirnos qué escena en especial fue para ti icónica, explícanos cómo el personaje principal de la trama llegó a calar en la profundidad de tu ser. De eso trata nuestro foro de esta semana. Te animas?
Quisiera además que las imágenes que nos traigas en tu publicación, sean fotografías o captures de pantalla mientras ves la película, ya que apreciamos mucho la originalidad y exclusividad del material a utilizar para publicaciones de esta comunidad.
Estos ítem podrían guiarte en el desarrollo de tu entrada al foro, aunque tienes libertad para incluir los temas que consideres pertinentes:
¿Quién o quiénes son los personajes de la biografía?
¿Qué tuvo que enfrentar el personaje?
¿Qué podemos aprender de este personaje?
Entre tantas opciones, ¿Por qué elegiste esta biopic?
Resultados o enseñanza rescatable de la Biopic
Datos del film, actores principales, año y país de producción.
---
Consideraciones muy importantes:
• El plagio está altamente penalizado en #steemit, así que te insto a ser auténtico en tu publicación. Recuerda que tu publicación debe ser creativa, con integridad y exclusividad.
• Aceptamos publicaciones en cualquier idioma.
• Tu publicación deberá contener al menos 300 palabras.
• Resteemea esta publicación, así más personas se enteran del concurso.
• Invita a 3 amigos amigos a participar.
• Asegúrate de mencionar a @graceleon
• Comparte el enlace de tu publicación en la sección de comentarios de esta publicación y asegúrate de publicar desde esta comunidad RECREATIVE STEEM, de lo contrario no será válida tu participación.
• Se tomará en cuenta para elegir a los ganadores, la ortografía y la redacción, el uso de las normas de publicación de imágenes y la creatividad en el post.
• Comparte tu publicación en Twitter, etiquetando a @steemit, o en cualquier red social que prefieras.
• Incluye la etiqueta #forumbiopic y la de tu país de residencia por ejemplo #argentina y #steemexclusive entre las primeras.
• Configura tu publicación al 15% para la cuenta comunitaria @hive-141434 de Recreative Steem.
• Vota y comenta otras publicaciones de la comunidad para que juntos fomentemos la amistad dentro de nuestro ecosistema.
IMPORTANTE: Las participaciones se aceptarán hasta el Domingo 19 de Agosto, 23.59 hs, horario de Argentina.
Premiaciones:

El Fondo de Premios es de 40 STEEM a repartir
1er lugar: 15 Steem
2do lugar: 10 Steem
3er Lugar: 7 Steem
4to Lugar: 5 Steem
5to lugar: 3 Steem