Help there kids to develop creativity made for nothing |by @sualeha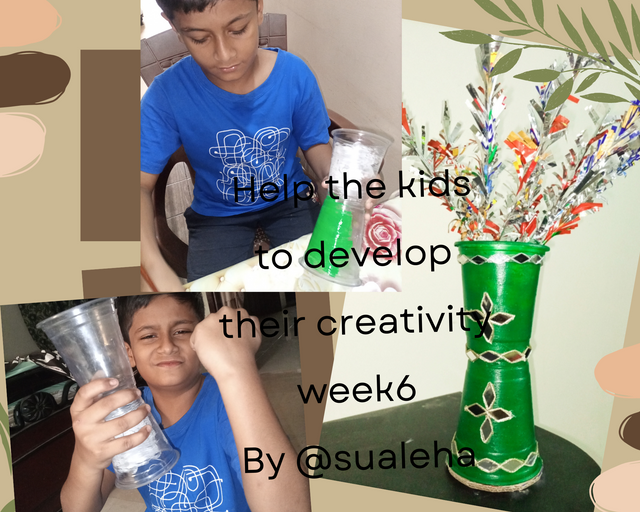 ---
☺️Hello Every one☺️
---
I hope all of you good by the grace of God I am fine too alhumdulliah ,today I am here once again to share my son,s creativity with all of you guys ,he keen interested in nothing or use less things made useful products as previous my participation so guys today he wants to creative Flower vase with disposable glass and decorate with chips/biscuits wrappers ,my son Ebad missed her friend @patjewell so guys let's get start ☺️☺️.
---
What you have made??
---
Today I made Flower vase .My son Ebad create it with the help of disposable glass,chips wrappers.
---
How did you get the idea??
---
My son search on YouTube channels and decided to made this vase for contest so with the help of mine he made very fine and perfectly with dedication 👍👍. Actually he like to painting on objects not in papers so that craft full filled his colouring cravings.😘😘
---
How useful that you have made .
---
It's used as a decoration piece at table or any whare at home .It's looking very nice and made in zero cost in less time and received many appreciations and good comments.💕💕
---
Steps how you made the crafts with steps.
The lovely craft how he made step by step given below.
---
🎀Things we need 🎀
---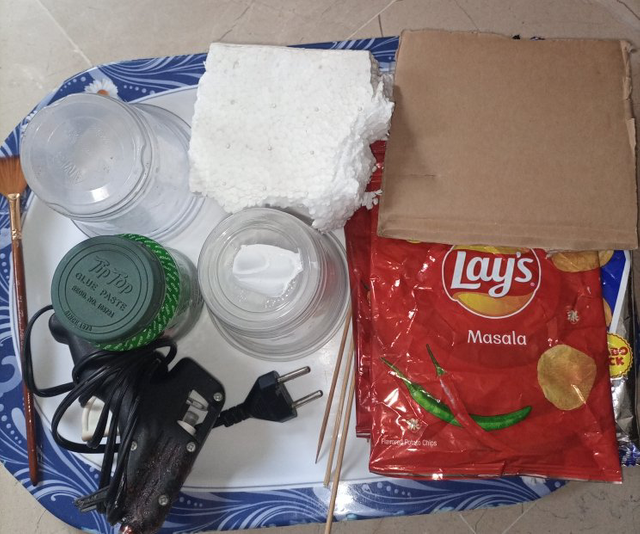 Items
Quantity
Disposable plastic glass
2
Card board piece
small used as a base of vase
Bar-B-Q sticks
As needed
Snacks wrappers
as needed
Glue gun
Mirror lace
as required
Acrylic paints
Green
Scissor
✂️
---
🎀How I made🎀
---
🎀Step:1🎀
---
First of all he enjoyed the glass and play as a telescope,then he start the craft the base of two glass attached with glue gun as it's look like a vase shaped
---
🎀step:2🎀
In second step paint the glasses with green acrylic colour the most favorite part ofy son he loved to paint 🎨🖌️ with brushed in any surface.After paint let it dry for half an hour .
---
🎀Step: 3 🎀
---
Once the paint dried completely,attached the mirror lace on glass corners and middle as shown in images .I had my old Scarface lace I again used it ,it's looking pretty 😍😍.The combination of green and silver looking owesome.
---
🎀Step: 4🎀
---
Now it's a time to made vase bottom which were hollow he covered it with the help of card board sheet ,mark on card board with the help of pen then cut the current size of the bottom after cutting paste the card boaer with glue gun .
The vase was done now moves to the other step which were made up of wrapping sbags of chips/biscuits.
---
🎀Step :5🎀
---
I cut the wrappers sheet in stripes form the cut it on the first end to last like a fine frill .Now on bar b q sticks rolon the strips one end to other end by routating the sticks and the whole stick easily covered by the silver frill .He made many sticks from same method.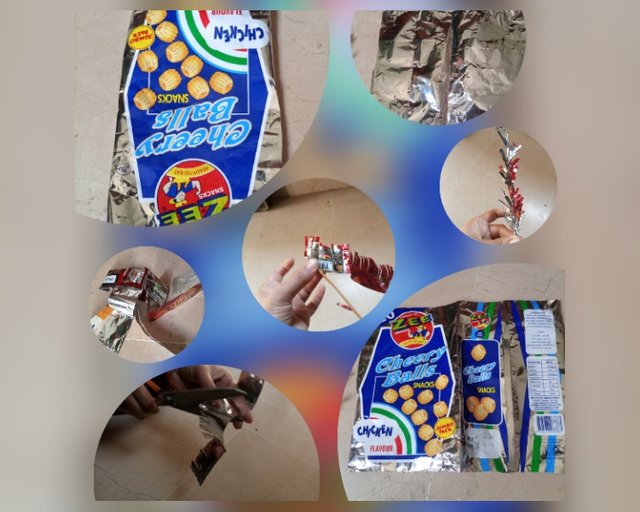 When all sticks were made put it one by one on thermopile insert easily .
---
Final Look 😘😘
---
finally it's done .I hope you like my craft and hard work of my son Ebad .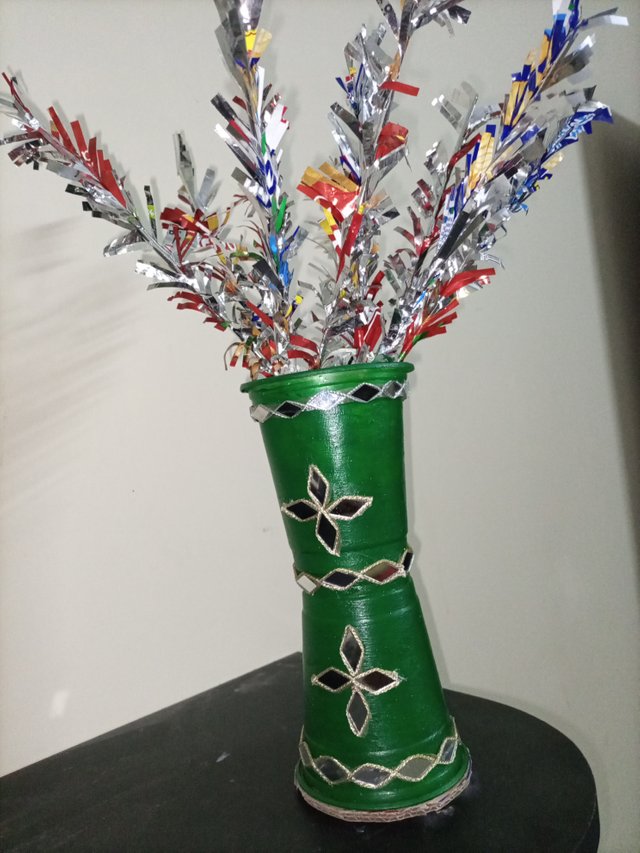 ---
Its all about from my side ,In the last I like to mention @ngoenyi mam for guidance and support and gave us a brilliant chance to share our creativity.So guys please share your feedback on my post .
Today I delegate 500sp to steemkidss here is screen shot ☺️☺️

🦋Thanks 🦋