#CLUB5050 | LEARN WITH STEEM WITH THE STEEMKIDS COMMUNITY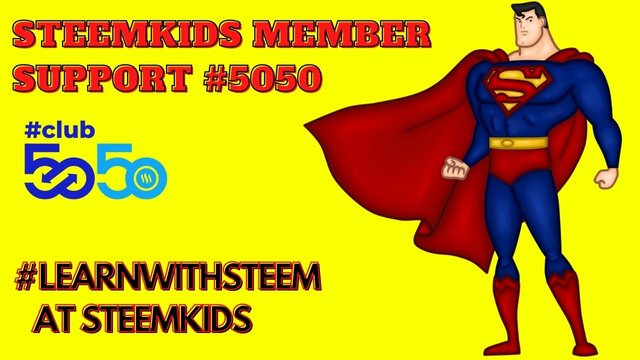 link
Hi... what are the best friends @steemkids wherever you are, may you be in good health and happy. In this post, I just wanted to share my experience for newcomers to @steemkids. Especially friends of child lovers and also beloved children in this great community about the #club5050 movement that is the activity of strengthening the steemit account that we have by doing Power Up, meaning we will exchange the Steem Dollars we have from curation to steem and we turn it on as the strength of the account and maintain the continuity of steem to be better and develop in the future.
As we know @steemit is a steem-based social media that is in the form of crypto currencies other than SBD and others managed by a Steem Blockchain, Blockchain itself is a transaction data center that stores all steem user activities. Steem and SBD we can get from the work, writing, stories or images that we post on steemit. When lucky we will generate SBD and steem as an account asset, which serves to see how strong the account we have. Therefore, so that steem does not decrease in value, we must continue to increase our investment in steem by doing Powet Up at all times when we have the ability to do so.
This week I did it over and over again, even from a small income. Little by little the power of the account that we have when doing Power Up will be a strong account. If at any time we have good steem power, it will have an impact on new community members. The value of our support can allow new members to grow together.
There's no need to do it 100% when it comes to objections, but it's better. Directions do #club5050 movement we can do every gift from a post. Look at what they do as community moderators in their posts


and many others in the @steemkids community, they do power up amazingly. And I as a member of the steemkids community follow the same way that I can grow and develop together by supporting each other in every movement to advance the community. It's the result of the power up I do as a member with the income I get from steemkidss, I do 100%.

Hopefully the invitation and what the moderators do we can follow as members, as a #club5050 movement that we can always practice continuously to strengthen the account and maintain the growth of this community that we love, especially the @steemkidss community.
This is my experience learning with steem, hopefully it can be an example for newcomers who are just joining the @steemkidss community and @steemit of course.
Gretings
@steemkidss
@ngoenyi