My Entry to - "What does TODAY (May 9, 2021) Mean to You? #ccc 3.45
This is a response to a @wakeupkitty invitation in the contest by @freedomshift
Мy dear God! How boring it is to describe every moment of your life! What is possibly so significant that it deserves public scrutiny? You wake up, you go for a walk, brush your teeth, take a shower, have breakfast, then, in the era of COVID you sit by your computer and work.
Speaking about my work doesn't make any sense. Not because what I do is rocket science, but because for an outsider to have an understanding he or she must be familiar with the entire gamut of a business logic specific to the current application I develop. And if I would only have an audacity to undertake this feat, all my readers would run for cover.
Yesterday, however, there was a minor deviation from this template, as me and the circle of relatives celebrated mother's day. We do this based upon another template that we chose already five six years ago. That is we go to Marina Del Rey, a place in LA designated to picnics.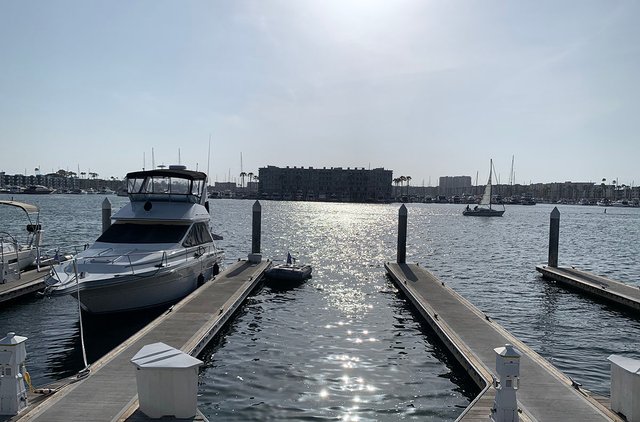 We came there on several cars filled to the rim with feed and drinks as early as eight-thirty in the morning to stake our hold on the lunch bench. Having accomplished this feat, we ate the first time.
Then children started to play ball while adults lazily sat in chairs languishing from idleness and casting some useless
meaningless words.
From time to time, some of us got up and aimlessly wandered around until we acquired appetite. In which case, we came from the shadow of the tree where we placed chairs, went down to the food behcn and ate.
In the midst of all this excitement, I fell asleep in the chair and woke up with the burned face.
There was actually one curious circumstance that elevated this mother's day above its usual template because this time I made a special cake. While I was making it, my wife frowned at me, as the process of making it was so different from the way she usually does it. Should she have a chance to intervene in my process? She'd do it and would attempt to school me. Yet, I was able to accomplish the entire exercise while she wasn't home and when hse came back, all she had to contend with was the smell.
I do my cake in the following way. First I prepare the dough just like cookies. Then, after rolling it out in three shin sheets, I bake it at 375 fahrenheit. After the sheets are cooled, I smeer strawberry jam on each surface and stack the sheets on top of each other. The top one I cover with ground nuts mixed with the remaining baked dough which I also grind. Then the entire creation must stand for three days, waiting until jem would penetrate the sheets, which provide uniformity and softens dough.
While the cake stood covered by aluminum foil, my dear wife smirked and scoffed at my predeluvial methods and predicted them an absolute failure at the battlefield. Yet, as it turned out I was having the last laugh. My cake was eaten very quickly, receiving many praises and even the highest praise from my granddaughter, who made a demand to make such a cake for her personally. So I was able to put my wife to shame and left her to leak her wounds.
This is my entry What does TODAY Mean to YOU? 3.45 hosted by @freedomshift
CCC = #hive-166850
This is an Invitation to join #ccc for Guaranteed Daily Income and Payout for Newbies (2.0) in #ccc and Follow the Honor Code - the Creed (Conditions and Limits Inside)
AND
the latest update <<< please click to read.
Thank you @wakeupkitty for the invitation!
I invite @owasco, @mariannewest, @zeleiracordero, @wonderwop, @deirdyweirdy to join too.