The sad truth
A few days ago, I made a post about the tragic incident at a film set, in which Alec Baldwin shot and killed the film's director of photography Halyna Hutchins, and wounded the film's director Joel Souza.
https://steemit.com/shooting/@beatminister/weird-and-tragic-incident-with-alec-baldwin-and-film-crew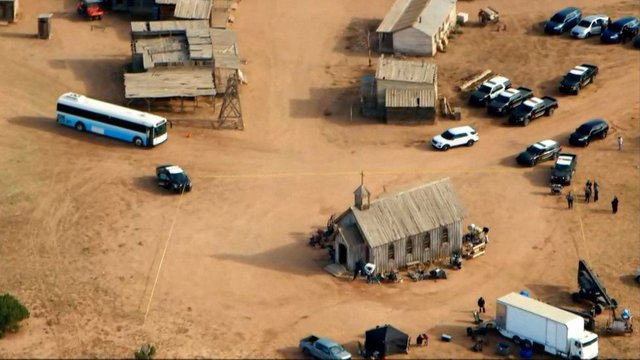 Film set where the incident happened, in New Mexico [source: Reuters]
After some investigations, it has come to light that things happend exactly as I assumed right after I heard the news: someone of the production crew (responsible for the prop guns) handed Baldwin the gun and told him it is safe, but in fact it was loaded. And Baldwin didn't check it himself, and practiced "shooting" the camera, as a coming scene demanded.
How its even possible that such a gun would be loaded with live ammunition, while being intended only to be used on a film set, is another question to be asked. I can only imagine 2 scenarios: either someone took it and was messing around with it, doing some fun shooting or whatever. And then, for some reason, put the gun back without unloading it.
Or someone deliberatly loaded the gun, to cause a incident to discredit Baldwin or the props person, may be even to have somebody killed behind the camera. That would make it a serious crime case.
What ever the background was, I cannot dismiss Baldwin from being at least partly responsible for the incident. There are some fundamental rules in handling firearms. One is: don't aim at somebody unless you are willing to shoot. Period. No joking around, scaring, bragging, pretending or whatever. Just don't.
But equally important - and even more relevant for this case: don't take for granted what other people say if you pick up a gun, or if its given to you. Don`t believe it not loaded - know its not loaded. Meaning, look for yourself that its safe. If you don't know how to do that, keep your hands off it.
For this case those rules come too late. The woman is dead and Baldwin has to live with that until his end. And no court decision and compensations will make that undone. The only hope is, that people will learn from this in future situations that are similar, in film making or elsewhere.
Just my two cents...
---