@steemingcuration SPUD4STEEM for June! 🚀🦸‍♀️🦸‍♂️💪 and Delegators Referral Rewards of 2%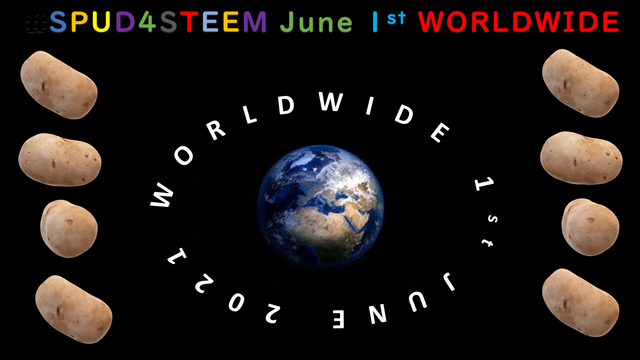 Image by kiwiscanfly
Hello everyone as you all know by the end of the month, Steem Community has this highly anticipated event of power up their account with more Steem on SPUD4STEEM day, which usually happens on the 1st day of every month. For those who wants to participate to win this event, you will have to follow the rules and guidelines as in this post 📢 #SPUD4STEEM RULE UPDATE🌎🥔
For those who just like us who wanted to support this initiative, we all can power up all the Steem that we have so we have more power when we cast that upvote! This shows that you support this ecosystem, trust in the future of this blockchain and its community. Every Steem that you power up, helps in preserving and increasing the value of Steem at the open market. Do you prefer to see Steem at 10$ each or at 0.5$ each? We want Steem token to increase in value as time goes by and we should be supporting it by powering up the steem that you don't need to spend right now. Think of powering up your Steem token as your saving that has the potential to increase its value from 0.5$ now to maybe 10$ in the future.
You can support the community of Steem by delegate to any community of your interest and get monthly or weekly payout on your Steem power. You get passive income just by doing this! Steeming community offers up to 57% APR to our delegators and we put them on whitelist daily upvote for their contents that following our community guidelines. We give them a priority for Booming Curation List too! Check out our Monthly report to see how our delegators earn for the month of May here Monthly Report of Steeming Community: Month of May 2021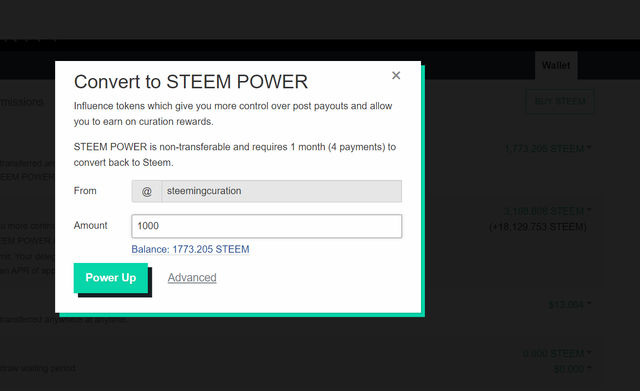 @steemingcuration also do the POWER UP!!! Now we have our own SP of 4198 SP🤩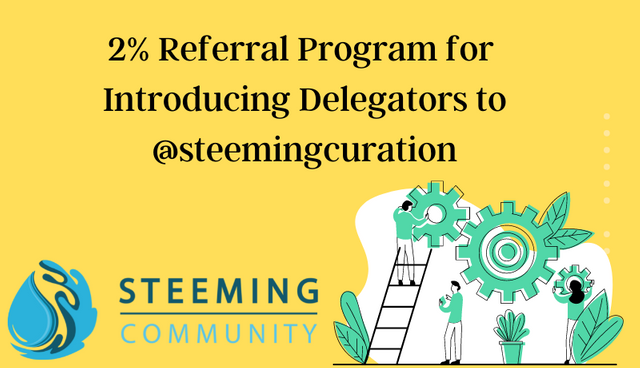 Referral Program for introducing delegators to @steemingcuration
We have the referral program on rewarding those who introduce delegators to @steemingcuration will get referral rewards of 2% out of the total delegation provided that this delegator has delegate for the period of 1 whole month minimum. You will get the referral reward after 1 month.
For example, if you have referred someone who delegates 1000sp to @steemingcuration, you will get 20 steem as a referral reward. Provided that the delegator you have referred to us has to delegate at minimum 1 month. If they happened to undelegate before 1 month has passed, this referral reward is not valid anymore.
Help us find delegators and win steem!
Steeming Community Team.