Steemit Engagement Challenge Week 4| Propose A New Steemit Project - By @kingworldline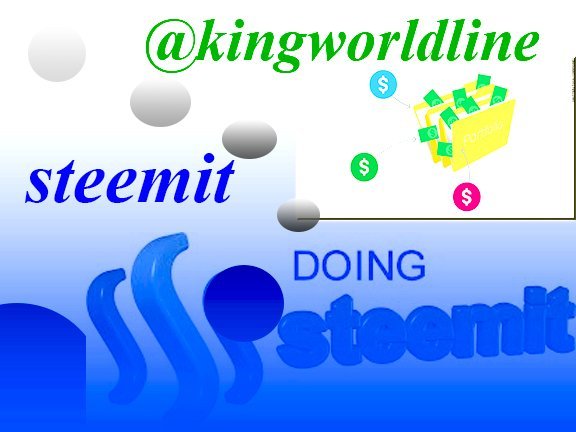 Greetings to all steemains and the organizers of this contest. Am so happy and priveldge to be part of this contest and thanks to Steemit Pakistan. Words can express how happy I am on how Steem and Steemit platform had made me to be independent financially, mentally, socially and physically.
Steemit platform through Steemit CryptoAcademy has made me to understand what block chain is all about and thanks to Steemit for awesome community.
Am so happy for the opportunity given to express was on my mind on how to move the platform to another level. Thanks once again to Steemit Pakistan for coming up with such topic.

My proposal for a new Steemit project will be on organising seminars in form of awareness, efficient curation for new Steemit users and launching of music and culture to steem community.

My friend came to visit me and saw how busy I was with my mine ,he ask me what I was doing I told him and register what amused me what that he said he has never heard about this platform before ,he was so happy. My proposal is that there should be a awareness by the platform to the people telling people that Steemit is a strong platform and it has be existing over the years that it has made many to smile and laugh. The awareness can be do in form of seminars in high institutions, offices, marketplaces, streets and telling them what the platform is all about, how to register, the do's and the don'ts of the platform and encourage steemit users or Steemains to continue in the good work.
A friend of mine called me complaining that she is tried of this platform, I ask her what happened she said she made an achievement post and post on newcomer's community and add the necessary tags but the upvote is very poor and also the her curation is also very poor, I advised her to continue that one day she will smile.
My proposal is that there should be an increase in curation including upvote for newbies in newcomer's community. Am appealing to the curation team to look into it and make them working on the curation and upvote too.
I was going through the communities in the Steemit platform I notice that that steem music and culture were missing. Being a lover of music and culture I search and checked through the communities and saw that it was lacking. Music and culture had brought happiness to many in the society, some have being to express their job, happiness,their way of life and religion between through music and culture. One thing I understand about culture is that it helps to make sure that people can survive while music helps towards making sure that their goals are achieved by bringing them together.
My Proposal is that music and culture should added(launching) to communities why because music being very important part of culture and culture being the way people live, their dressing, their altitude towards child birth, raising children, responsibilities at homes and at work. With the inclusions of the both we can able to know different cultures of the different continents of world that is the way they dress, what they eat, how they train their children and the responsibilities at home and how they marry. With the addition of music and culture it will be a great creativity to not steemit platform but also to the world too.

CONCLUSION

I believe when my project proposal is look into it will be of a great interest to the platform and take the platform to another level and cause Steemains to smile more.
Thanks to Steemit Pakistan
#steemgrowth
#spengagement-week4
#club5050
#steemexclusive
#nigeria