Contest Alert! Which Talents You Wish You Had? | 25 Steem Rewards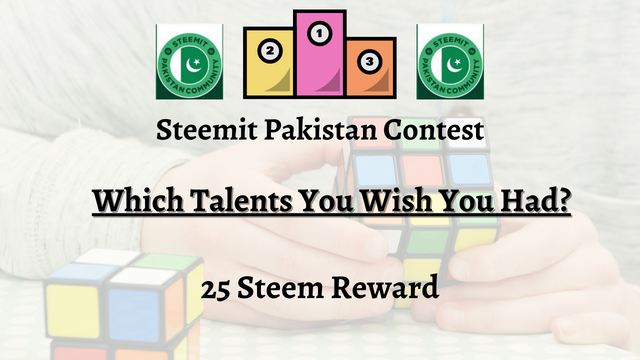 ---
Dear members,
It's been a long time since I have conducted any personal contest in this community. I think it's time to organize one.
I have been brainstorming different ideas and shortlisted quite a few topics but had to keep in mind everyone to ensure maximum participation. So I concluded a topic that everyone could write about and it's interesting as well.
---
Topic:
Which Talents You Wish You Had?
---
Everyone has different skills/talents and there are some skills that we wish we could have. Like when I listen a good song, I wish I could sing. When I read a really good book, I wish I could write that well. When I eat something delicious, I wish I could cook that good. My husband is a pilot, I wish I could fly an airplane too, the list is unending.
Through this contest, I want to know what are the three most desired skills you wish you had or you want to improve them. Why you want those skills? What changes they could bring in your life.
---
Rules to Follow
---
This contest is open for the entire Steemit Family.
Subscribe to Steemit Pakistan and Follow @steemit-pak.
Post should be at least 250 words long.
Post should be Plagiarism-free.
Images used must be properly sourced and licensed copyright-free.
Post should be #Steemexclusive.
Setting 10% beneficiary to @steemit-pak is a must.
Use tag #event-horizon #sp-contest in the first five tags.
Comment the link of your participation post in the comment section below.
The termination time of the contest is 7 days from now 21st of January, 2021, 23:59hrs Pakistan Time.
---
Rewards
---
I have allocated 25 Steem for this contest. It will be distributed among the participants according to the quality of their publication.
---
Participate Now
---
Kind Regards,
event-horizon

Discord: event-horizon#5635
Subscribe Steemit Pakistan
Quick Delegation Links To earn delegation rewards