BATTLE OF WATERLOO - Sunday 18th June, 1815
Today's the anniversary of the Battle of Waterloo, fought between a coalition of British, Prussian, Dutch and German forces lead by Arthur Wellesley, 1st Duke of Wellington, against the French and their emperor Napoleon Bonaparte in the open fields near the Dutch town of Waterloo.
Ireland's William Sadler's 19th century painting "The Battle of Waterloo"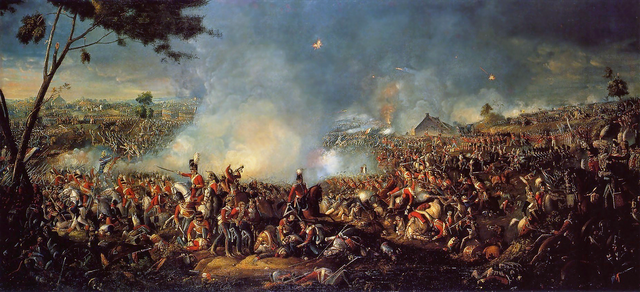 [Painting now held in the Pyms Gallery, London]
FORCES:
118,000 Coalition troops:
• U.K.: 31,000
• Prussia: 50,000
• Netherlands: 17,000
• Germans: 20,000
73,000 French troops:
• 50,700 infantry
• 14,390 cavalry
• 8,050 artillery engineers
• 252 guns
Result: Coalition victory, end of the 7th Coalition War, Abdication of Napoleon
Napoleonic history isn't my fortay as much as ancient and classical military history are, but I just wanted to make a brief post on the anniversary of one of history's most well known battles.
Next blog on Persian history and Cambyses' conquest of Egypt coming soon!
Check out my other blogs on Persian history for more:
THE PERSIAN EMPIRE:
https://steemit.com/hive-133974/@oo7harv/the-persian-empire-history-s-first-superpower
CYRUS THE GREAT, Part I:
https://steemit.com/hive-133974/@oo7harv/cyrus-the-great-conquests-of-media-and-lydia
CYRUS THE GREAT, Part II:
https://steemit.com/hive-133974/@oo7harv/cyrus-the-great-2-conquest-of-babylon-and-his-downfall
PERSIAN PROVERBS:
https://steemit.com/quotes/@oo7harv/persian-proverbs
The History Community - check out my Greek history blogs and more:
https://steemit.com/trending/hive-133974
--