Family Is A Gift That Lasts Forever | Steem Sri Lanka 3G Contest Series | Week 10 | Family, The perfect word of representing My Strength
Story of My Strength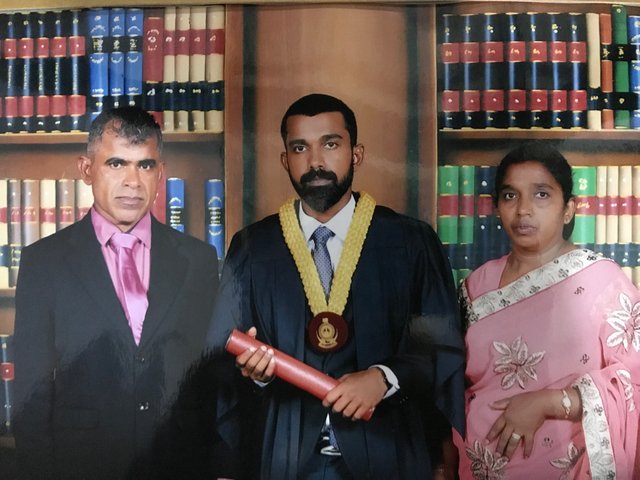 My strength, my Family is connected with me and another joyful, trustworthy and very hardworking three characters. The main character of our little cage is my father who had been feeding us throughout my whole life also with some crucial assistance of the loveliest and the strongest character of my family who is my mother. Their names are respectively P. K. Sunil and S. M. Suvineetha. The third one actually my loving terrorist is my sister who is sometimes my acting mother, P. K. V. V. Kaushalya.
In my childhood my father was a businessman and after some sort of hard time of ours he became as a mason in profession. Most of the times my mother was a housewife and in some difficult situations she worked as a tailor. My parents are an interesting couple because my mother whose age is 56 years is 4 years older than my father. My sis is one year older than me and now she is married and is building her life with her husband.
Actually I don't have much images of my family to share with you because we haven't taken photos much and very happy to insert at least above image.
Why "My Family" represents "My Strength" ?
As I shared above there was a very difficult time for us when i was in grade 6. My father was running a small garment factory with about 6 employees which shorts were sewed. There were huge losses from the business and he went abroad to settle material bills that was taken from some shops for credit. After father left from country mother had to give financial assistant to the family and her contribution was priceless with two little kids. After that our lives became little harder and as kids we were thinking of achieving our responsibilities for parents. I can't even imagine when turn back and looking about what They have done for us to decorate our lives.
For our education, they paid their whole life and still they are behind us at anytime we need. My little family needs me to make my parents lives better from near future and I am hoping to get them the freedom of their lives.
I am really proud of my family and my parents and it really made me happy and emotional sharing about my little joyful cage I grown with and really want to be thankful to Thisarani Bhagya for bringing us this chance. Best of luck to bring much more like this.