Splinterlands Meta Snapshot Update 04-15
Hey splinter maniacs, I've made some changes to my web app, here I tell you what happened, hoping you like these changes.
Visit the app in this link:
https://splinterlands-meta-snapshot.herokuapp.com

Two new filter rules
I have added the two new rules as a filter, they are Equalizer and Heavy Hitters, of course there is still very little data about these new rules but you can check them out in the table.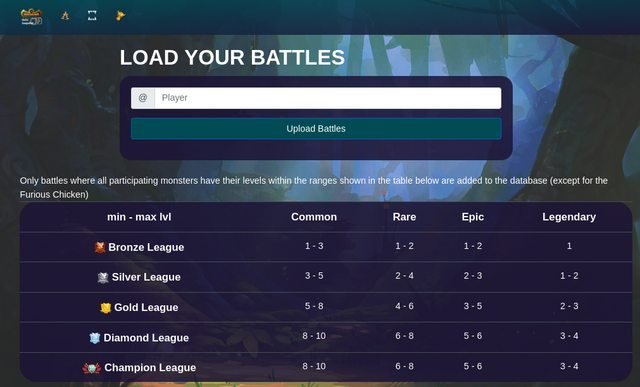 Information table in the load section
I have placed a small table indicating the level criteria that are taken into account for a battle to be saved in the database, I have also changed the message that appears when loading the battles making it more personalized, now it shows the username for which the battles were tried to be loaded.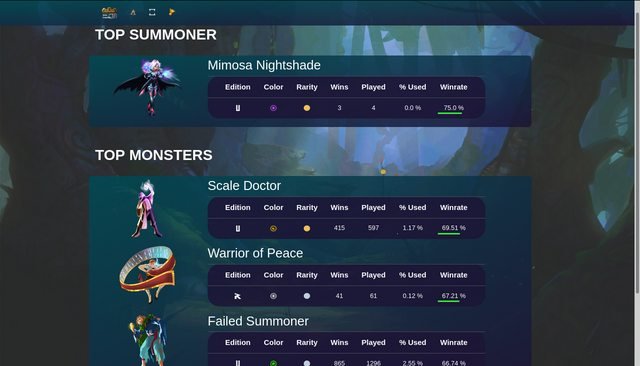 HTML and CSS improvements
Maybe you won't be noticed but I have made some important changes in the HTML and CSS code, for a better performance of the page.

Working on a complementary project
Loading battles one player at a time is fine, but normally we need to load data for a larger number of players, this is not possible from the site as I do not have the resources for extensive data processing.
That's why I've put aside the idea of performing this task from the site and start on a new project that will take care of it. It's a kind of bot that will eventually upload some battles to the database, so for now I'll leave the site working the way it is now and focus on working on this new alternate project.
---
Thank you very much for reading this post and don't hesitate to leave your comment. See you in the game.
Link to the app:
https://splinterlands-meta-snapshot.herokuapp.com


The images used in this post belong to or are inspired by Splinterlands. a TCG game integrated to the STEEM Blockchain.