Splinterlands | Undead Minotaur Challenge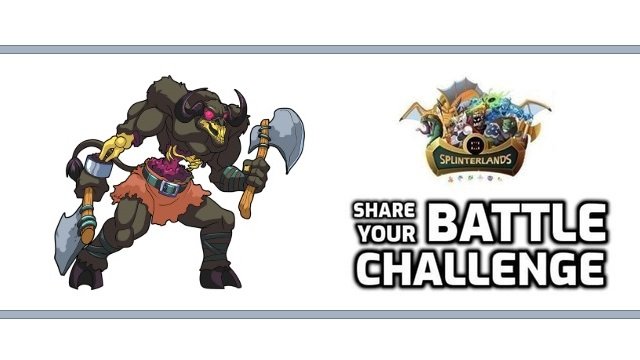 This weeks Share Your Battle Challenge again involves the Undead Minotaur.
---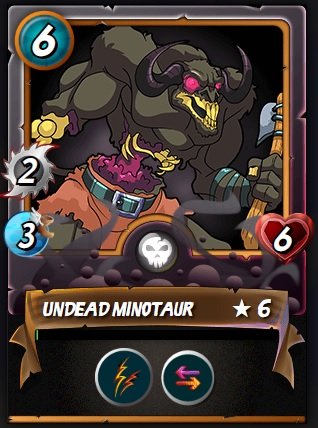 The Undead Minotaur is a common reward card from the Death Splinter which has been fully printed (108k cards are in circulation) and only 52 are needed to get it up to Level 6. The high Supply along with the card having too low health and protection to use in the first position for its mana cost makes it a bad card for nearly all of the rulesets. The card only costs 0.01$ but it can be really useful under the right circumstances (Melee Monsters Have Sneak Rule) especially if you are able to play a Level 6.
---

---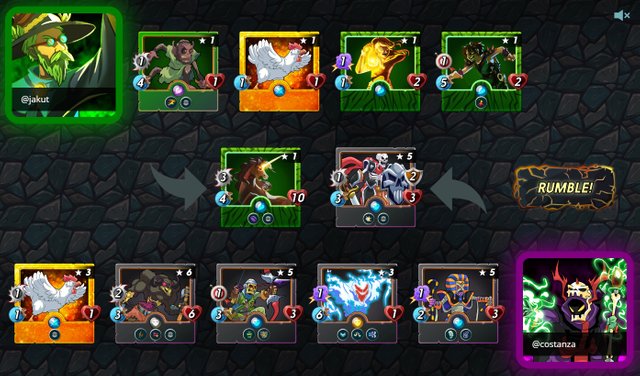 The Death Splinter was highly underpowered in the early stages of the game and it was a summoner I didn't even own for a long time. Some months ago, I did buy a fairly cheap level 5 on the market and have slowly been buying more leveled up cards for it. I had a lot of single Undead Minotaur cards but had not leveled them up yet. For this challenge, I did combine 52 to get the Undead Minotaur to level 6 to get the retaliate ability.
The ruleset I waited was Super Sneak which gives Melee monster sneak and allow the Undead Minotaur to attack and Retaliate From the last Position. The Death Dplinter had many powerful low mana cards and I used them to the max in this battle. The Skeletal Warrior with Shield is an excellent 1st row card (especially given the double demoralize) followed by 2 Magic attack cards Undead Priest & Fallen Specter which come with a ton of abilities that affects the opponent (Slow Down, Weaken, Demoralize). The Undead Archer counters shields and 1st Row heal while the Undead Minotaur gives a strong attack against to last row opposition. To finish the deck of I use the golden Furious Chicken as extra protection for 0 mana
The opponent strangely played level 1 cards and had no chance but I do feel the line-up was quite strong given all the opponent limitations it put up for the total mana cost.
---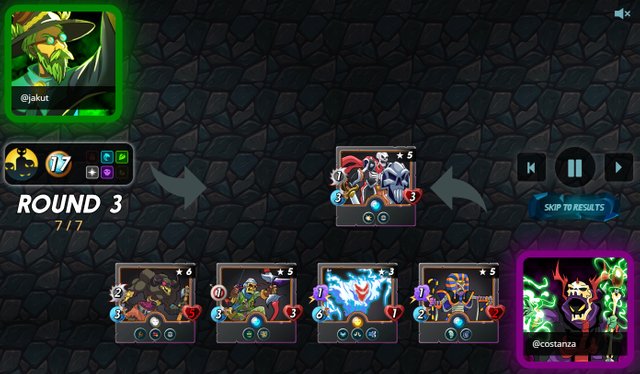 ---

---
I actually learned a lot and will more than ever using the death Splinter with the Undead Minotaur on the Super Sneak ruleset.
---
Previous Weekly Challenges
Splinterlands | Spark Pixies Challenge
Splinterlands | Serpent Of Eld Challenge
Splinterlands | Gelatinous Cube Challenge
---
SIGN-UP PROMO OFFER
I continue to lease out a whole bunch of cards to everyone who signs up to try out the game using my Affiliate link when they end up getting the Summoner's Spellbook. More details on the deal can be found here. In my next Splinterlands Post, I will be breaking down my Full March 2020 Splinterlands Earnings Report.
---
---