ecoVillages Journal #18: Tickets Are Booked Back To Portugal!.. Will they let me in?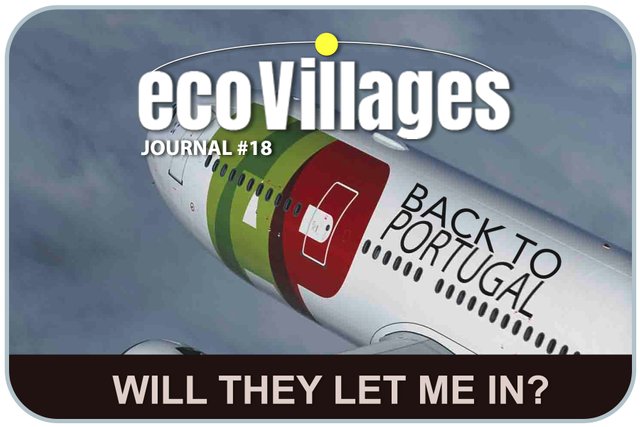 Of COURSE they will let me in, right?! Well i'll let you know.. I am due to fly to Portugal in one week one Sunday 26th, hopefully with a piece of paper showing i own some land and a place to stay! We are ALMOST there with the land purchase, and I hope to have 100% confirmation on Monday that the purchase went through. These are daunting times for me, and today im really grappling with the amplitude of things I will need to accomplish over the very short and longer term. Suddenly I have a LOT to figure out, and many important decisions to make both for ecoVillage and myself. I have no where else i can go, no home or any way back to my previous life. The only way is forwards!
There has been some great synchronicity happening, and im quite relieved that i have managed to connect with someone who lives just 10 minutes from our land who has a small stone cottage that I can stay in when i get there. Our land has nothing, not even water yet, so will definitely need a place to stay that is low cost or free whilst i reboot my life and the ecoVillage! As it turns out, this English guy knew me, and suddenly as we were at the start of our conversation he says:
Haha, my new friend turns out to be someone who had been to India and helped me pound tyres to build my Home (Earthship Karuna).. around 10 years ago now! What a lovely connection we had after we both remembered that.. and now I have a place to stay and someone who I can connect with. AND he lives right near our plot! Very NICE!
Once i get there, IF they let me in. of course they will right!? It's fine, it's fine.. ;-) ONCE i get there, and I will, the first priority on the land of ecoVillages will be water! We have a water douser ready to help us to locate the spot to start digging, or drilling.. im not even sure how they do things out there yet. .Its a WHOLE new world for me. A complete new start. Everything i have learned at Karuna Dham in the past 14 years will be tested here, starting again from nothing, with almost no savings, no income, and no exact plan!
I DO have a lot of ideas. I feel overwhelmed, and scared, but I also feel so much opportunity now.. I have been wanting change for a very long time, and boy as it come!
SO, BIG shout out to you all wherever you are. I hope you are OK and somehow making life work.. Its always nice to hear from you.. i know so many of you read and don't comment.. but i think right now i have been alone for weeks on end, and could use some encouragement for the times ahead..
I will update you on Monday with i HOPE a piece of paper with the land deeds completed!
<3


Disrupting the "Cost of Living" Industry

HOW TO SUPPORT THE ECO VILLAGE PROJECT

RE-BLOG THIS POST
https://steempeak.com/hive-123046/@eco-alex/ecovillages-journal-the-new-approach-what-it-means-for-you
SHARE ON SOCIAL MEDIA
https://steempeak.com/hive-123046/@eco-alex/ecovillages-journal-the-new-approach-what-it-means-for-you
JOIN US AT THE COMMUNITY NETWORK WEBSITE
https://www.ecovillages.io/communitynetwork/
DELEGATE TO ECOTRAIN

Your delegation will go a long way!
DISCOVER AND & COMMUNITIES ON HIVE
If you are looking to find new and active communities on Hive, or if you would like to whitelist your own community and have it added to the database then please visit and check it out. There are many features, and it is extremely simple and quick to use. Just click on the topics that interest you and the relevant communities will flash up before your eyes with some simple descriptions and a link to further info. When you find a community you like just follow the link to www.peakd.com and Subscribe!

The 8 Pillars of Abundance Tribe

Supporting People Who Help
Make The World A Better Place
CLICK HERE TO SUBSCRIBE TO THE ECOTRAIN COMMUNITY