Long exposure HDR on the Danube 2 / Langzeitbelichtung HDR an der Donau 2
English / German
Blue Hour and HDR
At the beginning of the Blue Hour, the following picture was taken. It is a combination of 2 different exposures, with 13 and 25 seconds. This enabled me to increase the dynamic range considerably. The aggregation was done via "darktable" that this tool has on board. The composition is laid out in the classic golden ratio, i.e. the horizon line and the tree intersect in the two outer lines, the dam made of stones leads from the bottom right directly to the focus point.
No drama
The long exposure time of course has the consequence that the drama of the sky has completely disappeared, but no special movement was visible that would have been worth to be captured in the picture anyhow. I had to compress the image to 3.6 MB, but the resolution is fully preserved. In the original with 11.5 MB there are of course no artifacts that result from the JPG compression. No one has even solved yesterday's riddle, check it out!
2729-hdr: f 11 / 10 mm / 13+25 sec / ISO 100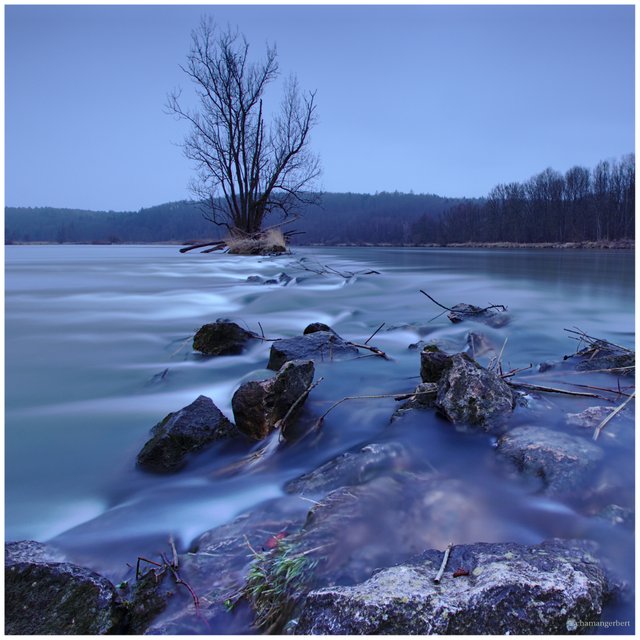 Click for more resolution
Blaue Stunde und HDR
Zu Beginn der Blauen Stunde entstand das folgende Bild. Es ist eine Zusammenfügung von 2 verschiedenen Belichtungen, mit 13 und 25 Sekunden. Dadurch konnte ich den Dynamikumfang erheblich steigern. Die Zusamenrechnung erfolgte über "darktable" das dieses Werkzeug mitbringt. Die Komposition ist im klassischen Goldenen Schnitt angelegt, das heißt die Horizontlinie und der Baum schneiden sich in den beiden äußeren Linien, der Damm aus Steinen führt von rechts unten direkt zum Fokuspunkt.
Kein Drama
Die lange Belichtungszeit hat natürlich zur Folge dass die Dramatik des Himmels völlig verschwunden ist, aber es war auch keine besondere Bewegung sichtbar die es wert gewesen wäre im Bild festgehalten zu werden. Ich musste das Bild auf 3.6 MB komprimieren, die Auflösung ist jedoch voll erhalten. Im Original mit 11.5 MB sind natürlich keine Artifakte enthalten die durch die JPG Komprimierung entstehen. Das Rätsel von gestern hat noch niemand auch nur annähernd gelöst, versuche es doch auch!
If you want to have a picture in full resolution for printing, please send me 10 Steem with the motive number, you will then receive a link for download.
Solltest du ein Bild in voller Auflösung zum Ausdrucken haben wollen sende mir bitte 10 Steem mit der Angabe der Motivnummer, du bekommst dann einen Link zum Download.
Camera: Canon EOS 200D
Lens: Tamron 10-24 mm F/3.5-4.5 Di II VC HLC with 2 Stop ND-Filter
Edit: darktable

See you next time! / Bis nächstes Mal!
Thank you for your attention! / Danke für Deine Aufmerksamkeit!
Original content by