Campus Connect Weekly Contest || How Has Steemit Affected Your Campus Life. || & || My Club5050 History
INTRODUCTION
Hello Everyone!👋 This weeks Campus Connect contest topic got me so happy to write about how steemit.com has made me a happy student that has always stayed fit in many challenges as a student starting from the day I joined. Read on! 🙂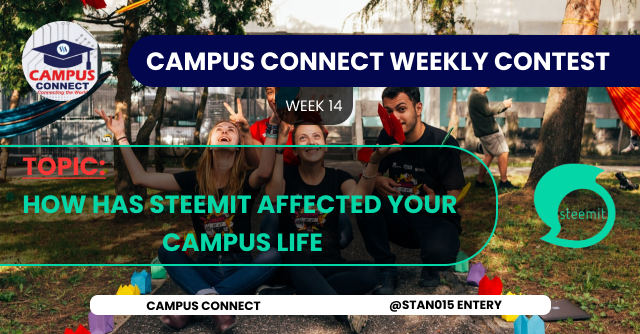 my design

How Steemit Has Affected My Campus Life
I wish to start by
testifying
that since April that I joined steemit.com to this date, I have
never
been affected
negatively
here on Steemit.com. This is one of the reasons I could speak boldly of it anywhere in the campus or off campus.

Steemit.com has impacted in so many ways in my campus life, of which I shall share two most magnified good impacts of all that I am grateful for:
Inprovement in content/article creation
This is one of the wonderful benefits I have gained from this great platform and I am grateful for it. Last week I went back to my personal blog which I started in 2017, I realized that the way I create articles now is far better compared to the way I do today. From learning more on how to articulate to learning and knowing the bad effects of plagiarism and so much more. I have learnt a lot here on articulating here on Steemit.com, I now finds it easy to create contents as it is what is on my mind that I put to blog and I write with confidence.
You can checkout my personal blog then here: https://domoreboost.wordpress.com . Then I had the vission of blogging about school news and tutorials. My blog drew my interest more closer to computing and thus I chose computer engineering and I am so happy studying it in the university, so I never regreted starting it and it is among things I proudly talk about on the internet even though I earned no money from it as I was still learning and striving back then when I was still in secondary school. It is a happy memory you know🤩
As a student in the university or even lower, knowing how to write your own articles will be of so much benefits to you as you will be able to write termpaper, project report, assigned work, and others yourself when the case arises.

The Financial Reward Aspect Of Steemit.com
This aspect has given me so much relief in many occassion as a student in the campus. Oh! How happy it is to pay your dues before your sponsor/parents start asking you about it, steemit.com gave me such opportunity!❤🙂
You ever had a moment in the campus when you are so empty that you don't know where or who to go to? Well, this is now a story I admit, one that is a member here and can create would think of steemit.com...shouldn't I share my knowledge and at least gain from a good work? let me get busy at steemit.com, I learn a lot there also you know, these thoughts to a student who benefits from his good history/work.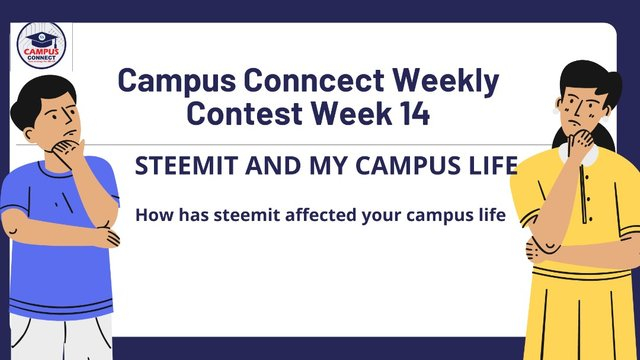 source

Steemit.com in many ways aside the aforementioned, has impacted positively in my campus life and I am so much grateful for that. The best of its kind!😍
Thank you for reading through to this part of my article, below is my #club5050 history in the last 7/30 days.

My #Club5050 History
💢Won 25 steem from a contest and powered up 100%


💢Undelegated 50 steem power delegation
💢won 1 steem for a valid entry to a contest



💢Invested 36.953 steem + 17.972 steem = 54.925steem



💢Powered up 54.925 + 1 steem = 55.925 steem
TITLE
STEEM POWER
STEEM DOLLAR
STEEM WON
STEEM INVESTED
Author Reward:
7.229
4.350
Curation Reward:
0.018
Steem Won:
25
1
Invested:
36.953
17.972
TOTAL:
7.247
4.350= 52.744steem
26
54.925


in the last 30days
Total Earned Income(SBD+steem): 4.350SBD(52.744steem) + 26steem = 78.744steem
Total Steem Powered up: 25 + 1 + 36.953 +17.972 = 80.925 steem
Percentage Powered up: 80.925/78.744 x 100 = 102.77% (100% earnings + 2.77% invested)
#Club5050✅
in the last 7days
Total Earned Income(SBD+steem): 3.58SBD( 43.291steem) + 1steem = 44.291 steem
Total Steem Powered up: 1 + 36.953 +17.972 = 55.925steem
Percentage Steem Powered up: 55.925/44.921 x 100 = 124.50% (100% earnings + 24.5% invested)
#club5050✅
My current effective steem power: 116.20SP
I aim at doubling or trippling this SP record before the end of the month.
Thank you for reading through. Best wishes!!❤