I'm Officially a Dolphin On The Steem Blockchain - #Club100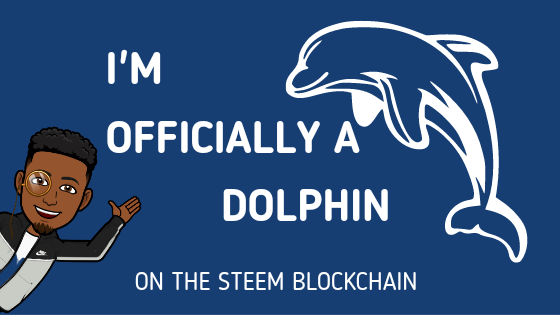 Greetings everyone. My Steemit username is @mato445 and I'm here to formally inform you that I am now a dolphin on the Steem blockchain. Yaaaaay!!! I was able to reach this milestone after converting all of my SBD to STEEM and powering up all my liquid STEEM.
Screenshot From My Wallet
---
I'm Proud to be a Dolphin
---
This great achievement of mine demonstrates how strongly I believe in the Steem blockchain, regardless of the current downturn the cryptocurrency market is going through. I am proud to be a part of the Steem blockchain and am incredibly grateful for how it has helped me not only provide for my family and friends financially but it has also advance my knowledge of cryptocurrency and finance. I've done a lot of things and met a lot of people who have helped me in some way along my growth curve and journey.
I've been writing about cryptocurrency, finance, business, lifestyle and my daily activities (thedairygame) and I'll keep doing so. Due to the outstanding quality of my writing, the community curation teams have frequently chosen me as one of the top 7. My progress and development on the platform have been greatly boosted by the support I've gotten from Mr. SC01 and I'm forever grateful to him..
I'm an active member of the CampusConnect and Steem4Nigeria community, where I've made friends with students and other Nigerians. We are all connected thanks to the Steem blockchain.
I'd like to take this opportunity to thank the Steemit team for all of their support and for even entrusting me with the role of a curator on the chain. Other communities have also significantly aided my growth. All the admins and moderators of the community in which I've previously participated... I want to extend a heartfelt thank you.
---
Power Up!
---
I will continue to power up all of my earnings since I've decided to commit to #club100, I'm here for a very long time this is because I believe in the Steem blockchain, and I'm not ready to withdraw any of my stake... I've other source of income so I don't plan to touch or withdraw my stake, my aim is to continue building my account and increasing my stake through regular powering up...
I've a goal of reaching 10,000 SP (Double Dolphin) before the end of this year, and I believe this is achievable...
Many thanks to everyone who has helped me develop and progress on the chain in one way or another. Long live the Steem blockchain.
---