High School Versus College Life Which Do You Prefer?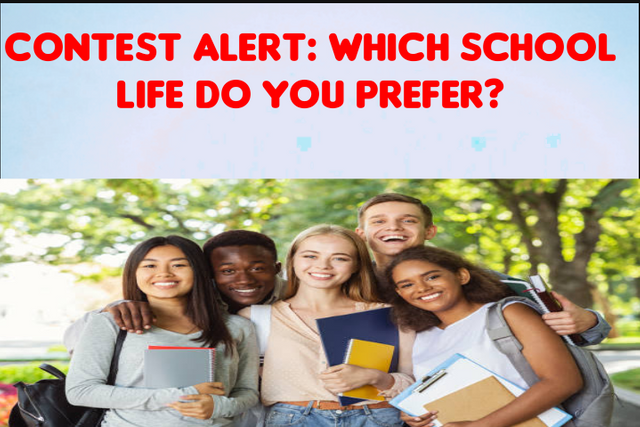 Background source
Hello friends I trust everyone is great, today I bring you a very interesting contest, I hope you will like it!
School life is one of the best time in everyone lives, all of us had a fair share of it, both the good and the bad ones. Since it creates positive memories in us majority of us considered it to be a golden time of our lives, especially for those who understands the impact and meaning, create in our lives.
So which do you prefer, High school or college life?
---
---
tell us about both your high school and college college life.

what you like and hate about each life

what you've learned in each life (how each life impacted you)

lastly which life do you prefer and why?
---
---
the title of your post should be The School Life I prefer by @yourusername
you must make your post in Campusconnect community
Everyone is free to join
Avoid plagiarism of any kind, use personal photos. Or free photo and make sure you properly source them.
invite 3 of your friends to this contest.
your post should contain at least 300 words
Upvote and resteem this post for others to see.
use the tags #myschoollife #creativewriting #steemexclusive #contest #club5050, #club75 or #club100 according to your eligibility.
make sure you're engage on fellow contestants post
mention @goodybest in your post so that I can easily locate your post. And make sure you drop your contest link as a comment under this post.
---
---
Quality contents will be included in Best of the day to recieve booming support on their posts through out the week. And 6 Steem Power and 15 tron will be share for 3 Winners. So we will have 6 Winners in total.
Although upvote is not guaranteed if your post is quality enough you can be selected among best posts of the day, and Community's curators can support you with the tag #creativewritings and #contest.
---
---
This contest last until Wednesday 24th August 2022. 11:59PM GMT
I'm Eagerly waiting for your entries!!
My Best wishes!!!
CC:
@disconnect