Sold Out |The distribution of the Steem Entrepreneur t-shirts is successful | Follow @steempreneurshop for further product information with the STEEM Logo
Payout set 25% to @steemkindness and 25% to @adollaraday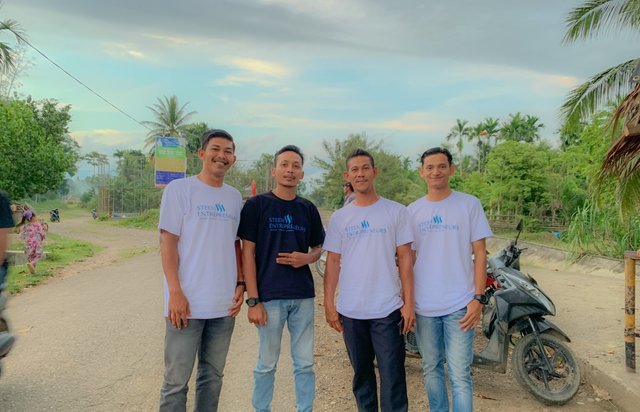 Photo : @fikar22 @fajarul99 @aril.hatake @akmal1
Today @steempreneurshop released developments regarding the distribution of the steem entrepreneur community t-shirts to buyers, from a total of 48 pcs produced, 42 pcs have been distributed to buyers. The Procurement of Steem Entrepreneurs Community Clothes received a good response from stemians. Steempreneurshop will again produce the Steem Entrepreneurs Community clothes and clothes with other Steem logos as part of the steem-promo activities for the public and investors.
Hari ini @steempreneurshop merilis perkembangan terkait distribusi kaos komunitas steem entrepreneurs kepada pembeli, dari total 48 pcs yang diproduksi, 42 pcs sudah didistribusi kepada para pembeli. Pengadaan Baju Komunitas Steem Entrepreneurs mendapat sambutan yang baik dari stemian. Steempreneurshop akan kembali meproduksi baju Komunitas Steem Entrepreneurs dan baju dengan logo Steem lainnya sebagai bagian dari kegiatan promo-steem untuk masyarakat dan investor.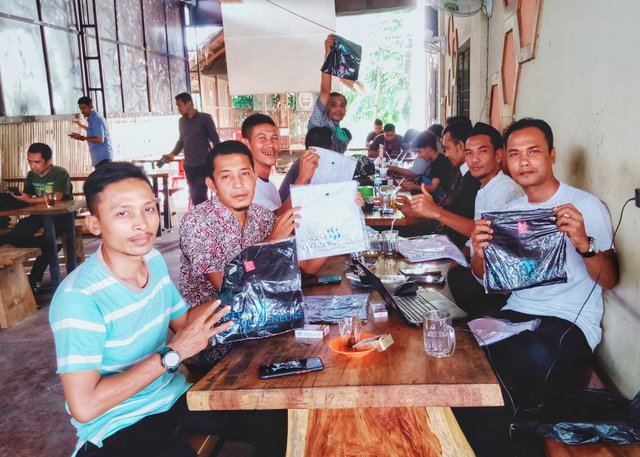 Distribution of T-shirts Steem Entrepreneurs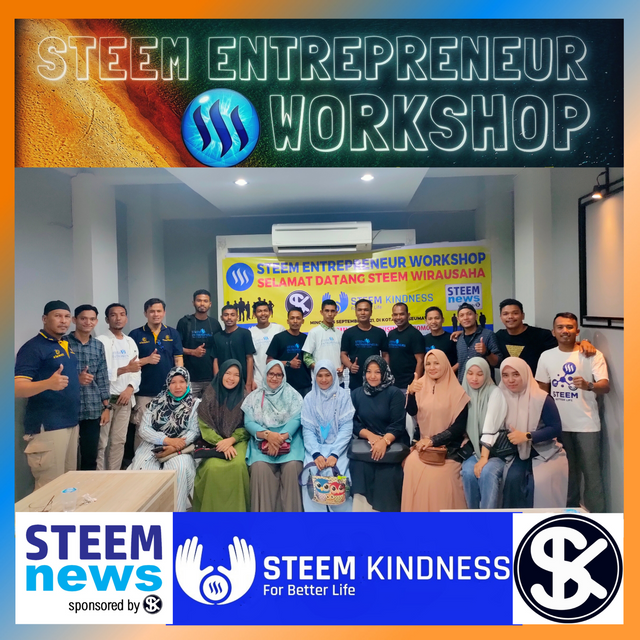 Steem Entrepreneurs T-shirts are worn by Steem Entrepreneurs Workshop participants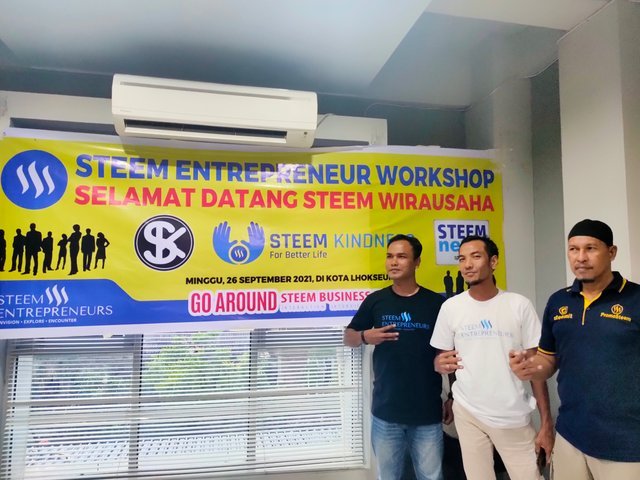 Photo : @harferri @subkiusman and @tucsond
Note : 20% of the sales of steem entrepreneurs t-shirts will be donated to charity activities (medical fees for parents of steem entrepreneurs community members).
Sample T-shirt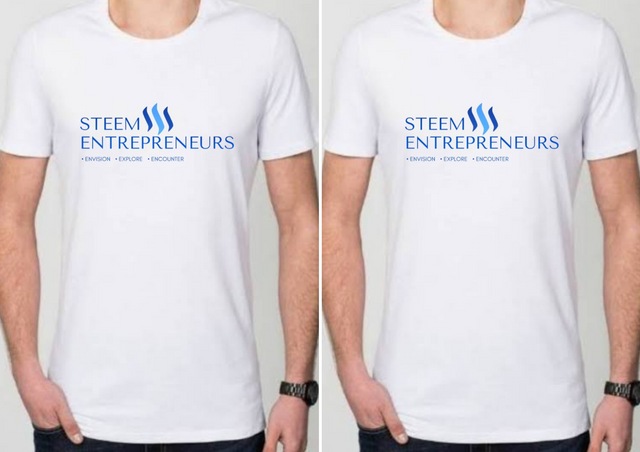 White color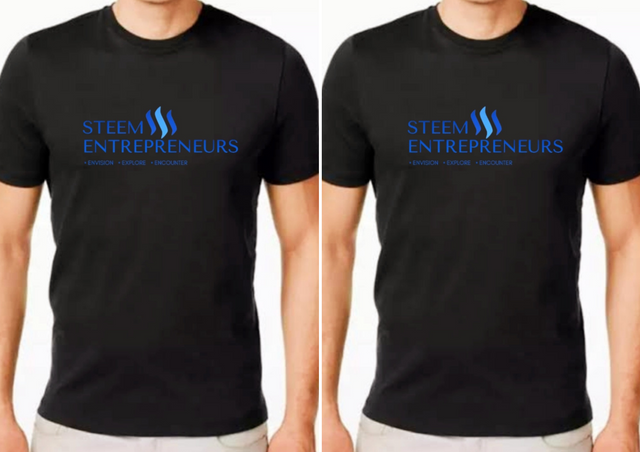 Black color
No

Nama Akun

Ukuran

Warna

Kualitas

Distribusi

1

@aril.hatake

L

Putih

1

Sudah

2

@akmal1

L

Putih

1

Sudah

3

@yusnaidi

L

Putih

1

Sudah

4

@fajrulakmal99

L

Hitam

1

Sudah

5

Ari BRI

L

Putih

1

Lengan Pendek

6

@fikar22

XL

Putih

1

Sudah

7

@hoesaid

XXL

Putih

1

Sudah

8

@irawandedy

L

putih

1

Sudah

9

@irawandedy

L

Hitam

1

Sudah

10

@harferri

L

Putih

1

Sudah

11

@harferri

L

Hitam

1

Sudah

12

Ir. Alfajri

L

Hitam

1

Lengan Pendek

13

@klen.civil

M

Putih

1

Sudah

14

@sofian88

L

Hitam

1

Sudah

15

@umar.civil

L

Putih

1

Lengan Pendek

16

@liasteem

L

Putih

1

Sudah

17

@muhammadan

L

Hitam

1

Sudah

18

@win1

L

Hitam

1

Lengan Pendek

19

@mala.aniez

L

Putih

1

Sudah

20

@dewi88

XL

Putih

1

Sudah

21

@mala.aniez

XL

Putih

1

Sudah

22

@el-nailul

L

Hitam

1

Sudah

23

@amryksr

L

Hitam

1

Sudah

24

@yanis01

XL

Hitam

1

Sudah

25

@hhusaini

XXXL

Putih

1

Sudah

26

@ernaerningsih

L

Putih

1

Sudah

27

@husaini

L

Hitam

1

Sudah

28

@miftahuddin

L

Hitam

1

Sudah

29

@Subkiusman

L

Putih

1

Sudah

30

@tucsond

XL

Hitam

1

Sudah

31

@berkat

L

Hitam

1

Lengan Pendek

32

@moer

L

Hitam

1

Sudah

33

@bangmimi

M

Hitam

1

Sudah

34

@longhendra

M

Hitam

1

Sudah

35

@alol

L

Hitam

1

Lengan Pendek

36

@adson

M

Hitam

1

Sudah

37

@amri

XL

Putih

1

Sudah

38

@amri

M

Hitam

1

Sudah

39

@afrizalbinalka

XXXL

Hitam

1

Sudah

40

@abelanar11

L

Hitam

1

Sudah

41

@itikna09

L

Hitam

1

Lengan Pendek

42

@f2i5

L

hitam

1

Sudah

43

-

L

Putih

1

Lengan Pendek

44

@subkiusman

L

Putih

1

Sudah

45

@poenbit

L

Hitam

1

Belum Ambil

46

@harferri

L

Putih

1

Sudah

47

@taqdirul94

M

Hitam

1

Sudah

48

@sisol

M

putih

1

Sudah

Sample T-shirt

White color

Black color