Steemit Engagement Challenge S9W2 - Learn to appreciate a drop of water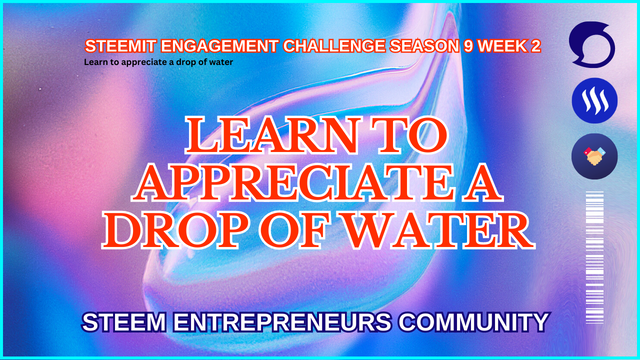 Happy Eid Mubarak to Muslims and thanks to all contestants in the Contest : Nearer to the Steem Representative for the Steemit Engagement Challenge - Season 9 Week 1.
Entering the second week, we intend to present a contest with an environmental theme entitled : Learn to appreciate a drop of water. We all know that water is the source of life. Something very valuable. But in fact, water is wasted every day. This contest is expected to be a campaign to increase awareness of steemit users and the world community, especially about efforts to prevent the global water crisis.
As a contest guide, we'll mention a few points that should be spelled out in contestants' writing to stay focused on the topic.
What is the function of water in life?
How do we describe the value of a drop of water?
How is the availability of clean water in your area?
Contestants are given the freedom to explore other points deemed important so that the writing is more educative and informative which relates to the theme of the contest.
---
Entries must be 300 words or more.
Add photos preferably your own or you can use photos with a common license.
Be creative! Presenting free content that is plagiarized and created by AI or other cheats is automatically disqualified.
Use the title : Steemit Engagement Challenge S9W2 - ... Entry title ...
Use the following as one of your primary tags #steementrepreneurs-s9w2 #environment #steemexclusive and hashtag your country's name.
All entries must be #steemexclusive and posted only in Steem Entrepreneurs Community.
We recommend all contestants to support the #burnsteem25 initiative by setting 25% to @null.
Please comment on at least 5 contest entries. And respond responsibly to every comment on your entry
Mention at least 3 of your friends and share your contest entry link in the comments column of this post.
Note : we recommend that the contestant share an original photo of the water source used in your home.
---
The participation time is between Monday, April 24th, 2023, 00.00 UTC to Sunday, April 30th, 2023, 23.59 UTC
---
| 1ST PLACE | 6 STEEM | POWER UP |
| --- | --- | --- |
| 2ND PLACE | 5 STEEM | POWER UP |
| 3ND PLACE | 4 STEEM | POWER UP |
Note : Prizes will be given in the form of power ups to the winner's account.
| Verified user | ? |
| --- | --- |
| Status club | - |
| Plagiarism-free | - |
| Bot-free | - |
| Tag #steemexclusive | - |
| Support #burnsteem25 | - |
| Voting CSI | - |
| Score | 0/10 |
| Time verification | - |
Determination of Club Status : https://steemworld.org/transfer-search
SC01 & SC02 would be checking on the entire 7 participating communities and upvoting outstanding content. Upvote is not guaranteed for all articles. Kindly take note.
---
Thank you to all parties who have helped carry out this contest and congratulations for all contestants to participate.

Open opportunities for useful contributions and collaborations with steem power delegates for community development.
Please select one from the link :
Thank you to all stemians who have supported and encouraged us to work hard to advance the Community and STEEM to reach wider people.
Kind regards,
Steem Entrepreneurs Team
---
---