Announcement | Steem Business Contest - 2nd Edition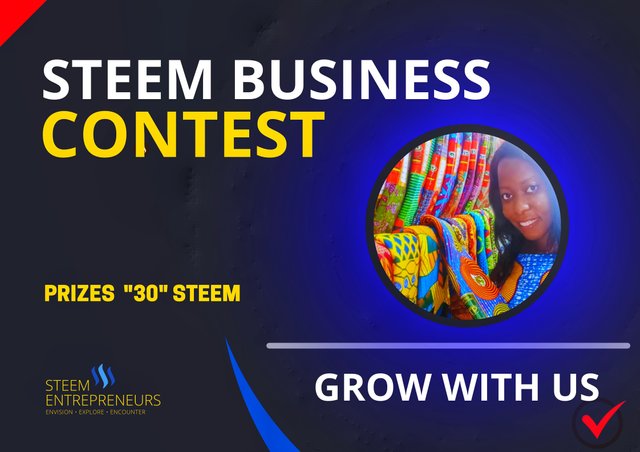 Dear Steempreneurs,
Steem Business Contest is an event to promote a business, big or small, owned by a company or individual. The uniqueness of this contest is that the transaction value using the official currency in country must be converted into Steem/SBD. The goal is to familiarize business owners or customers to convert the value of products and services with Steem/SBD. This activity will encourage buying and selling transactions using Steem/SBD to become increasingly popular in business because of their convenience.
Contest participant requirements :
You are promoting your own business
You are promoting someone else business
Business is an activity carried out by individuals or companies that involves the process of making, buying, selling or exchanging product or services with the aim of making a profit.
---
Describe your business.

Writing information about the history of the business - we recommend that you don't make your business history too long. Simply make information about the history of your business briefly and clearly.
Describe your business development in the last month
Describe information about your business product or services - show photos and prices of the main products or services of your business with the value of the official currency of your country then you convert them into Steem/SBD. Tool: IDR - STEEM IDR - SBD USD - STEEM USD - SBD
Use attractive photos and mark your business location by pasting a link from https://what3words.com/.

Use English or a language you understand (we recommend your country language).
Exclusive writing means that it has never been published in other blockchain media.
Writing at least 250 words.
Subscribe and post on the Steem Entrepreneur page.
Original photo - show image source if taken from internet or others.
Use Title : Steem Business Promo - .. Title your entry
Plagiarism or other cheating is not tolerated.
Comply with the rules of www.steemit.com
Use the taq #steembusiness #steemexclusive #yourcountry (ex indonesia) #contest in the first four tags of the post.
Paste your entry link in the comments column and resteem this post
---
FULL PRIZES -- 30 STEEM -- FOR PARTICIPANTS
| Ranking | Participant Account | Full Prizes |
| --- | --- | --- |
| 1 | ? | 8 Steem |
| 2 | ? | 7 Steem |
| 3 | ? | 5 Steem |
And consolation prizes for 5 participants (10 Steem).

All publications will be rated by Steem Entrepreneurs Team
The jury's decision cannot be contested and is the responsibility of the contest organizer.
The contest started from the announcement of the " Steem Business Contest - Second Editon" was released and will end on Sunday, September 26, 2021 (Western Indonesia Time).
Winners will be announced after the contest period ends.
We don't guarantee participants get support from@steemcurator01.
Other things that are not clear can be asked in the comments column.
Thank you for participating in the "Steem Business Contest - Second Edition" hopefully this will be the best event for entrepreneurs or steemit users to deepen and familiarize themselves with the value of steem in transactions or other economic activities.
Thanks and wish U have wonderful day
Organizer : @steempreneurship
CC : @steemcurator01 @pennsif

Open opportunities for useful contributions and collaborations with steem power delegates for community development.
Please select one from the link :
Special THANK YOU to all stemians who have supported and encouraged us to work hard to advance the Community and STEEM to reach wider people.

Steem Entrepreneurs Team