Summary of Power Up in the Steem Entrepreneurs Community - Period 1 - 10 November 2021 | steemkindness20pc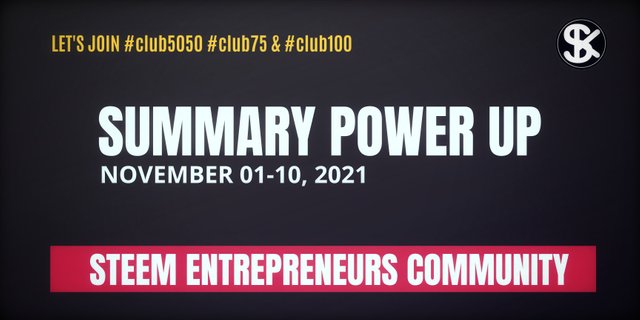 Hello, those of you who are chasing dolphins or those of you who are already dolphins, congratulations and keep the spirit to power up and participate in #club5050 #club75 and #club100. Awesome !
The #club5050 #club75 and #club100 programs are important strategies in accelerating the Steem economic growth rate in the blockchain ecosystem. The positive impact of this program can be seen from the increase in SP of steemit users, the increase in dolphins and the Steem price which starts to increase consistently on the exchange exchange. My opinion will be a lot of great surprises from Steem in the future. Let's prepare ourselves to welcome a better future of Steem.
Today I am interested in tracking all Power Up activities carried out by members of the Steem Entrepreneurs community for the last ten days on steemworld.org. Especially for members I took a sample who made posts during the last teen days on the Steem Entrepreneurs Community page.

List of Power Up Recapitulation for 1-10 November 2021
Source : https://steemworld.org/transfer-search
During the last 10 days from November 1 to 10, 2021 there were 41 accounts that did Power Up with a total amount: 10,939,536 Steem.

High appreciation for those who consistently Power Up and join #club5050 #club75, then there are also some names that are close to #club5050 such as :
Hopefully the two names will power up soon to join #club5050
---
This recapitulation is made to facilitate monitoring and evaluation of programs made by the community to support the #club5050 #club75 and #club100 campaigns initiated by the Steemit Team. Hopefully with the release of the 10-day power up recapitulation in the steem entrepreneur community, it can motivate others to consistently power up. We will release again in the next 10 days, hopefully useful..
Cc : @steemcurator01 @pennsif
Best Regards,
Harferri