Contest Announcement : My Favorite Witness - 2nd Edition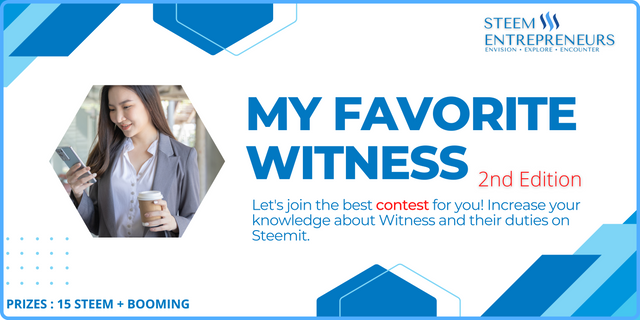 WITNESS plays an important role in the STEEM blockchain network. Some people may not realize this. Users are more familiar with the terms Author and Curator and do not get enough information about witness.
This contest was held as a forum to share information about the latest about witnesses on the STEEM blockchain. User participation in the contest can be a source of information for other steemians to get to know the Witness better. This contest also aims to encourage users to use votes to vote for the best 30 witnesses on the Steemit platform.
We do not limit the creative space for participants to explore their writings about the witness. This statement is only a guide for participants to correlate with the contest objectives.
Write everything you know about Steem Witness.
Do you know how to select Steem Witness and who taught you.
How much Steem Witness have you chosen.
Give your reasons for choosing Witness which has a good track record for steem growth.
Who is your Favorite Witness and why do you like their contribution to Steem. (You may mention 1 to 3 of your favorite witnesses).
This guide is not a question, you can enter the above statement according to your own writing style for contest entry.
Post on the Steem Entrepreneurs Community Page
Write in a language you understand well with a minimum of 300 words characters.
Paste clear source when using copyright-free photos
Use the hashtag #witness-contest #contest on your first five hashtags.
Use title : My favorite witness : ...your title... (Avoid using #burnsteem25 or written by @.. in the entry title).
Support empowerment and charity activities by assigning rewards: 10% to @steemkindness
Plagiarism will not be tolerated and other cheating
Invite 3 of your friends and resteem this post so that more people know.
Paste your entry link in the comments column of this post
The decision of the jury is final and cannot be contested.
The contest period starts from the date of this publication and will end on Wednesday, November 2nd, 2022.
The top three participants will get a total prize of 15 Steem + Booming support.
The jury consists of Admin and Moderators of the Steem Entrepreneurs Community.
Contest organizers do not guarantee the support of SC01 or SC02 for contest participants.
If something is not clear, please ask in the comments column.
Happy parcipating in the contest :

My Favorite Witness - Edition 2

.
---
Thank you for the support from the STEEMIT TEAM for the implementation of the Contest: My Favorite Witness as an educational and informative event about the important role and function of Witness on the Steemit Platform.
Cc : @steemcurator01 | @pennsif | @hungry-griffin | @stephenkendal | @disconnect


Open opportunities for useful contributions and collaborations with steem power delegates for community development.
Please select one from the link :
Thank you to all stemians who have supported and encouraged us to work hard to advance the Community and STEEM to reach wider people.
Kind regards,
Harferri - Organizer Contest